These are April's best bosses and stories around Europe that you need to know
Geoff Brown presents your essential round-up of last month's best coaches in Europe...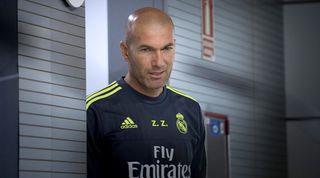 Quote of the month
When you wake up the morning after a stunning, historic triumph, a feeling of sadness for the opposition is usually bypassed – but Jurgen Klopp showed compassion for his former club Borussia Dortmund after they lost 4-3 to Liverpool at Anfield in the Europa League quarter-finals.
"The morning after the game was completely different because usually after a match like that, you wake up and you think: 'Oh great, what a wonderful thing'. This time I was not in the best shape, to be honest, and I had no real idea why, and then I realised: 'Ah yes, they lost'.
"I had seven wonderful years at Dortmund and I knew how they felt. I knew how it would have been when they woke up and all met for breakfast. I knew what the mood would have been like."
Battle of the month: Spain's three-way
A trio of iconic figures are steering three of the greatest teams in world football towards La Liga's pulsating endgame. It's with great surprise that Spain's top flight has even reached this plateau of intrigue when Barcelona were, until recently, sprinting away with the league title.
April poured its showers over Luis Enrique: a Champions League exit to Diego Simeone's frenzied terriers sandwiched in between three consecutive league losses put paid to the Spaniard's declaration that "we seek to break records with this great team through humility and hard work". That was in December, and now his record-breaking objectives have been brutally severed.
Since Zidane was humbled by Simeone's Atletico Madrid 1-0 in February, Real Madrid have won 10 successive La Liga matches, including a 2-1 victory at the Camp Nou.
Being just one point behind their two rivals has provided a short-term answer to the question everybody wanted answering – whether Zidane could manage Real Madrid successfully.
So far the answer has been the affirmative. Sure, the Frenchman has a long way to go to emulate his glorious past, but an 11th Champions League title for Madrid is also within his grasp.
And then there's the Big Two's chief tormentor, Simeone. Atletico possess neither Ronaldo nor Messi but they do have the Argentine, and without his ferocity or determination, the Rojiblancos would surely falter.
So infrequently has Spain captured the imagination with a three-pronged thrust for the title that this season is particularly special. With just two rounds of league games left, who will hold their nerve?
The big stories
1. Preud'homme close to making more history
Proud by name, and fiercely proud of his substantial collection of trophies, ex-goalkeeper Michel Preud'homme is one of the most memorable characters in football history.
Those who remember David Platt's 120th-minute volley against Belgium at the 1990 World Cup may not remember it was Preud'homme between the Belgian sticks that night. Four years later, however, he'd picked up the Yashin award for Best Goalkeeper at the 1994 World Cup.
He has since channelled his eccentric, flamboyant personality into becoming a manager of genuine class: a first Belgian championship in 25 years with Standard Liege, a highest-ever runner-up finish with Gent, a courageous switch to the Netherlands where he led FC Twente to a 3-2 Dutch Cup final victory over Ajax, picking up the prestigious Rinus Michels Award along the way.
It all leads to his current position perched at the summit of Belgian football with Club Brugge, three points clear of Anderlecht with five games remaining.
It wouldn't be his first unlikely success story, though: Preud'homme was once a director of football who, at the turn of the millennium, had the gumption to advise his chairman at Benfica to appoint a manager who had never bossed before, and whose experience as a player barely scraped the barrel labelled 'professional footballer'. The chairman eventually chose to take his advice, made the appointment, and the world would soon take unavoidable notice of a man named Jose Mario dos Santos Mourinho.
2. Marcelino still working wonders at Villarreal
Marcelino's name is never mentioned whenever Premier League vacancies come around, but maybe it should be. He is a humble 50-year old manager from northern Spain who has worked miracles on a tight budget at Villarreal, who recently stung Liverpool with a last-gasp 1-0 victory at Estadio El Madrigal to put themselves on the precipice of a first-ever European final.
The club were languishing in mid-table in Spain's Segunda Division when they turned to the former Sevilla boss in January 2013. A phenomenal run of results culminated in a final-day victory to secure second place and automatic promotion to La Liga.
A subsequent sixth-placed finish in their return to the top flight was considered the managerial performance of the season, but when they repeated the feat the following year, Spanish pundits thought the Yellow Submarine had hit their ceiling. Marcelino had other ideas, and with precious little financial assistance, his team have secured fourth spot and Champions League football next season.
Manuel Pellegrini would have been proud of Marcelino's ascent. The Manchester City boss takes pride of place in Villarreal's hall of fame, having led the club to their greatest achievement of a Champions League semi-final in 2006 (and a penalty miss away from reaching the final at Arsenal's expense).
Marcelino is now in a similar position, experiencing the tension of a European semi-final against English opposition. A 1-0 lead against Liverpool is never comfortable, but Villarreal supporters are relishing Thursday's trip to Anfield. Even if Jurgen Klopp's players pull off another escape, Marcelino is forging his reputation on the continent as a manager with an outstanding ability to make the most of limited resources.
3. The manager leading Europe: 28 games unbeaten
Barak Bakhar is the Claudio Ranieri of Israeli football, liked by everyone. And he is leading the way throughout Europe's 55 top divisions with a 28-match unbeaten run. This is a colossal achievement by anyone's standards, but going on such a run with Hapoel Beer Sheva, a club awaiting their first title for 40 years, is simply unheard of outside the traditional powerhouses from Tel Aviv. And he's only 36.
Clubs with barely a single major trophy to their name after decades of toil can enjoy celebrations far beyond the norm – and Bakhar is no stranger to delivering them, having won Ironi Kiryat Shmona's maiden Israeli Cup title two years ago.
Hapoel Beer Sheva's supporters are hoping their own 40 years of hurt will be soothed in the coming weeks. Although Leicester's Premier League honour is given the greater credit across the continent, the city of Beer Sheva will be celebrating with just as much vigour.
Top four managers in April
Claudio Ranieri (Leicester, England) – Premier League champions.
Diego Simeone (Atletico Madrid, Spain) – Victory over Barcelona in the Champions League, a home win over Bayern Munich, and vying for La Liga glory after six wins on the trot.
Massimiliano Allegri (Juventus, Italy) – A stunning 25 wins from their last 26 matches secured the Serie A title.
Karel Krejci (Viktoria Plzen, Czech Republic) – a 16-match winning sequence secured the Czech title with plenty to spare.
NEWS Ranieri's 96-year-old mother: Now my son is King of England
Longest current league winning runs
Karel Krejci (Viktoria Plzen, Czech Republic) – 16 wins
Oleg Bejenar (Dacia Chisinau, Moldova) – 11 wins
Rui Vitoria (Benfica, Portugal) – 10 wins
Massimiliano Allegri (Juventus, Italy) – 10 wins
Zinedine Zidane (Real Madrid, Spain) – 10 wins
Longest current unbeaten league runs
Barak Bakhar (Hapoel Beer Sheva, Israel) – 28 matches
Massimiliano Allegri (Juventus, Italy) – 26 matches
Oleg Bejenar (Dacia Chisinau, Moldova) – 23 matches
April's battles: the results
Belgium: Michel Preud'homme (Club Brugge) 2-0 Hein Vanhaezebrouck (Gent)
Portugal: Jose Peseiro (Porto) 1-3 Jorge Jesus (Sporting)
Russia: Igor Cherevchenko (Lokomotiv Moscow) 1-1 Leonid Slutsky (CSKA Moscow)
Spain: Luis Enrique (Barcelona) 1-2 Zinedine Zidane (Real Madrid)
Ukraine: Mircea Lucescu (Shakhtar Donetsk) 3-0 Sergei Rebrov (Dynamo Kiev)
Title-influencing battles to watch in May
Belgium: Michel Preud'homme (Club Brugge) vs Besnik Hasi (Anderlecht)
Portugal: Paulo Fonseca (Braga) vs Jorge Jesus (Sporting)
Russia: Leonid Slutsky (CSKA Moscow) vs Oleg Kononov (Krasnodar)
Spain: Luis Enrique (Barcelona) vs Unai Emery (Sevilla)
Turkey: Jan Olde Riekerink (Galatasaray) vs Senol Gunes (Besiktas)
April's league-winning managers
Richard Imbernon (FC Santa Coloma, Andorra)
Gurban Gurbanov (Qarabag, Azerbaijan)
Zoran Mamic (Dinamo Zagreb, Croatia)
Georgios Kostis (caretaker) (APOEL, Cyprus)
Karel Krejci (Viktoria Plzen, Czech Republic)
Juraj Jarabek (Dinamo Tbilisi, Georgia)
Thomas Doll (Ferencvaros, Hungary)
Massimiliano Allegri (Juventus, Italy)
Paul Zammit (Valletta, Malta)
Stephen Baxter (Crusaders, Northern Ireland)
Marius Sumudica (Astra Giurgiu, Romania)
Urs Fischer (Basel, Switzerland)
Sergei Rebrov (Dynamo Kyiv, Ukraine)
Craig Harrison (The New Saints, Wales)
Quizzes, features and footballing fun
Get the best features, fun and footballing frolics straight to your inbox every week.
Thank you for signing up to Four Four Two. You will receive a verification email shortly.
There was a problem. Please refresh the page and try again.