Tottenham vs Man City tactical preview: Why De Bruyne's absence spells danger for Guardiola's men
It's second against first in the Premier League this weekend, and Thore Haugstad believes the loss of the Belgian playmaker could prove costly for the visitors to White Hart Lane...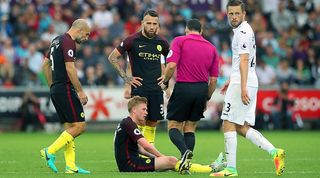 By now most of us have come to appreciate the surging runs, the clinical finishes, the footballing brain that never seems to err. Kevin De Bruyne has been a revelation since debuting for Manchester City about a year ago and, six league games into the new season, Pep Guardiola feels he belongs in the category of players just beneath Lionel Messi. "He sees absolutely everything," Guardiola says. "He makes the right decision in the right moment every single time."
That salute underlines the value of De Bruyne as an individual, which would be enough on its own to make a hamstring injury sustained at Swansea last weekend bad news for City. For Sunday's trip to Tottenham, the table-toppers will lose a playmaker who has delivered two goals and four assists in the league so far, as well as their chief set-piece taker.
And yet the reverberations of his absence go further than this. The way Guardiola sets up his team, De Bruyne has become the most powerful driving force behind the kind of penetrative passing through which City create their chances. There are other playmakers in the squad, but nobody offers a similar sense of directness and vertical movement. With a high-pressing Spurs sure to test City's passing, De Bruyne may well be the last player Guardiola had wanted to be without this weekend.
Five versus four
A more thorough explanation of this point draws on the roles of City's two advanced central midfielders. In Guardiola's 4-1-4-1, the wingers stretch the play to create space between the lines for David Silva and De Bruyne. The latter has already said that Guardiola wants to create 'five versus four' situations in which he and Silva are released behind the opposition midfielders in order to attack the backline directly.
This has worked well so far. Silva and De Bruyne have used their positional freedom to exercise influence in all areas of the final third. The downside is that holding midfielder Fernandinho can at times be overrun due to the lack of cover – City have kept one clean sheet in six league games – but the number of chances created the other way has compensated for such instability. What matters to Guardiola is to get Silva and De Bruyne into dangerous positions whenever possible.
This has elevated De Bruyne more than Silva. City have been more direct than expected, killing off teams with transitions and counter-attacks, which has given De Bruyne enough space to put his mobility and movement to better use. In turn, this has made him the greatest variable for Guardiola in terms of creating numerical overloads and destabilising the opponent. In a fluent collective, De Bruyne's the most unpredictable member: he moves deep, out wide, in between the lines, in behind the back line, into the box. Opponents must be constantly wondering which space he's going to attack next.
Involved in (nearly) everything
City's last three league games have highlighted De Bruyne's influence in various ways. In the 2-1 win at Manchester United, his advanced positioning led to six goal attempts and five chances created from open play, including a goal and an assist. In total he's unleashed 3.5 attempts per game so far this season, the joint seventh-highest average in the league.
Perhaps his most characteristic display came against Bournemouth. De Bruyne scored the opener from a free-kick, but his involvement in the second and third goals were more telling: on both occasions, he orchestrated quick attacks which ended with Raheem Sterling and Kelechi Iheanacho outplaying the goalkeeper. Not content with that, he then masterminded another slick move which culminated in a superb assist to Ilkay Gündoğan. The Belgian delivered four through-balls in that game, largely thanks to being able to run directly at the centre-backs.
When City travelled to Swansea, the suspension of Nolito made De Bruyne a likely candidate for a wide spot. But Guardiola appeared to value his involvement in central positions so highly that he gave Bacary Sagna an unusual wing-back role that allowed De Bruyne to remain infield. While it created some issues defensively, Sagna assisted the opener, before De Bruyne won the penalty for 2-1 and released Sterling for 3-1. Note how he alternated between drifting inside and providing 'underlaps' down the flank when Sagna had the ball.
To summarise these fixtures, De Bruyne's been involved in eight out of City's last nine league goals - a considerable amount.
Lost dimension
What further exacerbates the loss of De Bruyne is that City have nobody quite like him. Silva and Gündoğan, who are likely to start in central midfield on Sunday, are intricate playmakers who do their best work in constricted spaces as opposed to attacking the box directly. At Old Trafford, Silva rarely ventured near the 'D' of the penalty area nor down the flanks, whereas De Bruyne received more passes in advanced positions both centrally and out wide.
This robs Guardiola of a crucial dimension: there will be no midfielder to stretch the Spurs defence in a similar manner. What may worry the Catalan further is that Spurs will close down fervently, leaving pressurised City defenders on the lookout for options in midfield. This is where De Bruyne usually provides an outlet, either between the lines, down the flanks or in behind the defence. Silva and Gündoğan are also mobile and can come short, but they lack the pace to surge down the flanks or in behind the defence if space between the lines is squeezed.
When in possession further forward, City will face a defence which is yet to concede from open play at home this season. Guardiola will no doubt count on Sergio Agüero and Sterling to make the difference but, considering the mechanisms of the system the Catalan has created, one can argue he will travel to Spurs without his most important player.
Thank you for reading 5 articles this month* Join now for unlimited access
Enjoy your first month for just £1 / $1 / €1
*Read 5 free articles per month without a subscription
Join now for unlimited access
Try first month for just £1 / $1 / €1