Van Gaal: Slow starter, surefire winner
It's not been an ideal first three months for Louis van Gaal at Manchester United, and the upcoming fixture list looks challenging. But, says Arthur Renard, Van Gaal has been through this sort of thing before... and it's always ended well...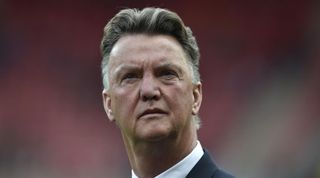 Despite a disappointing draw at West Bromwich Albion on Monday, Louis van Gaal insisted that he was happy with the way Manchester United had performed.
They dominated the match, and the Dutchman claimed it was their best performance so far. He noticed that his players are understanding his philosophy better and better, and according to the manager it would be only a matter of time before results will come.
The first signs of his football vision are coming to the surface, which makes him confident for the difficult upcoming run of fixtures, which include this weekend's visit of Chelsea and trips to Manchester City and Arsenal. Throughout his career, Van Gaal has stuck to his specific approach, and he already predicted that it would take time before his United team would master the act.
Van Gaal's confidence is based on previous experiences, in which he also faced difficult starts at new clubs. By his own admission, it usually takes his players a few months before they seem to understand what he requires from them on the pitch. That happened at Bayern Munich five years ago, where the German side came back in impressive fashion after a difficult start to the season.
Educating Bayern
One of Van Gaal's former assistants explains why it can take time before players are used to Van Gaal's way of working. "At Bayern, the players really liked the training methods, from the first moment they felt it improved their game. But at the start, it was difficult as well for them to translate this tactical approach towards the team as a whole. Everything requires enormous coordination on the pitch.
"Van Gaal thinks about every aspect of training in detail, there is a reason behind every activity. Not all the players are used to his terminology, and at first you notice players are sometimes puzzled about what they have to do. During training Van Gaal is right on it. Players get feedback on every detail. Also during a passing exercise, he gives directions. At Bayern, players were not used to that."
Van Gaal worked on different elements of the game. "He let the team work on creating chances from possession, but the focus is also on reclaiming the ball and how to move without the ball." It quickly became evident how the level increased, and how the players picked up the methods implemented by the training staff.
"The ball circulation went faster. Usually in Van Gaal's teams, you see how the possession increases.
That's because of the many passing exercises, whereby players are stimulated to improve their right and left feet, and are trained to pass at high speed. When you master those kind of things, you create space for yourself. And that automatically creates possession, which will eventually lead to better results in the future."
That's what happened at Bayern during the 2009/10 season. After a difficult start, things improved over a few months and at the end of the year, Bayern won both the Bundesliga and German Cup, and reached the Champions League final, which they lost to José Mourinho's Internazionale.
Trying to improve Barcelona
Van Gaal was also successful in his first year at Barcelona, where he won the double in 1998. Dutch writer and journalist Edwin Winkels, who worked for Catalan newspaper El Periódico at the time, recalls that Van Gaal also required a settling-in period there: "At the start, I remember his substitutions were not really good, for instance. They were not winning him games."
According to Winkels, the side improved after a while and maintained good results, but it never became really impressive. "With Van Gaal, Barcelona didn't play the beautiful football he used to play with Ajax in 1995. I can't recall any legendary games, like with Cruyff, or later with Guardiola. People expected more from Van Gaal; usually it was the individualists – like Rivaldo – who decided games for him.
"Nevertheless, Van Gaal did lay a foundation for some systems, which were later useful to the likes of Frank Rijkaard. And the club later admitted that he perhaps received too little recognition in the end, as he still won them two championships in three years."
According to Winkels, external circumstances at the Camp Nou didn't help Van Gaal during his time at Barcelona. "During that period, people were constantly at loggerheads, the club was divided. It was the era just after Cruyff, which was difficult anyway. Barcelona is never an easy club, whatever happens, but that was an especially difficult time.
"When Cruyff was manager, he had Carles Rexach next to him, who knew the club through and through, and who could tell him exactly what was going on within the club. Van Gaal lacked good informants, he just relied on chairman Josep Núñez. When Van Gaal returned in 2002 for his second spell in charge of Barcelona, it was still a bit of a mess inside the club. He shouldn't have come back. He fell victim of the chaos and some political games inside the club."
Sticking to his guns
One of the things Van Gaal maintains is that he always sticks to his football philosophy at his clubs, whatever happens. That said, Winkels points out that Van Gaal's start at United has been somewhat different to his early days at previous clubs.
"It's remarkable that the main focus is not only on youth. He has already spent quite a lot on players such as Ángel Di María and Radamel Falcao. I think Van Gaal is phasing out his career, and that the focus is not so much on the future as before.
"Perhaps he will adapt his approach a bit in that way. He already proved he could do that at the World Cup, where he changed his tactical system with Holland, which worked out really well."
Van Gaal imposed a more defensive system on the Dutch team, who he led to a third-place finish in Brazil. But his former assistant thinks that was a one-off. "Everywhere he has worked, Van Gaal maintained his vision. He only changed it for the Dutch team in the summer because he lacked the players to play the attacking game for which he stands. At the World Cup, he had to gain results in the short term.
"Personally I think he won't make any concessions at United. Like nobody else, Van Gaal knows it takes time before a team masters a new tactical system. He has experienced it so often, and every time it worked out well in the end."
Winning the big games
Van Gaal managed to turn the tide at Bayern in late November 2009, after which the team excelled in both domestic competitions and in Europe. One of the key games was an away match to Juventus in the Champions League, which Bayern had to win to survive the group stages.
As the assistant recalls, they did so with ease. "We totally outplayed them and won 4-1. Some games are crucial, because you know that if you lose them, your position might not be safe. Everyone in the team was aware of our potential, so afterwards there was a huge relief."
Knowing that big wins can change a season, perhaps United's match against Chelsea on Sunday could be a similar crunch game for Van Gaal. It's an intriguing match for him anyway, as it marks a reunion with Mourinho. The two worked together at Barcelona, where the Portuguese manager served as an assistant, a period which was crucial for his subsequent career.
Earlier this year Van Gaal recalled one of his first meetings with Mourinho. In Dutch newspaper Algemeen Dagblad he told how Mourinho impressed him during a meeting in where Van Gaal was announced as Barcelona's new manager.
"We were sitting in a restaurant with chairman Josep Nuñez and manager Bobby Robson, who had just won three titles with Barcelona. Initially, I was set to become the academy director of the club. But in the end Nuñez decided that I was becoming the head coach.
"During that meeting, José was the only one who wasn't informed about that decision yet. He was furious after he was told the news. He started shouting so loud that everyone could hear him in the restaurant. Mourinho was fighting for his coach and for himself.
"I understood him. He didn't know about what was going on, and his loyalty left a big impression on me. He already had that kind of passion, like in the way he spoke.
"It was a gamble that we were going to work together. But he was able to help me, as he spoke Spanish and English well, and he already knew the squad. And in the end, he proved to be a really good coach. I even let him manage the friendly games, because he could read games really well. His analyses were fantastic."
According to Van Gaal, the student has surpassed the master in recent years. "In the world of football coaches, Mourinho and I are in the same echelon. In a short amount of time, he has won many titles and cups, even more than me. Well, then you are better. That is not difficult for me to say, because they are facts. For me, [Sir Alex] Ferguson was a really great manager too. To work with players and be successful for such a long time is really impressive."
The time at Barcelona was crucial in the making of Mourinho. He has never spent as long again at one club as the four years he spent at the Camp Nou, and later in his career he has had many intriguing clashes with his former club.
As for Van Gaal, his longest period at one club was nine years, at Ajax. Surely, he won't break Ferguson's record of over 26 managerial years at Manchester United. But if he manages to replicate the success which he achieved at his previous clubs, the Old Trafford faithful will be more than happy.
Thank you for reading 5 articles this month* Join now for unlimited access
Enjoy your first month for just £1 / $1 / €1
*Read 5 free articles per month without a subscription
Join now for unlimited access
Try first month for just £1 / $1 / €1
Get FourFourTwo Newsletter
The best features, fun and footballing quizzes, straight to your inbox every week.
Arthur Renard has been writing for FourFourTwo since 2013, when Ronald Koeman hosted him for a Readers interview in a small room in stadium De Kuip. Two years later Arthur moved to London, where he still lives and from where he covers English football, while he has also been travelling the world to cover events like the World Cup and Copa America.