Video: Ian Holloway bizarrely blames the EU for football's new handball rule
The former Blackpool and QPR boss has hit out at Brussels after Gabriel Jesus's 'goal' was disallowed on Saturday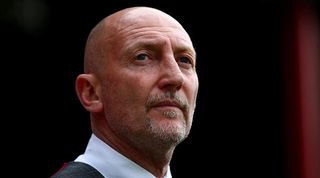 Ian Holloway has blamed the European Union for a new handball rule that was introduced among new Premier League rules this summer.
From the start of 2019/20, goals will be disallowed if the ball strikes the arm of the scorer or a team-mate in the build-up, regardless of intention.
The regulation has already caused controversy in the Premier League, with Gabriel Jesus seeing his 'goal' chalked off by VAR after the ball first hit Aymeric Laporte's forearm in Manchester City's 2-2 draw with Tottenham on Saturday.
SEE ALSO Why Premier League fans are wrongly losing their minds about VAR – and 5 more things we've learned about new rule changes​
And Holloway has hit out at the new rules and the use of VAR in England's top flight, as well as bizarrely claiming that the EU are responsible.
"For me, they should get rid of that rule straight away. It doesn't make sense," he told Sky Sports, beginning perfectly reasonably. 
"If it's not handball for both, how can you assess that? And to be fair, is that clear and obvious? They forgot the most important thing of all.
"Their job is to not re-referee the game but to be clear and obvious, so I don't think that's our boys making up that new change of law.
"I think that's people telling us what we need to do with our game. Now, they should stop doing that.
"I hope we get out [of the EU]. Brexit. Because that's what people are voting for and [we need to] sort it out because you cannot have someone telling us how to do our own game."
Contrary to Holloway's belief, the EU play no part in football's lawmaking process.
The new handball rule was actually implemented by the International Football Association Board, four of whose eight members are from the United Kingdom.
Marvellous.
READ MORE
QUIZ! Can you name the players who've scored 10+ penalties in the Premier League?
UNDERSTATED EVERY Premier League side's most underrated player
COLUMN Andy Mitten: Reflections on the bright start nobody expected at Manchester United
Quizzes, features and footballing fun
Get the best features, fun and footballing frolics straight to your inbox every week.
Thank you for signing up to Four Four Two. You will receive a verification email shortly.
There was a problem. Please refresh the page and try again.