We asked Fabrizio Ravenelli for his all-time team-mate XI – and it's pure nostalgia
The former Middlesbrough favourite can only find room on the bench for one of his old Riverside pals – but as a Champions League winner, it's understandable...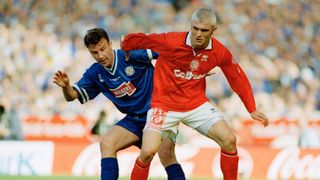 (Image credit: Getty)
Former Juventus and Boro striker Fabrizio Ravenelli has told FourFourTwo his Perfect XI of former teammates.
Ravenelli also played for the likes of Marseille, Lazio, Derby and Dundee in his career, as well as making 22 Italy appearances across four years.
FourFourTwo sat down with him to ask what a team of his best-ever team-mates would look like.
Juventus and Boro star Fabrizio Ravenelli picks his Perfect XI…
GK: Gianluigi Buffon
"The guy was incredible – I think Buffon is the best goalkeeper in the history of football. He was always in the right positions. Although he was very young when I played with him in the national team, he still did so with a lot of personality. I also played with Angelo Peruzzi and Gianluca Pagliuca, but Buffon was the best."
RB: Ciro Ferrara
"He was strong, he was quick and just a quality player. Ciro also scored some important goals – and not only with Juventus, either. I remember when he was younger at Napoli, he won the Serie A title and UEFA Cup with Diego Maradona [in 1988-89], and even scored a goal in the final [second leg] against Stuttgart."
CB: Alessandro Nesta
"We won Serie A together at Lazio. Nesta was very fast and very strong, so it was easy for any defender to play with him. He was so consistent, and did a fantastic job in every game and every training session."
CB: Pietro Vierchowod
"For me, he's one of the best centre-backs in Italy's history. Pietro was very strong, even stronger than Nesta, and would have worked well with him. He was impossible to dribble past because he was such a good defender. When Juventus won the Champions League in 1996, he started in the final at 37 years old and did a fantastic job marking Patrick Kluivert."
LB: Paolo Maldini
"Maldini was a very good header of the ball, fast and hard in the tackle, and for me was the best left-back in the world. He could play quality passes and crosses for his strikers, as well as being an important defender and great tactically."
CM: Juan Sebastian Veron
"Seba had class – he was a very good passer and could score goals. He scored a lot of free-kicks, had strength and also did a lot of running, so he was a complete midfielder. We had a fantastic team at Lazio, probably the best I ever played in. We had great players all over the pitch with Nesta, Sinisa Mihajlovic, Fernando Couto, Roberto Sensini, Roberto Mancini, Marcelo Salas, Pavel Nedved. It was incredible."
CM: Paulo Sousa
"He was a quality passer who would press a lot in midfield, which was important for us. We won the league and Champions League together at Juventus. These two in midfield would be fantastic."
LW: Alessandro Del Piero
"Del Piero scored goals. He was very young when we were playing together, but he had already started to become one of the best players. He was a very good player then, but became a much bigger one after I left Juventus."
AM: Roberto Baggio
"The best I ever played with. Roberto was quick, a good passer and scored goals; the best Italian player of that era. Del Piero was very similar, but in my opinion, Baggio was better. He could pass, he could dribble. He won the Ballon d'Or in 1993 and scored a couple of important goals in that year's UEFA Cup final against Borussia Dortmund."
RW: Fabrizio Ravenelli
"It would be fantastic to play with all these players! You enjoy being alongside people like Roberto Baggio and Gianluca Vialli because you know that in every game there's the possibility to score goals. You would run a lot for them because they're quality guys. When you play with big players, you always enjoy it."
CF: Gianluca Vialli
"It's very easy to talk about the strikers. Vialli worked so hard on the pitch and scored some fantastic goals – he ran so much for the team, like me, and used his quality to beat defences. We were very similar."
Manager: Marcelo Lippi
"He's one of the best managers ever because he won everything, and helped us all build a strong mentality. Lippi believed in me even in difficult moments – we had a fantastic relationship."
Substitutes
Jurgen Kohler
Robert Pires
Juninho
Thank you for reading 5 articles this month* Join now for unlimited access
Enjoy your first month for just £1 / $1 / €1
*Read 5 free articles per month without a subscription
Join now for unlimited access
Try first month for just £1 / $1 / €1