Who is Antonio Rudiger? Meet Chelsea's imminent arrival who bashed the bullies in Rome
The Germany international is on the verge of signing for Chelsea from Roma for around £34m. Adam Digby explains Antonio Conte's desire to grab him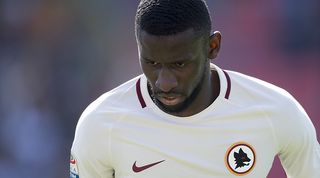 Before he even landed in south-west London, Antonio Conte was believed to be pushing Chelsea to shop in Serie A for a central defender. Given the time he'd spent both playing for and coaching Juventus (and the Italian national team) it made sense that the new Blues' boss would want to strengthen his backline with someone who had honed their craft in Italy.
Leonardo Bonucci, Kostas Manolas, Kalidou Koulibaly and Stefan de Vrij were among those touted as potential signings, but a variety of reasons left them empty-handed as Conte's debut campaign began.
But, just as the Azzurri and Bianconeri had done under his guidance, Chelsea rapidly improved and steamrolled their way to the title, breaking a record along the way. Having equalled the Premier League tally for consecutive wins in a season (13), and home and away wins against different sides (12), they also won more games than any team ever had (30) and collected the division's second-highest points tally ever with 93.
And yet there is room for improvement at Stamford Bridge this summer. Once the champagne had dried, the Blues were once again scouring to his homeland for reinforcements. After all, where better to look for a quality central defender?
So, just as he had 12 months earlier, Roma's Antonio Rudiger became the focus of Chelsea's attentions – and now a £34m deal has seemingly been finalised, ending a two-year pursuit of the Germany international.
A long time coming
Supporters of the Premier League champions are right to think this transfer has been a convoluted process. The club were linked with the player as far back as 2015, when Jose Mourinho urged the club to sign him from Stuttgart. Rudiger would instead opt to move to Rome – and when a second attempt was considered last summer, he tore the anterior cruciate ligament in his right knee, which ruled him out of both Euro 2016 and Chelsea's immediate plans.
However, this transfer highlights more than just the end of Conte's search for a long-term proven 'stopper', and a desire to improve upon his 2016/17 accomplishments. From Roma's perspective it springs from a need to comply with UEFA's Financial Fair Play regulations, which has also led to the sales of Mohamed Salah and Leandro Paredes in recent weeks.
Yet there's no doubt that the progress Rudiger has made during his time in Italy's capital has impressed Conte.
Now 24, Rudiger was something of a speculative signing by Roma, arriving on loan at a cost of just €4m from Stuttgart after suffering a spate of injuries for the beleaguered German club. Before that his career had undoubtedly stalled, having struggled with the nuances of his role and failed to establish himself in a precise position.
The young German was often deployed as a right-back by Stuttgart, a position in which he was handed his first opportunities with Germany after the 2014 World Cup, and which continued under Rudi Garcia at Roma.
It was when the Frenchman was replaced by Luciano Spalletti that Giallorossi fans finally began to see Rudiger's full potential. The new boss often shifted to a back three, using the Berlin native on both the right and left of his new-look defence, and Spalletti's system helped a player who had struggled positionally in a four-man unit begin to truly blossom.
It's not all been plain sailing for Rudiger in the Italian capital – he found himself on the end of a racist insult from Lazio's Senad Lulic after December's Rome derby, the Bosnian having unashamedly declared post-match that "two years ago he was selling socks and belts in Stuttgart, now he acts like he's a phenomenon". Lulic was slapped with a 20-day ban and €10,000 fine, but Rudiger was unafraid to voice further concerns after the season had ended following more unsavoury incidents during his stint in Italy.
"I was subjected to monkey chants in a number of games and nothing happened," Rudiger said in June. "I can't understand the lack of action. This is 2017 and this kind of behaviour can no longer be happening. You see all the banners out there saying 'no to racism', yet nothing happens in Italy. It's easy to say we should stay calm when you do not have the same skin colour. They will never know how it feels."
Low's high opinion
On the pitch, however, Rudiger has plenty of fans – particularly Germany boss Joachim Low, who has given him regular football and described the 24-year-old as "another Jerome Boateng... they're so alike". The comparison stems from both players' raw strength and composure, but also hints at the Roma man's improved distribution.
Rudiger was still prone to occasional lapses in concentration that led to mistakes, but that was a problem which often befell Bonucci and David Luiz before they found themselves being drilled by Conte.
Chelsea's manager was known during his time at Juventus as Il Martello – 'The Hammer' – often leading his defenders by the hand through training sessions, stopping to physically drag them into position and repeating the movements he expected until his team knew them off by heart.
It is a relentless method that clearly works, and one from which Rudiger will surely benefit. He already boasts excellent speed across the pitch, solid upper-body strength and good man-marking skills that indicate he will thrive in England, but an improved mentality would be a crucial addition for the 6ft 3in star.
He's not yet among the very best central defenders in Europe, but this is the kind of move that could prove to be the catalyst for him to become exactly that.
His presence will add depth and versatility to Chelsea's squad, particularly with the increased number of fixtures as the club returns to the Champions League.
Rudiger might not be the Serie A stalwart Antonio Conte hoped to bring to Stamford Bridge, but he might well be in time. No doubt, the promising young German will bring an added dimension to the Blues' rearguard, and is capable of showing the positive results of what an Italian education can do for a defender.
Quizzes, features and footballing fun
Get the best features, fun and footballing frolics straight to your inbox every week.
Thank you for signing up to Four Four Two. You will receive a verification email shortly.
There was a problem. Please refresh the page and try again.