Who should you support in MLS 2015? FFT's guide to picking your team
Stuck on who to back before Friday's big kick-off? Jason Davis has you covered...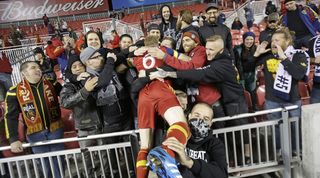 Major League Soccer isn't all that much different from most leagues. Sure, there's conferences and play-offs and the occasional plastic pitch but, really, the league has more in common with many of its contemporary competitions than people give it credit for.
That's especially true when it comes to picking a team. Lacking any real connection to a club through local ties, or because your cousin's sister-in-law's ex-boyfriend grew up with the starting right-back, choosing who to support is a matter of deciding what's important on a personal basis.
Like club colours (maybe you don't look good in red). Or style of play (#routeone4lyf). Or, as is usually the case, winning. Everyone likes a winner, even if they hide their glory-hunting behind some other completely believable story (like a tenuous family connection, for example).
When it comes to Americans picking English clubs to support, history and tradition usually get cited by neophyte fans as reasons to jump on board.
But history and tradition don't really exist in MLS, unless you view 20 years as a long time, in which case you're younger than everyone important so shut up and respect your elders.
So how should you go about picking your team? Remember, the rules of football fandom demand you make your pick and stick it out for life, with no take-backs. With that in mind, here's your guide to choosing an MLS club to adopt. So, pick this lot if…
...you're a glory boy (or girl): LA Galaxy
I mean, duh. The Galaxy are not only the former club of David Beckham and Landon Donovan, the current club of Robbie Keane and the future club of Steven Gerrard, they also just happen to be winners of three of the last four MLS championships. In a league that promotes the notion of parity and uses play-offs to crown a champion, the Galaxy's achievements are downright spectacular. It's a winning side based in the glamorous home of Hollywood and Beverly Hills. Go on, you frontrunner.
...you love a tear-up: Seattle or Portland
At the risk of offending MLS fans who think their teams have passionate rivalries, the real heat resides in the area of the country known as Cascadia. Not on the level of the ancient European derbies, Sounders-Timbers is nevertheless an exercise in hatred that transcends the sport's niche popularity in the States (basically this means it gets on Sportscenter). That's a big deal. Now, as for which side to pick, it's mostly about choosing which shade of green you like better.
...you're all about the celebrity, baby: Houston Dynamo, Seattle Sounders, or (in 2017) LAFC
If you watch games on television desperate to see which celebrities might make an appearance in the stands, you're probably not doing it right. Nevertheless, latch onto the Dynamo of Houston or the Seattle Sounders. Boxing great Oscar De La Hoya holds a minority share of Houston, while funnyman Drew Carey is a very visible part of the Sounders ownership group. Bonus points go to Houston for having another man with a propensity for shorts (Owen Coyle) on the touchline. If you can wait a bit, perhaps LAFC might satiate your celebrity worship when they join the league in 2017; among the club's long list of investors are names like Tony Robbins, Magic Johnson, Mia Hamm and... er, Vincent Tan. Gulp.
...you'd like a cool team name: Chicago Fire
Just because.
...you want to back the whipping boys: Toronto
If winning just isn't your thing, the most obvious candidate for your support is Toronto FC. Around since 2007, the Canadian club has somehow managed to miss the play-offs every year despite strong financial backing and vociferous support. While a sad sacking team by virtue of their poor history, TFC are especially interesting in 2015 because of the money they've spent to turn the tide. New signings Jozy Altidore and Sebastian Giovinco join Michael Bradley in a team under immense pressure to win, and win a lot, in 2015.
...you're even a tiny bit Italian: Montreal Impact or Toronto
Toronto get thrown into this thanks to the arrival of Giovinco, but it's the Impact that truly are the team of the Italophile. It might seem a bit counterintuitive that a club based in Francophone Quebec would be such a hotbed of Italian influence, but with owner Joey Saputo (hmm, sounds Italian...) in charge, Montreal have become the destination du jour for ageing purveyors of calcio in recent years. Yes, Marco Di Vaio retired after the 2014 season, Alessandro Nesta left the year before, and the club let Matteo Ferrari walk, but they did sign former Fiorentina man Marco Donadel to continue the Italian tradition. Despite he being the only Italian in the squad, Montreal are good for at least two rumoured signings of big-name Azzurri stars every year, so there's that. Oh, and Nigel Reo-Coker.
...style counts: Orlando City
Forget playing styles. If you like your gladrags as much as a 3-on-1 breakaway, turn your discerning gaze upon Orlando City. Not because of the club's colour palette of purple, white, and gold, but because starting centre-back Aurelien Collin is a fashion designer with the credentials to prove it. While with Sporting Kansas City, Collin launched a clothing line and retail store to express his love for men's fashion, a taste he picked up while growing up outside of Paris. His preferred style might not be for everyone, but it's certainly interesting. Collin brings a continental flair to MLS that the league otherwise lacks, and pulls it off in that smouldering, confident way only a Frenchman can. *Cue Olivier Giroud montage*.
...weird mascots are your bag: Portland Timbers
The Whitecaps have terrifying Kingfisher 'Spike', while San Jose's 'Quakesaurus' is a "human male who fell into a radioactive fissure in the Earth's crust and emerged from the fissure as an unageing furry blue creature". Naturally. But the Portland Timbers' mascot – a real human being – has an unusual ritual worth backing. Old hat for regular viewers of MLS, the presence of a man dressed as a lumberjack using a chainsaw to slice up a log whenever the Timbers score is probably quite a sight for the uninitiated.
...you're Chas & Dave: New York City FC
The beloved London duo got away with recording Ossie's Dream for Tottenham's 1981 FA Cup Final, because... well, it was 1981 and that's just what you did. Thirty four years later the spirit of club songwriting is still heaving its brutal last breaths, with New York City FC's All The Way featuring backing vocals from Champions League and World Cup-winner David Villa. Don't look at us, he signed up for this...
Aquí tenéis de para los fans del . ¡Será mi banda sonora para la ! March 4, 2015
Quizzes, features and footballing fun
Get the best features, fun and footballing frolics straight to your inbox every week.
Thank you for signing up to Four Four Two. You will receive a verification email shortly.
There was a problem. Please refresh the page and try again.