Why Arsenal should sell Alexis Sanchez for the collective good
If one of Alexis Sanchez or Mesut Ozil has to has to leave Arsenal this summer, Chas Newkey-Burden argues that it should clearly be Sanchez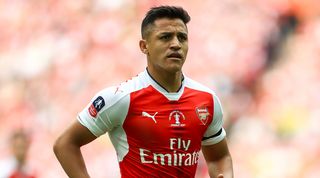 Note: Chas offers his take following an opinion piece on FFT advocating Arsenal letting Ozil leave so as keep Sanchez (opens in new tab). Let us know your thoughts @FourFourTwo (opens in new tab)
Alexis Sanchez must be good at time management. How else could he fit his football hobby around his acting career? Ripping off his gloves in anger. Shrieking at his teammates. Hammily sinking to the ground. Giving death stares to any player who dares not automatically pass to him. Pouting when he is substituted. Welcome to the Alexis show.
It sometimes seems that the talented Chilean thinks he is playing not for Arsenal FC, but Alexis FC. In football, there is a thin line between self-confidence and self-centredness. Great as he can be, Sanchez all too often stalks over that line.
In the season before he arrived, the Gunners often played with sublime slickness, and team spirit was the best it had been for years. Both these qualities showed when Jack Wilshere scored his much celebrated goal against Norwich in October 2013, and when Aaron Ramsey converted Olivier Giroud's flick to land the 2014 FA Cup.
Then, the ego landed. Having left Barcelona after tiring of playing second fiddle to Lionel Messi, Alexis made it clear from the moment he arrived at the Emirates that he was more interested in receiving the ball than passing it, and that he would intimidate any team-mate who overlooked him.
The team's slick moves began to be disrupted, and while the new guy sometimes worked wonders with the ball, he was also prone to surrendering possession, leaving the Gunners vulnerable to counter-attacks.
Turning toxic
Last season, as the team struggled through a horrid spell, his theatrics became toxic. Nowhere was this more evident than his tantrum when he was substituted in the 79th minute at Swansea. He dropped his head and sulked his way to the touchline, petulantly kicked his glove into the air, and then sat at the side of the dugout, a symbolic distance from his teammates. But the Alexis show wasn't over. The champion focus-puller draped a coat over his head and face, grabbing yet more attention.
These histrionics were all the more selfish because the man replacing him, the popular Danny Welbeck, was emotionally returning after nearly a year out with injury. It should have been his moment.
The last Gunners player to scowl and scream at his comrades if they didn't make him the epicentre of their every move was Thierry Henry. The Frenchman later admitted that this intimidating habit hindered his younger colleagues' development.
The Swansea sulk followed similarly angry gestures from Sanchez during matches against Crystal Palace, Manchester City and Bournemouth. Was his petulance a symptom of the Gunners' shattered confidence or a cause of it?
A case can be made either way, but while Ian Holloway's description of Alexis as a "selfish pig" might be a tad harsh, the Chilean forward is, in my opinion, the epitome of a self-centred footballer.Very occasionally in football, such behaviour can be indulged – but only when the individualist player is exceptionally talented. Alexis is a good player, but he is no Diego Maradona, Gheorghe Hagi or Roberto Baggio.
While some Gooners have seen through the Chilean's ways, for most he remains a favourite. To understand why, consider how long Arsenal's fans have been starved of leaders and heroes.
During the unbeaten season of 2003/04, the club was well stocked with such characters, on and off the pitch. Since then, Arsenal players have increasingly tended to be followers rather than leaders. Even the captaincy itself has become almost extinct as a concept: since November 2014, a Gunners club captain has started a match on just one occasion.
Wenger - once the club's fatherly figurehead, to be trusted without question - is now a somewhat compromised figure, seen by many as weak and past his prime. Leadership has also seemingly vanished from the boardroom, with the legendary David Dein replaced by the bewildering Ivan Gazidis. So when Alexis walked into this leaderless vacuum, the fans were so thirsty for an idol, they lapped up his disingenuous 'look at me, I care more than the others' vibe.
What a contrast is found in Mesut Ozil, the Gunners' other world-class star, who, like Alexis, has just a year left on his contract. While Alexis is the epitome of ego, Ozil, who prays before kick off for the safety of all in the stadium, is one of football's most selfless characters. As Alexis makes the players around him look worse than they are, the German makes them look better.
Last season was not the Ozil's finest, but he hasn't lost his magic. He grabbed goals and assists against the big teams, netted a hat-trick in the Champions League, set a new Premier League record for the most goal-scoring opportunities in a single match (vs Sunderland in May) and completed the most final-third passes in the Premier League.
While Alexis takes a "me, me, me" approach to the game, Mesut prefers to work his magic quietly, often unnoticed (opens in new tab). As Wenger said of the German, he is "a very, very collective player" who "sacrifices himself for the team".
Arsenal must hang on to Ozil this summer, particularly now Wenger has finally signed a striker to fully unlock his creative potential. With the arrival of Alexandre Lacazette, Mesut will have a chance to ping through-balls to a bright and mobile number nine. It would be ridiculous for Arsenal to sell the playmaker just as they are poised to see the best of him.
Some have suggested that Wenger will be unable to hold onto both Ozil and Alexis. Well, if the club were forced to choose between a sulking disrupter, or a magical metronome, the decision rather makes itself.
Thank you for reading 5 articles this month* Join now for unlimited access
Enjoy your first month for just £1 / $1 / €1
*Read 5 free articles per month without a subscription
Join now for unlimited access
Try first month for just £1 / $1 / €1
Get FourFourTwo Newsletter
The best features, fun and footballing quizzes, straight to your inbox every week.