Why Belgians want rid of the boss who made them the world's No.2 team
He's taken Belgium from 54th to 2nd in the FIFA rankings, so is Marc Wilmots being given a raw deal by his unappreciative home nation? FourFourTwo investigates...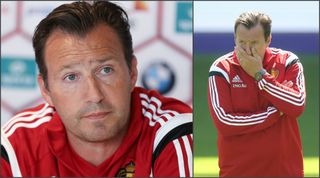 It is an oft-heard adage: managing your country is the hardest job in football. With the country's pride at stake, the national coach is more open to flak than any of his club colleagues.
And even if Belgians are known more for their modesty than their pride, they are no different. When the national boss fails to deliver the goods, both press and public soon move in for the kill.
The same goes for Marc Wilmots. Strangely, though, it is hard to see how Wilmots is not delivering. When he took over in the summer of 2012, Belgium were 54th in the FIFA rankings, hugely below expectation with the talent available. Three years later, Belgium are second, with only world champions Germany ahead.
Still, on social media and in some parts of the press, there are loud voices saying Wilmots is not the man for the job. The most popular choices to replace him are Eric Gerets and Michel Preud'homme, also former Belgian internationals with some pedigree in club management. So what's the problem? Why is Wilmots under fire? Who is he? And what's with Schalke nosing around for his services?
Good results came quickly
Marc Wilmots, Belgium's all-time top scorer, was chosen by Dick Advocaat as his assistant in 2009, a role he kept under Advocaat's successor Georges Leekens. When Leekens acrimoniously left for Club Brugge, Wilmots was promoted to head coach, to the delight of the players. Wilmots seemed to have the magic ingredient to forge a team out of a bunch of individuals, and results soon reflected the difference he made.
In his first game Belgium lost 1-0 to England, but played well. It was a sign of things to come. Next they beat arch rivals Holland 4-2 in a scintillating match. It was an incredible morale boost and Belgium never looked back. They qualified for the 2014 World Cup, topping their group nine points clear of Croatia, winning eight games and drawing two. In Brazil, they cruised through the group phase, played in one of the standout games of the tournament, a 2-1 win over the USA, and were finally ousted by Argentina.
Already, success seemed to have changed the psyche of the Belgian football fan. While most countries would celebrate their team reaching the last eight, Belgium wasn't happy.
A large or at least vocal group of fans and analysts felt that Belgium should have done better. Crucially, some said they would have under a different coach, because Argentina were there to be had. This theory conveniently ignored how Germany needed extra-time to beat the Albiceleste in the final.
Schalke circling?
Since the World Cup, with Belgium making a slow start to their qualifying campaign, these voices of discontent have grown louder. Since the first rumours of Schalke's approach, it has all been stirred up again. Belgian online magazine Voetbalnieuws.be, who have been on Wilmots' case for some time, last week published a list of their best reasons to say good riddance. The rundown reflects the most frequent criticisms of Wilmots. The following things leap out, each with a counter-argument:
"Wilmots is tactically unaware." To illustrate this, the website has an example: the one competitive game Belgium lost under Wilmots. They say Belgium refused to play against the Argentines, something many will remember as being the opposite. The site also claims Wilmots can't seem to make Eden Hazard and Kevin De Bruyne work together. England fans will recognise this from the Lampard-Gerrard era. Now, as then, this accepted truth is contradicted by the statistics.
"He should have taken Radja Nainggolan to the World Cup." Nainggolan had a phenomenal 2014/15 season at Roma and, with his fight and flair, has become one of the Belgian fans' darlings. However, World Cup places were expensive, especially in midfield, where at the time Axel Witsel, Mousa Dembele, Marouane Fellaini and Steven Defour were all ahead of Nainggolan in the pecking order. The Roma man has since played himself into the Belgium set-up, possibly causing hindsight-informed comment.
"There is not enough discipline." The fact that he has forged a strong squad, almost a bunch of friends, is used against Wilmots as the site says he is "more friend and father than coach." Bizarrely, they also suggest there must be problems in the squad: goalkeepers Simon Mignolet and Thibaut Courtois have been embroiled in a spat and the latter has allegedly had an affair with De Bruyne's then-girlfriend.
"Why doesn't he select players from Gent?" Gent won Belgium's Pro League and boasts some fine players, but the Belgian league isn't exactly the strongest in Europe. The best players go abroad.
There is more but most of the criticism seems shallow, as if people don't like Wilmots as a person and try to add substance to their opinion. It's certainly strange to see such animosity towards such a successful coach.
In 20 competitive games under him, Belgium have won 15 and lost just one. It is this consistency that caused their fast rise to a position they proved worthy of last Sunday, when they thumped France 4-3 in Paris. 4-1 up before the hour mark, they then eased off and France scored two late goals.
The fighting pig
No wonder Schalke want their hero back. Wilmots scored the spot-kick that won them the UEFA Cup in 1997. The adoring Schalke fans dubbed him 'Kampfschwein' (fighting pig) for his feisty displays. Despite the fact that his short spell as Schalke manager in 2003 only brought six points out of 24, his work with Belgium seems to have convinced them. After a disastrous season under Roberto Di Matteo, Wilmots is a potential messiah. The reasoning might be: if he can do a Lazarus on Belgium, then why not here?
Wilmots, meanwhile, seems oblivious to the commotion around him. He just gets on with his job, the way he used to as a player: nothing too fancy, just do what you can and do it well. He has refused to comment on the situation after Belgium's qualifier in Wales and no one knows what he will do. The players want him to stay, as Toby Alderweireld publicly confirmed a few days ago. A win would all but guarantee Belgium's presence at Euro 16, their first appearance since 1984 bar the year they co-guested with Holland. But some will be happy if he announces his decision to leave. It's a strange game, this football.
Quizzes, features and footballing fun
Get the best features, fun and footballing frolics straight to your inbox every week.
Thank you for signing up to Four Four Two. You will receive a verification email shortly.
There was a problem. Please refresh the page and try again.