Why Juan Mata's decline is a sign of the times at Manchester United
By John Brewin published
He was United's record transfer when he signed almost five years ago, but the Spanish playmaker's on-pitch influence has waned even as he's grown as a social conscience, writes John Brewin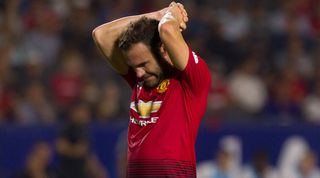 A delighted David Moyes said he would be the first of "many more" Manchester United signings, but Juan Mata would prove to be the Scot's last.
The Spaniard's January 2014 arrival at the club's Carrington training complex came via helicopter, a set-piece of old-school showbiz pizzazz to match the great expectations; this was a time before United grasped the nettle of social media rollouts of their expensive new purchases.
Manchester United's snatching of a star player from Chelsea, a rival, led to comparisons with Alex Ferguson's poaching of Eric Cantona from Leeds in 1992. A series of impeccably sourced newspaper pieces were able to proclaim the newfound transfer market nous of Ed Woodward, United's executive vice-chairman.
Mata scored a spectacular winner at Anfield in March 2015, a goal in the 2016 FA Cup Final, and collected League Cup and Europa League winners' medals in 2017. He has certainly made a much larger imprint than Mohamed Salah (bought by Chelsea using £11m of the £37m received for Mata) made at Stamford Bridge. But even if his impact on United has hardly been negligible, Mata ended up the first of a continuing line of false messiahs who have arrived at a club unable to live up to the legacy left by Ferguson and his players.
Don Juan
The flair player Manchester United have enjoyed on fleeting occasion is way short of the Mata who Chelsea fans recall so fondly, even after he defected to a rival. In west London, he supplied two-and-a-half years of regular brilliance. He gave a masterful, disciplined, central midfield display in the 2012 Champions League Final, including the delivery of the corner from which Didier Drogba equalised against Bayern Munich.
In Chelsea's 2012/13 season, he scored 19 goals and supplied 35 assists, the latter statistic the highest of any player in Europe's top leagues. With Paul Scholes retired and Ryan Giggs in the final year of his career, Mata was a creative solution to a United team playing blunt, unimaginative football. Three assists in his first three matches suggested he might be just that, but as the darkness closed in on Moyes before his April 2014 dismissal, Mata lost form like the rest of the squad.
Five seasons on, Mata – still just 30 years old – has drifted into the final year of his United contract. Last year, he scored only three goals, supplying a mere seven assists as he rotated in and out of the team. Not remotely pacy enough for the vacant right-flank role, his 61kg frame is not trusted by Jose Mourinho in the centre of the park.
Mata's best United form came under Louis van Gaal, for whom he scored that 2015 winner at Liverpool (below) and the equaliser against Crystal Palace in the FA Cup final at Wembley. However, Van Gaal also had problems accommodating him, since the Spaniard often operated at cross-purposes with Wayne Rooney's pretensions of being a creative player.
Dark Mata
Other great hopes like Angel Di Maria, Radamel Falcao, Bastian Schweinsteiger and Henrikh Mkhitaryan have come and gone around him but Mata remains, nowhere near as great a disappointment but a frustrating enigma nonetheless. He now lingers as a reminder of a time it was believed there might actually be a quick fix to the post-Ferguson malaise.
When the time comes for his departure, he will probably not be as celebrated like Santi Cazorla, a player of comparable ability, was upon leaving Arsenal. Instead, there is a danger he will be recalled far more fondly for a pleasant off-field persona than playing football. Educated, curious about his surroundings, Mata the culture vulture has enthused about metropolitan life in the world's first industrial city.
"In terms of music, many important bands came from here," he told El Pais in 2015. "There are many art galleries, museums, good restaurants."
An attitude, then, in marked contrast to that of Carlos Tevez, who infamously slated Mancunian eateries; or Di Maria, who regretted his move from Real Madrid almost as soon as he caught sight of his new home's battleship grey skies and became desperate to leave once he was the victim of a burglary.
Juan per cent
Mata, the thoughtful blogger on the club's official website, has revealed himself as the conscience of an institution that is a bastion of rampant capitalism. While the plumped-up egos of Mourinho and Ed Woodward lock horns, and United's coffers swell with partnership deals with companies across the world, Mata is M16's philanthropist. He was the face of the September 2017 launch of Common Goal (opens in new tab), which encourages players and coaches to donate one per cent of their salary to charities across the world.
It remains a curiosity that none, as yet, of his United colleagues have joined him in that pledge, a question usually explained away by most players operating their own charitable foundations. Yet a public sense of social responsibility still sets Mata apart from the rest.
That interest in a world beyond football might suggest why he and Mourinho have never quite knitted. Mata, renaissance man rather than hard man, is a world away from the machismo that Mourinho latterly propagates, and he could never match the physical prowess which United's manager has always preferred.
The midfielder has made peace with the manager who was happy to offload him in January 2014, and with whom he said he had enjoyed "no relationship" at Chelsea, but Mata is never going to be Mourinho's type of player.
A player of such rich, proven talent has been unable to meet the expectation of that helicopter descent to Carrington, and his decline is further pinpointed by the stagnation of his international career at a time when the Spanish national team has also been attempting to revive itself in vain. Stuck on 41 caps, he has not been called up for almost two years. A goal in the Euro 2012 Final once earmarked him as a future mainstay.
He is by no means the biggest bust of United's wasted years, but Mata was first to expose that the club couldn't just spend itself back to prominence.
Thank you for reading 5 articles this month* Join now for unlimited access
Enjoy your first month for just £1 / $1 / €1
*Read 5 free articles per month without a subscription
Join now for unlimited access
Try first month for just £1 / $1 / €1
Quizzes, features and footballing fun
Get the best features, fun and footballing frolics straight to your inbox every week.
Thank you for signing up to Four Four Two. You will receive a verification email shortly.
There was a problem. Please refresh the page and try again.