Why Michael Carrick is the wrong choice for Manchester United captain
Michael Carrick is Man United's most decorated player but, Scott Patterson argues, there's little benefit to him wearing the captain's armband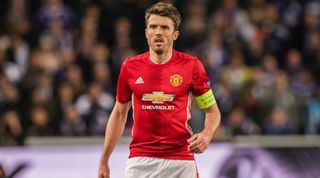 The news that Michael Carrick has been named captain of Manchester United, replacing the outgoing Wayne Rooney, was met with a mixed response from the club's fans.
While in some respects Carrick may have been the obvious choice, having spent 12 years at the club and experiencing the most success of anyone in the squad, there were plenty of supporters who hoped Jose Mourinho would be more forward-thinking in his choice.
Carrick turns 36 later this month and only started 18 Premier League games last season. You would presume he will feature in even fewer matches next season, particularly if United do sign Eric Dier, Nemanja Matic or another of the midfielders reportedly on Mourinho's shopping list.
A fresh start
Next season should start the beginning of a new era at the club, with the manager given enough time and money to build his own squad and leave his mark on the club, undoing the damage done by David Moyes and Louis van Gaal. There is no more room for excuses.
The arguments in support of Carrick's appointment are that he's been a loyal servant to the club, he can pass on his wisdom to the youngsters, and his role would be more as club captain, rather than team captain.
Bryan Robson played a similar role in the 1992/93 season, when injuries and competition from Paul Ince and Brian McClair, who played a deeper role following the arrival of Eric Cantona, limited his league appearances to just 14. At the end of the season, he lifted the Premier League trophy with Steve Bruce, who played in every single league game and wore the captain's armband more regularly. As the longest serving captain in United's history, this honour made sense.
Gary Neville found himself in a similar position between 2008 and 2010. Having missed out on all of United's double winning season through injury, then left to celebrate on the sodden Moscow turf in his suit after United were crowned champions of Europe, he made just 16 and 17 appearances respectively across two seasons. Wes Brown and Rafael Da Silva were ahead of him in the pecking order at right-back, when they could stay fit.
Ryan Giggs (as vice-captain) or Rio Ferdinand wore the armband most weeks during this period. Yet Neville, like Robson before him, was afforded the opportunity to lift the Premier League trophy alongside Giggs. Again, as a player who had been at the club since he was a child, working his way up through the ranks, it made sense he was shown this respect of being club captain.
The difference with these situations though was that they were both already the captain when age, injuries and decline prevented them from playing as much as they used to. Carrick, at best, has been vice-captain.
When Neville chose to retire, acknowledging he was no longer able to play at the level required, Sir Alex Ferguson didn't name Giggs as his captain, the player who had been at the club since he was 14, but rather Nemanja Vidic. This wasn't seen as a slight on Giggs, who had given his entire career to the club and deserves more respect than any United player of the modern era. Instead it was a manager looking to the future.
A valueless appointment
Of course, it's not detrimental to the club to have Carrick named as captain, but it feels slightly pointless. All the attributes he has to offer wouldn't be limited by him not being named captain. In Ferguson's glory days, there were leaders all over the dressing room. Vidic being named captain didn't prevent the likes of Ferdinand, Giggs or Patrice Evra giving advice to their teammates.
Mourinho is possibly viewing next season as the opportunity for the long-term future captain to prove his worth. This can be the year that they audition and show themselves as the real leader of the team, with Carrick unlikely to feature too heavily.
Ander Herrera is a strong candidate but has repeatedly downplayed (opens in new tab) his right to the captaincy over recent weeks, after fans called for him to replace Rooney in the role. Paul Pogba is another contender, although he's still dealing with the pressures of being the most expensive player in the world.
Another possibility is that Mourinho isn't too bothered about who wears the armband. This is a viewpoint shared by Roy Keane, arguably United's greatest ever captain, who claimed he was fairly indifferent to Ferguson giving him the job. "No big deal," he said, when reflecting on when the armband was passed on to him from Eric Cantona.
Now read...
Remembering Manchester United's mad 1999 trip to Oz: Casino all-nighters and dirty Dwight Down Under
Why Wayne Rooney leaves Manchester United with a divided legacy

Mourinho doesn't want to upset the apple cart so maybe going down the chain of command to Carrick is the easiest thing to do.
Although it's worth noting that Mourinho displaced Chris Smalling last season, with Antonio Valencia leapfrogging him to be named captain for the Europa League final. This suggests the manager doesn't see the role as totally meaningless.
Essentially, it doesn't matter too much either way, as Carrick won't play very often. We will learn a lot more about who Mourinho sees as the team's leader with his decision on who captains the team in Carrick's absence. Next summer's appointment, when United's no.16 presumably leaves the club, is what will really matter to the fans.
Thank you for reading 5 articles this month* Join now for unlimited access
Enjoy your first month for just £1 / $1 / €1
*Read 5 free articles per month without a subscription
Join now for unlimited access
Try first month for just £1 / $1 / €1
Get FourFourTwo Newsletter
The best features, fun and footballing quizzes, straight to your inbox every week.