Why Tottenham Hotspur fans have always hated Wembley
Tottenham will soon return to White Hart Lane after a prolonged period at the national stadium. But why have fans hated their stay there so much? Dan Fitch explains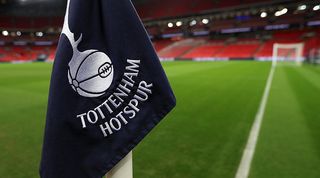 Dan is the editor of the Tottenham Blog (opens in new tab). You can follow them at @tottenhamblog (opens in new tab), too
Every fan should dream of watching their team playing at Wembley, but we Spurs supporters will be hoping that we don't have to make a trip to the national stadium again for quite some time.
Only two test events stand between Tottenham and the awarding of the safety certificate they need to return to White Hart Lane against Crystal Palace on April 3. It says much for both the nervous nature of Spurs fans and haphazard history of the new stadium's construction that no one is taking the presentation of this certificate for granted.
One can only hope that nothing goes wrong, because to face another game at Wembley this year would be too much to take. It was meant to be 'home' for just one season. Tottenham supporters accepted that, only for the move date to be continually pushed back. At least prison sentences are usually shorter.
World's smallest violin
You might wonder what's so bad about playing in a 90,000-capacity stadium that's still fairly new and shiny. Though a day out at Wembley for a cup final or promotion-deciding play-off match remains a thing of wonder, the flaws of the stadium become only too apparent when you're playing there on a regular basis. On big occasions there are enough excited people to mask the acoustic problems of the ground. Tottenham have had some matches like that during our stay at Wembley, especially on European nights, but they came far too rarely.
When the place is half-full and half-awake for a 12:30pm kick-off against uninspiring opposition, attempts to get chants going fall flat. The shallow shape of the bowl fails to hold in the sound, and before long the fans find themselves singing all the right words, just not necessarily in the right order.
MORE SPURS
OPINION Why Mauricio Pochettino is masterminding his biggest achievement yet at Tottenham (opens in new tab)
FFT100 2018No.10, Harry Kane (opens in new tab)
The lack of atmosphere has led to regular season ticket holders giving up on Wembley, replaced by more casual fans who are less inclined to make noise and more likely to spend the match sitting down.
It takes an age to get inside Wembley when it's busy, with the architects having taken a minimalist approach to the number of turnstiles needed. Leaving is no easier, as the two nearby tube stations fail to handle the numbers. Under normal circumstances that would be a great excuse to spend more time in the pub, but the ones we really wanted to be drinking in were some 10 miles east.
ALSO TRYHow Son Heung-min became destroyer from decorator – and grew up for good at Tottenham (opens in new tab)
Watching the actual game is just a small part of the experience of a match-going fan. Quite often it's the worst bit. It's all about the little routines. The journey you take, where you drink, which friends you meet. When a club moves from their historic environment, all those things are lost. Even though the fixture list might claim otherwise, you're not at home.
It's why I know that for all the frustration, Spurs fans are lucky. We haven't been homeless for that long, when compared to supporters of Charlton during their nomadic years. Nor have we been moved to a different part of London like West Ham. When Coventry's place in the Football League is at risk over their dispute with the owners of the Ricoh Arena, a nine-month wait to move into a stunning new stadium is put into perspective.
Going home
We get to go back. The club might have persuaded Transport for London to rename the nearest station 'Tottenham Hotspur' in an effort to flog the naming rights to the ground, but whatever it ends up being known as, it will always be 'The Lane' to us.
It's a brand new stadium, in an entirely familiar location. For all the changes made, the important things will remain the same. Wembley never felt right. From April, Tottenham Hotspur will finally be playing home matches, at home.
Probably.
NOW READ…
HISTORYThe Nazis at Tottenham: Why did the swastika fly at White Hart Lane? (opens in new tab)
INTERVIEWBale: I haven't spoken to Zidane since scoring in the Champions League final (opens in new tab)
New features you'd love on FourFourTwo.com (opens in new tab)
Thank you for reading 5 articles this month* Join now for unlimited access
Enjoy your first month for just £1 / $1 / €1
*Read 5 free articles per month without a subscription
Join now for unlimited access
Try first month for just £1 / $1 / €1
Get the best features, fun and footballing quizzes, straight to your inbox every week.
Get the best features, fun and footballing quizzes, straight to your inbox every week.
Thank you for signing up to Four Four Two. You will receive a verification email shortly.
There was a problem. Please refresh the page and try again.