Why Zidane has no right to take over from Ancelotti at Real Madrid this summer
David Cartlidge says the legendary Frenchman's disastrous stewardship of Castilla means the top job at Real Madrid would be coming far too soon this summer...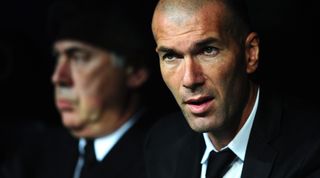 ALSO ON FFT.COM
There are a few certs in life but death, taxes and Real Madrid changing coach are among them. And once again, all signs point towards the club going down that familiar road. After all, this is the club that famously sacked a manager after winning the Champions League (Vicente del Bosque). Another, Fabio Capello, went after capturing the La Liga title. Imagine, then, when a head honcho comes away at the end of a season empty handed like Carlo Ancelotti is about to.
To make matters worse, Real's lack of silverware comes on the back of yet another summer in which the club invested lavishly. But despite a lack of reward, there is some in the stability instilled at the Bernabeu – at least at playing level. Ancelotti's work in calming the capital waters after the storm that was Jose Mourinho has been admirable, and in ways has been as important as a trophy.
The mess Madrid were left in under Mourinho was significant; partly the Portuguese's own fault, partly because of the board's meddling, partly the press's creation of such a torrential negative downpour. Ancelotti's tenure, overall, has been a sound one.
He's brought about stability, integrated expensive signings among several youngsters, but also avoided any particularly high-profile clashes that befell Mourinho with both the board and the press.
Take into account that Ancelotti's requests have often fallen on deaf ears, and the Italian's work looks even more impressive. The former Chelsea chief has bit his tongue and got on with his job.
ZZ's top?
ALSO ON FFT.COM
But that doesn't impress Florentino Perez much, and the question now is which direction Real Madrid will head in. There are numerous options on the table. Jurgen Klopp will soon be on the market and Joachim Low has a World Cup win on his CV, but neither would arrive without caution. Klopp's methods and lack of Plan B have come into question, and it's not truly known how good Low is outside of a comfortable Germany setup. There is one name being touted more than any other candidate, however –that of Zinedine Zidane. Realistically, it's difficult to see why. But this is Real Madrid, after all, where realism isn't often a factor but mere collateral in the club's make-up. So much so, you actually begin to believe yourself that Zidane could be a genuine option for the gig. Los Blancos are a headache for an outsider to understand – just imagine what operating within the Bernabeu's confines is like.
Zidane, the man and the player, needs no introduction; a genius in his art. He even had a movie made about him, and few can claim that. Zidane the coach, however? Well, that's a different story. 'Zizou' was planted into Castilla, the glorified 'B' team at Real Madrid, after originally joining in a sporting director capacity. He sampled life on the training field too, mixing with the first team as Ancelotti's right-hand man.
Last summer he was appointed boss of Castilla, where life hasn't been anywhere near as glamorous in Spain's Segunda B. If Zidane the player was a blockbuster movie on an astronomical budget, then the coach has so far been two kids filming themselves wrestling in the back garden.
Treacherous third tier
Segunda B was meant to be the perfect environment for Zizou; safe from the mildly brighter spotlight of Segunda A, but not the purgatory that is the Tercera Division. Castilla too, from a team point of view, were in pretty good shape to hit their target of promotion. While structurally there remains questions marks over the team, on a pure player-to-player basis they were seen as one of the strongest sides in the division.
They also had the added bonus of Martin Odegaard arriving. The Norwegian wonder-kid would benefit from the tutelage of one of the finest midfielders of his generation; one who'd netted twice in a winning World Cup final five months before he was even born. The bonus, however, has been more of a burden. And as for the perfect ground to learn on for Zidane, Segunda B has instead been full of potholes.
Last weekend, Castilla failed their single objective for the season: to reach the play-offs. With a single game remaining they have fallen well short of what was expected, and the failure cannot be downplayed.
It's the worst possible start to Zidane's management career, not just for himself but Real Madrid too. This was meant to be the year Castilla stormed the league, Zidane came away with great acclaim and helped nudge Odegaard towards the first team. Alas, none of those things have happened.
In fact, it hasn't even been close. It leaves two problems: firstly, that the club's heir apparent has failed his first task terribly. Secondly, and more concerning past one man, is the probable departure of Castilla players who can't afford to play another year at that level: see the highly-rated likes of Aguza, Benavente, Derik and Medrán. They will all go. But how did this situation arise?
ALSO ON FFT.COM
"I don't consider him a colleague"
First has been the issue of coaching licenses. For some time, Zidane wasn't even listed as the coach of Castilla on Real Madrid's website for bureaucratic reasons.
It sat badly with some, who believed that the badges were there for a reason. Zidane had somehow skipped the process thanks to his name. It also called into question whether this was too much too soon for the Frenchman. Should he have started off lower down the ladder, potentially with the C team?
Paco Jemez, Rayo Vallecano's enigmatic manager, was one of the first to speak out. "With respect to Zidane, I don't consider him a colleague because he doesn't have the necessary badges," said the outspoken Spaniard. "When he takes them, then I will consider him a colleague."
The remarks even provoked a response from Ancelotti, but Jemez was hardly fazed when he continued: "I think it is shameless. I don't know why I studied and got my qualification when it results that in Spain you can coach without them. Not only that, I am disappointed with the council of coaches who did nothing."
The majority of other coaches in Spain all began in some form of youth category – Getafe's Pablo Franco, for example – and the subject is a sensitive one. Zidane did finally claim his UEFA Pro Licence, though, and recently uploaded a photo to Instagram announcing as much.
But this was only in April. It was the most communication he'd managed this season too, having not appeared before the media once. There has been little clarity from him in terms of the season's direction.
From a pure coaching perspective this season, Zidane has left a lot to be desired. Castilla have seemingly been unable to forge an identity, and instead relied upon the presence of gifted individuals. The Frenchman hasn't shaped the team, imposed himself or created a side in his own image.
Zidane, the presence, is huge in training. Just seeing his figure is enough to motivate you. But there has to be more. An inability to offer it has left the team in limbo, and Castilla continue to be the taboo subject. They are still a factory for Real Madrid to produce players, but their standing has become a sad state of affairs given the resources at hand and the talent that comes through. Borja Mayoral is the latest to turn heads, a striker in the purest of forms who looks an even better prospect than a young Alvaro Morata.
Then there's Odegaard. Since his arrival, Castilla have dropped from 2nd to 9th. "Fifty eight per cent of the available points taken before the 16-year-old arrived and 37% after," wrote AS. Odegaard has clearly been poorly man-managed, and the noises from inside his own camp and that of Real are concerning.
Other players at the club have taken a hit since Odegaard's arrival, with conspiracy theorists suggesting that some won't even pass to him. Watching a Castilla game in isolation, it's clear that collective factors aren't right. Zidane should have the influence to bring them all together.
Real Madrid not only have Champions League and La Liga disappointment to contend with, but the apparent solution to those problems is encountering plenty of his own. All the chips were stacked on Zinedine Zidane the manager, but for now all bets should be off.
COMING NEXT WEEK The truth about Odegaard's first season at Real Madrid by Thore Haugstad
Thank you for reading 5 articles this month* Join now for unlimited access
Enjoy your first month for just £1 / $1 / €1
*Read 5 free articles per month without a subscription
Join now for unlimited access
Try first month for just £1 / $1 / €1
Get FourFourTwo Newsletter
The best features, fun and footballing quizzes, straight to your inbox every week.