EXCLUSIVE: England captain Harry Kane reveals what it'll be like to face Germany at Euro 2024
England star Harry Kane has discussed how he'll approach taking on German counterparts at Euro 2024 next summer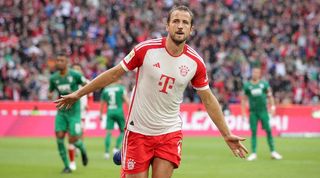 (Image credit: Getty Images)
England captain Harry Kane has revealed exclusively to FourFourTwo how he'd feel about playing against Germany – the country he now lives in – at Euro 2024.
The Three Lions and Die Mannschaft are both confirmed for the tournament next summer. England have recently qualified as group winners ahead of Italy, while Germany are set to host the tournament.
With Kane now playing for Bayern Munich, we recently asked him about the prospect of playing players that he knows so well from club level.
"Whether we have to play the Germans or not, the focus is to try to win the European Championship," Kane diplomatically tells FFT. "So we'll have to wait and see if that happens. When you're playing against club team-mates it's always a bit of a strange game, but it's something I've got used to more over the years, playing international football."
"Germany are still one of the best teams in Europe," he declares, with the air of a British ambassador on official duty. "The Euros will be tough, whether or not we end up facing the hosts. But we've played them before and we know we can expect them to refocus and challenge for the trophy."
Kane is, of course, referring to the Euro 2020 quarter-finals in which he scored the suckerpunching second goal – not long after Thomas Muller missed a glorious chance to equalise. So, has Kane spoken to his new pal Muller about that Euro 2020 game yet?
"No, I haven't felt like bringing that one up," chuckles Kane. "And I'm sure none of my new team-mates would enjoy it being discussed, so it might have to be kept quiet, that one..."
Still, getting to play with England every few months must feel like nice familiarity for a player who has just left the nest.
"It was good to see all of the lads and they asked how things were going, which was nice," he continues. "I had a little catch-up with Jude Bellingham about living in Germany, as he's been through some similar experiences to me. It was fun to hear his stories about playing in the Bundesliga."
More England stories
Theo Walcott says he should never have gone to the 2006 World Cup at just 17-years-old.
The FA confirms that it will consider Sarina Wiegman for the England men's national team job after Gareth Southgate.
Tottenham legend Ledley King explains why his finest moment in an England shirt was also the beginning of the end for him.
Thank you for reading 5 articles this month* Join now for unlimited access
Enjoy your first month for just £1 / $1 / €1
*Read 5 free articles per month without a subscription
Join now for unlimited access
Try first month for just £1 / $1 / €1