Golden Boy awards take bizarre twist involving Taylor Swift as Barcelona wonderkid inadvertently helps Jude Bellingham's chances
Jude Bellingham is set to benefit in the voting for the Golden Boy award after old comments by one Barcelona contender have resurfaced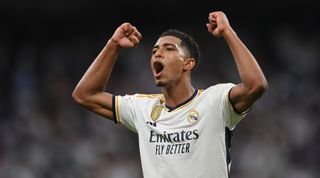 (Image credit: Getty Images)
Barcelona wonderkid Alejandro Balde has unwittingly helped Jude Bellingham in the race for the 2023 Golden Boy Web award, after admitting he didn't like Taylor Swift's music.
Comfortably leading the 2023 Golden Boy Web award organised by Tuttosport a couple of days ago, Balde's vote for the honour dropped from 43 per cent to less than 15 per cent after saying he wasn't a fan of the 12-time Grammy award winner.
This plummet in vote shares came after Taylor Swift fans dragged up quotes from the 19-year-old Barcelona full-back from May. He purportedly stated: "Do I like Taylor Swift? No, I don't like her music".
One tweet posted by a Swift fan urged people to vote for Bellingham so that Balde's lead in the award would be thwarted, which has since been seen over seven million times.
Swift fans have since proceeded to hijack the voting for the Golden Boy award, with Twitter users all agreeing to vote for Real Madrid midfielder Jude Bellingham instead. Since Tuesday afternoon, Bellingham's vote share has risen from 30 per cent to 80 per cent.
In total, over three million votes have been cast for the award, which is in addition to the Golden Boy trophy first established in 2003. Gavi is the current holder of that honour, after journalists from across Europe deemed him the most impressive player on the continent under the age of 21.
Hey Swifties! 🫵👋 we can't let this Balde guy win the golden boy award 😡💅 Vote for Jude Bellingham here 🫠👇 #TaylorSwift #1989TaylorsVersion https://t.co/705IUsahAk pic.twitter.com/8Y6m2uRmFFSeptember 5, 2023
While Balde has enjoyed a solid start to his 2023/24 campaign with Barca, starting three of the four La Liga games and also earning a call-up to the Spain national side, he can have no qualms with Bellingham beating him in the votes - regardless of the campaign run by Taylor Swift fans.
Having scored five goals in four La Liga appearances for Real Madrid, Bellingham has clearly settled into life in the Spanish capital with ease. Gareth Southgate has also selected him for the latest England squad due to face Ukraine and Scotland, after proving his worth to the national side at just 19.
VIDEO: Jude Bellingham plays three positions at once
More Barcelona and Jude Bellingham stories
Delving deeper into why Barcelona have loaned Ansu Fati to Brighton, despite him being seen as Lionel Messi's heir at one point.
Everything you need to know about Lamine Yamal, the next wonderkid to come out of La Masia.
Bellingham gets 'goosebumps' at Real Madrid fans' Santiago Bernabeu tribute.
Thank you for reading 5 articles this month* Join now for unlimited access
Enjoy your first month for just £1 / $1 / €1
*Read 5 free articles per month without a subscription
Join now for unlimited access
Try first month for just £1 / $1 / €1