Jude Bellingham ahead of Zinedine Zidane and Luis Figo? Former Real Madrid defender explains how England midfielder has edge on Los Blancos legends
The 20-year-old has scored 13 goals in his first 14 appearances for the Spanish side, including two in the recent win over Barcelona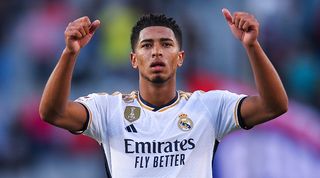 (Image credit: Getty Images)
Former Real Madrid defender Aitor Karanka believes Jude Bellingham has bettered Los Blancos legends Zinedine Zidane and Luis Figo with his spectacular start to life at the Santiago Bernabeu.
Bellingham, who is currently out with a shoulder injury, has had an instant impact since signing for Madrid from Borussia Dortmund in the summer in an £88 million deal.
The England midfielder has netted 13 goals in his first 14 appearances for Los Blancos, including late winners against Getafe, Union Berlin and Barcelona in El Clasico.
His impressive performances so far have seen him compared to legends like Cristiano Ronaldo, Alfredo Di Stefano and even Diego Maradona – and he has now been likened favourably to Zidane and Figo by one of their former team-mates.
"I did not have any surprise or any doubt, but maybe one surprise is just how quickly he's done this," Karanka told The Mirror.
"I played with Figo and Zidane and, even for them, it took time. I remember when Zizou arrived here, the first month or two months, he was not as good as he was at Juventus or later on. It's Real Madrid.
"But with Jude's personality and character, it looks like he's been playing here for 10 years in Madrid. No other club is like it. When I played here, there were top players but all of them were older but now at 20 years, the only one I think of is Raul who started at 18 or 19 but when you are as young as Jude, it's hard to find anyone who has been as successful as him."
Karanka, who worked as an assistant at Real Madrid alongside Jose Mourinho and also had a spell in charge of Bellingham's former club Birmingham, added: "More than his quality and skills, the most important thing is his personality. How mature he is, his brain and the family. The family have clear ideas, Jude has his own ideas and I think it's important for his direction.
"When he left Birmingham, he could have gone to other teams in the Premier League but when he joined Borussia Dortmund, it was because he thought it was the best step for him and now I think Real Madrid has been the same."
And Karanka revealed that Bellingham had turned down offers from Liverpool and Manchester City before moving to Spain.
"For sure, he had offers to go to Liverpool, Manchester City but he decided to go to Madrid as soon as he arrived here and he's made the difference," he said.
"His family is so strong. His brother Jobe plays in Sunderland, his father is with him in Sunderland and his mother is with him here and I think it's vital because, as a player, 25 years later to play for Real Madrid means you are more than just a normal player."
More Jude Bellingham stories
Jude Bellingham picked up a shoulder injury as Real Madrid were held by Rayo Vallecano in LaLiga last weekend.
Meanwhile, it has been claimed that Bellingham rejected Manchester United because the Red Devils were unable to guarantee him first-team football at Old Trafford.
And following his heroics in El Clasico for Real Madrid recently, the England midfielder has been compared to Los Blancos legend Cristiano Ronaldo.
Thank you for reading 5 articles this month* Join now for unlimited access
Enjoy your first month for just £1 / $1 / €1
*Read 5 free articles per month without a subscription
Join now for unlimited access
Try first month for just £1 / $1 / €1