Mokoena eager for chance to shackle Torres
JOHANNESBURG - South Africa captain Aaron Mokoena said he was eager to renew battle with Fernando Torres having come off a distinct second best to the Spanish striker just two months ago.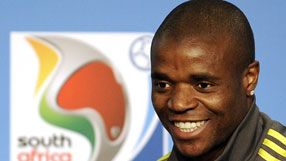 The two meet again on Saturday in the Confederations Cup when South Africa play Spain in Bloemfontein in a decisive Group A match for the host nation.
South Africa need a draw to guarantee progress although if Iraq fail to beat New Zealand in Johannesburg in the other group game being played at the same time, a defeat for the hosts would still mean they qualify.
Spain, the European champions, have already qualified.
The eyes of the central defender, recently signed by Portsmouth from Blackburn Rovers, lit up when asked about the clash.
"That's going to be the interesting part," he told reporters after Wednesday's 2-0 win over New Zealand in Rustenburg.
"Torres is a quality striker; we are going to have to be alert for the whole 90 minutes. He is so strong in his finishing. Any chance he gets he can make something out of it.
"We must make sure we are not obsessed by him but be alert to his danger at the same time," said Mokoena, his country's most capped international.
"The last time I played him, Liverpool won." Torres scored twice and Mokoena was taken off at half-time in the 4-0 win over Blackburn at Anfield in April.
Mokoena, who will win his 88th cap on Saturday, added South Africa were aware defeat by Spain would leave them facing a disappointingly early elimination from the eight-team tournament.
"It's going to be a difficult game. We are expecting Spain to come out and give us a tough time. We are quietly confident. We need a result and we'll be going out to try and perform and win the game."
Failure to reach the semis would add to the enormous pressure already on South Africa's national team after a dismal run of form over the last years.
Thank you for reading 5 articles this month* Join now for unlimited access
Enjoy your first month for just £1 / $1 / €1
*Read 5 free articles per month without a subscription
Join now for unlimited access
Try first month for just £1 / $1 / €1