'This is Old Trafford' – Pep Guardiola on Manchester United's 'offside' equaliser
Marcus Rashford was in an offside position in the build-up to Bruno Fernandes' derby strike, but deemed to not be interfering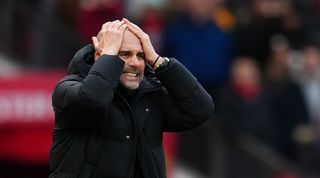 (Image credit: Getty Images)
Manchester City manager Pep Guardiola has put the award of Bruno Fernandes' equaliser for Manchester United in the derby down to Old Trafford bias.
City led 1-0 in the Manchester derby through Jack Grealish's goal after an hour, but were pegged back by Fernandes with 12 minutes remaining and ultimately lost 2-1 as Marcus Rashord scored again shortly afterwards.
There was controversy surrounding United's leveller, though, with Rashford in an offside position and deemed not to be interfering. The England forward did not touch the ball, but did appear to shield it and leave it for his team-mate, while his position also seemed to condition the movement of City's defenders.
"Rashford is offside, Bruno is not offside, the question is interference," Guardiola said after the match. "When one player from 18-yard box shoots and one player is in front of the keeper but doesn't touch the ball, it is disallowed all the time.
"The situation and the decision is the referee's, the VAR, our defenders make a line [for Rashford], if we know it's Fernandes we don't make the line, we follow the action, and after the action the interference for [Ederson].
"This is the decision in this stadium with the referee and the VAR. Here he said not intervene in this stadium. What are we to do? Are we going to make a complaint? No. It sometimes happens on our side.
"The decision is they didn't believe Rashford was intervening in this stadium. This is Old Trafford, we have to play much better, like Anfield, we have to do better."
Thank you for reading 5 articles this month* Join now for unlimited access
Enjoy your first month for just £1 / $1 / €1
*Read 5 free articles per month without a subscription
Join now for unlimited access
Try first month for just £1 / $1 / €1