Liverpool's new 'siege mentality' after VAR chaos will help title push
A fire has been lit among players and supporters and, as fan channel This Is Anfield explain, it could be bad news for the rest of the league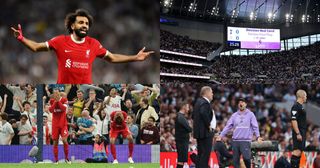 (Image credit: Getty Images)
"Together against everything," wrote Alexis Mac Allister.

"We are together and against everyone," wrote Darwin Nunez, whose post-match gesturing to the Liverpool away end raised spirits and showed how the outcome from the dramatic defeat at Tottenham might not be all bad.

It would be understandable if the cruel manner of a 96th-minute own goal, when down to nine men and having played so well, dampened spirits. But at Liverpool it hasn't.

Supporters left the Tottenham Hotspur Stadium in a resilient mood, the fire had been lit.

For some, last season saw that fire almost extinguished after the effects of the events in Paris before it and a season of very little inspiration on the pitch. Like the team, supporters lacked energy and enthusiasm.

The start to this season, with new energy on the pitch and passion from new players emerging, supporters, like the team, feel revitalised.

As ever, the performance of the players is reflected in the stands, and vice-versa. "To the 3,000 Reds who kept us going to the very end, your support was incredible," wrote Andy Robertson. "Others may have let us down, but you never did."
Liverpool 2.0
Jurgen Klopp, who was extremely calm and collected post-match (something that no doubt surprised the shock jock media who were desperate for some 'mad' rant) focussed largely on his players.

"Second to none" was how he described his squad's attitude, saying he was "super proud" of the way they held on for so long with 10 and then nine men.

Klopp himself deserves praise for how he managed the game, especially the substitutions, bringing on an entirely new midfield that included two new players with one Premier League start between them in Wataru Endo and Ryan Gravenberch.

Klopp's actions backed up his words, trusting his new signings - and gesturing to Gravenberch, who had a very rocky last season at Bayern Munich, to 'show heart.'

There is a strong character growing from within the 'Liverpool 2.0' squad and the events at Tottenham will only add to that.
Siege mentality
Sir Alex Ferguson was the master at it, although the way he went about it was very different, but he created an 'us against the world' mentality. Just look again at the quotes at the top of this article - "together against everything."

You would understand if Klopp had those words from his two South American players plastered on the changing room walls of the training ground and at Anfield. It will be music to his ears, just like it was to supporters.

Indeed, Liverpool's stance in the aftermath of Saturday night's fiasco has further added to the siege mentality.

In first issuing an official club statement that calls upon "the clear need for escalation and resolution" it showed that Liverpool as a club are ready to fight. They will not simply take it on the chin and go with the accepted parlance that 'decisions even themselves out, get on with it.'

This isn't a normal situation of a decision going against a team. This was, that phrase again, unprecedented in its failings. And the Premier League and PGMOL know it.

Liverpool doubled down and have not only requested audio from the VAR conversations, but also appealed Curtis Jones' first-half red card.
Referee issues
It's a risky strategy, because if Liverpool felt they were being dealt a rough hand already, in taking on the authorities that oversee the refereeing of the game, they run the risk of further biasing decisions against them - whether consciously or not.

Indeed, there are some Liverpool supporters who feel that the refereeing towards their team this season has been markedly one-sided. The Reds have been issued, although one was eventually rescinded, four red cards in seven league games. It took 168 league games for the four red cards before this season.

Has Klopp's public feud with Paul Tierney had an impact on the way his side are officiated? Nobody can know for sure. It was also the back end of last season when linesman Constantine Hatzidakis elbowed Liverpool left-back Andy Robertson.

The punishment the official received for elbowing a player was the same as any PGMOL referee typically receives - missing the next match. So far, that is all that VAR from Saturday, Darren England, and his assistant, Dan Cook, have received too.

We're still yet to hear from PGMOL as to how England, the VAR, was literally the only person in the world watching that match who hadn't noticed the offside flag going up - even fans in the away end knew it had been ruled offside.

Indeed, at the time of writing, we're also yet to hear the VAR audio released either. How long can it take to send a recording?

This is what Liverpool are fighting for - not for a replay or points being changed or other strange ideas that tribal supporters have somehow concocted - for better communication, better protocols and better systems in place.

Why isn't the audio public for every decision? What is there to hide?

Why are referees allowed to freelance in the Middle East 48 hours before a game? Are they not paid enough already? Is their primary job not their main priority?

Why aren't the VAR operators independent of the referees themselves? Thus avoiding conflicts and interests and situations, as admitted to by Mike Dean, where they don't want to "send him up [to the screen] because he is a mate as well as a referee."

Quite how all Premier League clubs didn't react to that admission at the time and force change within PGMOL is staggering.

Likewise, ex-ref Mark Clattenberg has spoken about the effects of refereeing mid-week game, saying: "I returned to referee a Premier League match at the weekend and by full time, I couldn't remember what had happened over the last 90 minutes, I was that tired."

Again, how does this not ring massive alarm bells at all Premier League clubs?

These officials are refereeing your side, they will make these mistakes.

What Liverpool want is what all football clubs, all people involved in football, all supporters who take their time and pay their money to watch football want: better officiating.

And better officiating can be achieved by implementing simple changes and better procedures, that much is very clear.
Hypocrisy and tribalism
Gary Neville, one of the few who actually has heard the VAR conversation while commentating on Sky Sports, was vocal post-match in how bad the incident was. But he soon changed his tune after Liverpool issued their public statement.

It's wild. How can you acknowledge how wrong the decision was, but then when a club says something should actually be done about it, you disagree?! How does that make any sense whatsoever? It doesn't.

It's not just Neville, plenty of other journalists, seemingly upset by a statement that merely outlined that these mistakes shouldn't just be accepted, have voiced similarly to Neville.

Perhaps they're happy with the mistakes - until it happens to their team.

Tribalism, much like in life, stops progressive change.
More Liverpool stories
Tottenham vs Liverpool: Why was Luis Diaz's goal wrongly disallowed for offside by VAR?
Liverpool agree incredible defender deal worth £200,000-a-week: report
The VAR table: You won't believe who's top of the Premier League if you discount VAR decisions
Thank you for reading 5 articles this month* Join now for unlimited access
Enjoy your first month for just £1 / $1 / €1
*Read 5 free articles per month without a subscription
Join now for unlimited access
Try first month for just £1 / $1 / €1