4 pre-season dinner recipes
Fuel and recover from your pre-season training with these 4 easy to make dinner recipes from Tottenham and FC Copenhagen nutritionist Liam Holmes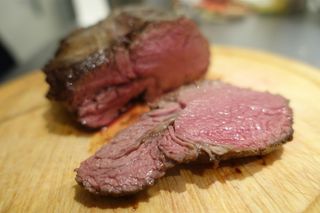 Download FFT's 4-week pre-season training and nutrition guide
CHICKEN FRIED RICE
INGREDIENTS
• 50g broccoli
• 150g brown rice basmati boiled
• 1 medium chicken breast
• 5g coconut oil
• 50g mange-tout peas/sugar snaps
• 1/2 pepper
• 50g Mushrooms
• 1/4 red onion
• 1 large egg
• 1 teaspoon sesame seeds
• 1 teaspoon turmeric
• 3 tablespoons Soy sauce reduced salt/sodium
METHOD
1. Chop all ingredients and slice the chicken
2. Fry the onion, garlic, ginger (spice paste if using) in the coconut oil for 3 minutes
3. Add the mushrooms and peppers and fry for further 5 minutes
4. Add chicken, turmeric, broccoli and soy sauce
5. Fry until the chicken is almost cooked
6. Add pre cooked rice and mix well
7. Make a well in the middle and crack the egg in. Now scramble the egg and combine everything.
8. Serve it up!
NUTRITIONAL INFO
Energy (kcal) 543
Carbohydrate - 49g
Protein - 49g
Fat - 16.1g
Reducing the inflammation caused by training will allow you to train harder and more often. Ginger and garlic are powerful anti-inflammatory foods and when coupled with turmeric. Great dish to get lots of veggies in.
NUTRITIONAL INFO
Energy (kcal) 440
Carbohydrate - 42g
Protein - 42g
Fat - 11.3g
PESTO PRAWN COURGETTI
100g cooked prawns
1 large courgette (or prepped courgetti)
1 tablespoon pesto
100g asparagus
1 egg
1 clove garlic
1 teaspoon chilli flakes
10 cherry tomatoes
1 tablespoon lemon juice
METHOD
1. Using a spiruliser or julienne peeler, slice the courgette into long strips of courgetti
2. Peel the garlic, then finely slice. Slice the asparagus into 2cm spears.
3. Boil some water and place the egg onto soft boil for 5 minutes.
4. Place a frying pan over a medium-high heat and add a drizzle of oil. Tip in the sliced garlic and asparagus and fry until lightly golden, then add the tomatoes and cook for a further 2 to 3 minutes.
5. Add the prawns, courgetti and pesto and combine well until the prawns are warmed through
6. Remove egg and peel.
7. Place the courgetti in a bowl and top with the egg and the lemon juice.
NUTRITIONAL INFO
Energy (kcal) 315
Carbohydrate - 10.2g
Protein - 31.5g
Fat - 16.7g
JAPANESE STEAK AND GREENS
This seems complicated but is super simple. Only have to cook the steak!
• 1 fillet steak
• 1/2 avocado
• 1 tablespoon sesame seeds
For the courgette salad
• 1/2 courgette
• 50g asparagus
• 50ml soy sauce
• Juice of 1/2 lemon
• 50ml rice wine vinegar
• 1 teaspoon miso paste
• 1 teaspoon red chillies
• 1 teaspoon ginger paste
• 1 teaspoon garlic paste
• Handful of salted almonds
• Handful of lambs lettuce
For the steak marinade
• 1 teaspoon ginger paste
• 1 teaspoon garlic paste
• 50ml soy sauce
• Salt and pepper
• Drizzle of hoisin sauce
METHOD
- Coat the steak in the marinade. If you have time leave for 2 hours.
- Using a peeler shave the courgette into strips and slice the asparagus into 2cm diagonal pieces.
- Mix the rest of soy sauce, chilli, garlic, ginger, rice vinegar and miso in a bowl and cover the veg.
- Place the sesame seeds on a plate and press the steak in to them to cover all sides.
- Get a non stick pan piping hot with some coconut oil and fry the steak for 4 minutes each side.
- Leave to rest for 8 minutes - covered.
- Place lettuce leaves on a plate and top with courgette and asparagus. Chop the nuts and sprinkle over.
- Slice the steak and avocado and arrange on the salad
- Drizzle with hoisin sauce.
NUTRITIONAL INFO
Energy(Kcal) 553
Carbohydrate - 11.3g
Protein - 45g
Fat - 36g
PAN FRIED SEA BASS AND KEEN BEAN QUINOA
INGREDIENTS (To make 2 portions)
• 2 seas bass fillets
• 100g quinoa (plain, black or red)
• 100g edamame beans (cooked)
• 50g tinned kidney beans drained
• Hand full of raw sugar snaps and green beans
• 1 cube veg stock in 150ml of water
• Half a bunch of parsley and mint
Dressing-
• Equal amounts of lemon juice, honey or maple and olive oil. Salt and pepper
METHOD
1. Cook quinoa with veg stock and season with salt and pepper.
2. Slice up your choice of beans, and cut up your herbs while the quinoa is cooking.
3. Make your dressing by adding everything together and whisking with a fork.
4. Add all your ingredients to your quinoa and mix well. Leave on a very low heat.
5. Heat a non stick pan and dollop some coconut oil in.
6. Pan fry the sea bass fillets skin side down for 5 minutes
7. Flip over a fry for 2 minutes
8. Mix the herbs in the quinoa and serve up with the fish and some slices of lemon.
INGREDIENTS
NUTRITIONAL INFO
Protein - 34g / Carbs - 22.2g / Fat - 13.5g / Calories - 396kcal

This recipe is perfect for cooking in the evening and then re using the quinoa as lunch or pre workout meal. Top with a different fish or meat and you are done!
Quinoa is a gluten free grain and is a rich source of amino acids and minerals. The balance of this meal with the protein packed fish and anti inflammatory properties of the herbs and veg will supercharge your recovery. Sneaking extra protein from the beans also!
Recommended stories: 2017/18 pre-season guide
TRAINING SESSIONS
NUTRITION
Thank you for reading 5 articles this month* Join now for unlimited access
Enjoy your first month for just £1 / $1 / €1
*Read 5 free articles per month without a subscription
Join now for unlimited access
Try first month for just £1 / $1 / €1