4-week pre-season training & nutrition guide
Start the new season fitter, faster and stronger than ever before with our 2017/18 pre-season training and nutrition guide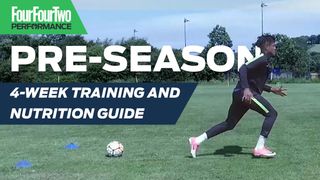 Download FFT's 2017/18 pre-season training and nutrition guide
The 2017/18 season is fast approaching, which means it is time to get the boots back on, renew your gym membership and get fit before the first game of the season.
Whether you're a coach trying to get his squad back in shape or a player looking for the fastest route to fitness, don't worry, we've done the hard work for you.
Our guide includes four sessions a week for four weeks - two on the pitch and two in the gym - designed to improve your stamina, speed endurance and strength.
Each week you will perform a new fitness drill twice and complete both gym workouts twice a week for a month.
To supplement your sessions, we've also got a month-long meal plan for you to follow from a Premier League nutritionist, along with all the ingredients and recipes.
What are you waiting for? Download FFT's 2017/18 pre-season training and nutrition guide now and click on the links below to start the new season in the shape of your life.
TRAINING SESSIONS
NUTRITION
Thank you for reading 5 articles this month* Join now for unlimited access
Enjoy your first month for just £1 / $1 / €1
*Read 5 free articles per month without a subscription
Join now for unlimited access
Try first month for just £1 / $1 / €1