How video games keep Tom Heaton's reflexes sharp
Find out why Burnley's Tom Heaton uses his Nintendo to keep his reflexes razor sharp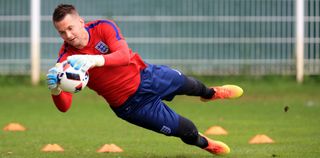 Remember when David James blamed a succession of goalkeeping gaffes on an addiction to his PlayStation console.
To refresh your memory, the former Liverpool shot-stopper claimed some marathon sessions on Tekken II and Tomb Raider in 1997 had left him exhausted and prone to making mistakes.
But perhaps it was Jamo's choice of console and shoot-em up favourites that were his real problem, rather than his fondness for video games.
Why's that, we hear you ask? Well, the Burnley goalkeeper Tom Heaton has revealed how his handheld console has contributed to the finest season of his career.
"I was given a Nintendo DS game called Sight Training to get my eyes warmed up," he said. "It's routine for me and something I have stuck to ahead of each match.
"I play for about five to 10 minutes in the dressing room before I get my gear on and go out to warm-up."
The former Manchester United trainee made more saves than any other goalkeeper in the English top flight, helping the Clarets retain Premier League status.
Man United's current custodian David de Gea was given the nod between the sticks in the 2016-17 PFA Team of the Year - but Heaton could argue he produced the save of the season.
The England man produced a starfish save, reminiscent of Peter Schmeichel, signature stop to deny Zlatan Ibrahimovic at Old Trafford in October.
Maybe he had managed to smash his high score before kick-off?
Recommended stories
Why are goalkeepers wearing shades in training?
Sharpen your reaction speed
Boost reaction speed
Quizzes, features and footballing fun
Get the best features, fun and footballing frolics straight to your inbox every week.
Thank you for signing up to Four Four Two. You will receive a verification email shortly.
There was a problem. Please refresh the page and try again.