Stay fit for football with rowing
These interval training sessions using a rowing machine will help you to maintain your football fitness during the summer months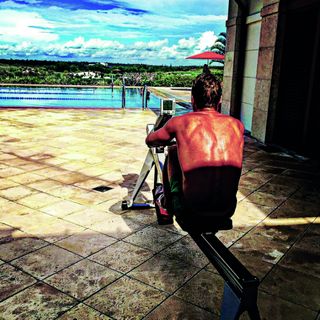 At the end of a long season, footballers often use the summer months to try different types of training to maintain their hard earned fitness.
Tottenham full-back Kyle Walker pays regular visits to his local boxing gym, while Bayern Munich winger Arjen Robben is a fan of cycling.
Another way of keeping fit is to jump on the rowing machine at your gym - Brentford's Head of Athletic Conditioning, Chris Haslam, explains why.
"Rowing is an excellent way to maintain both aerobic fitness, which you need for long distance running, and anaerobic fitness, which is high intensity work which gets your heart rate up, during the off-season," he says to FourFourTwo.
"Rowing also minimises the amount of additional load you place on those fatigued legs, which are often the result of an intense season.
"I always prefer to work using distances to achieve as this gives the athlete a way to monitor improvement in a simple format. Here are some sessions you can try this summer."
Building and maintaining aerobic fitness
Working blocks:
-1000m row in less than 3:15 mins. Rest for 90s and repeat three times.
-500m row in less than 90 seconds with 90s rest and repeat five times.
Building anaerobic capacity
Working blocks:
-100m row in 20s. Rest for 10s and repeat six times
-3 mins recovery
-10s maximal effort. Rest for 30 second and repeat eight times
Recommended stories
Fitness for a box-to-box midfielder
Improve your speed, stamina and strength
Thank you for reading 5 articles this month* Join now for unlimited access
Enjoy your first month for just £1 / $1 / €1
*Read 5 free articles per month without a subscription
Join now for unlimited access
Try first month for just £1 / $1 / €1