8 of the most unlikely title winners in European football
 Leicester are following in the footsteps of this lot, writes Conor Kelly…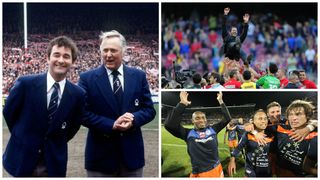 1. Nottingham Forest, 1977/78
Forest's story was so good they turned it into a feature-length film. Maverick manager takes over club languishing in second-tier obscurity, steers them to promotion, wins top-flight title the following season and goes on to conquer Europe. 
Brian Clough had previous in this instance, having led Derby to First Division glory in 1972, but a tumultuous 44-day spell with Leeds didn't inspire confidence when he agreed to coach a Forest team who were 13th in the second tier. In Clough's first full season, however, a third-placed finish took Forest back into the top flight. What followed was remarkable.
The subject of little attention initially, a Forest team featuring Peter Shilton (a £325,000 record transfer at the time), Martin O'Neill, Archie Gemmill, Tony Woodcock and Peter Withe won the League Cup at Wembley and wrapped up the league title by seven points ahead of the mighty Liverpool, a rare instance of a team winning the title the year after promotion. They would go on to win successive European Cups in 1978 and 1979, as documented in the 2015 film I Believe in Miracles.
2. Hellas Verona, 1984/85
Most casual Serie A observers will know Hellas Verona for two things – their status as Italian football's yo-yo club, and the fact that Luca Toni plays for them. In the mid-80s, though, Verona steadily built an impressive team who punched above their weight and competed with their more illustrious rivals. 
Under the stewardship of Osvaldo Bagnoli, Verona outlasted the Juventus of Platini, the Inter of Rummenigge and Roma of Falcao to win their first – and so far only – Scudetto. Oh, and some bloke called Diego Maradona was in his first year at Napoli.
It's still considered the greatest shock in Italian football history.
3. Sampdoria, 1990/91
Has there ever been a stronger or more glamorous league than Serie A during its halcyon days? From the late 1980s all the way up until the end of the 20th century, calcio was an irresistible cocktail of star foreign names, homegrown trequartistas, influential coaches, stylish kits and quality teams. For most of that time, Juventus, Milan, Inter, Lazio, Parma, Fiorentina and Roma were all frequent and viable contenders, not just in Italy but in continental competitions as well. That's why Sampdoria's title win in 1991 is even more astounding. 
The Blucerchiati spent much of their 40-year existence bouncing between Serie A and Serie B like a ping-pong ball. That all changed when Vujadin Boskov was appointed manager in 1986. With the cosmopolitan Yugoslavian at the helm, Samp suddenly emerged as a serious proposition, winning two Coppa Italias and a Cup Winners' Cup in four years. 
And post-Italia '90 they won the Scudetto, edging out Arrigo Sacchi's Milan, an Inter team featuring West German World Cup winners Klinsmann, Brehme and Matthäus as well as a Maradona-inspired Napoli. Gianluca Vialli and Roberto Mancini formed a lethal strike force while Pietro Vierchowod was a menacing presence at the back. Sampdoria essentially secured the title with a scarcely deserved 2-0 win at the San Siro against Inter and would wrap it up in style by thrashing Lecce 3-0 in front of their adoring fans at the Marassi. 
"The Scudetto won with Sampdoria was the most beautiful; the sweetest," remarked Boškov, "because I won it in the most difficult and most balanced league in the world. It's a bit like when your first child is born. The joy is greater."
4. Nantes, 1994/95
Arsene Wenger is as eloquently spoken as he is elegantly presented, but on rare occasions the veil slips. When recently asked if he had ever seen anything quite like Leicester's transformation from drop-zone fodder to league pretenders, the Arsenal manager referenced his Monaco days when a little-fancied Nantes team romped to the Ligue 1 title in 1995. 
"It happened once in my life, when a friend of mine, [Jean-Claude] Suaudeau, was coaching Nantes and he called me at the beginning of the season and asked me to give him on loan one of my players," the Frenchman recalled. "I said, 'I can't give him to you because I need him.' He said, 'You're unfair because I will go down. They have sold my players and I have nobody left.'"
Susadeau needn't have worried about relegation, as sprightly forward duo Patrice Loko and Nicolas Ouedec shared 40 goals. Nantes lost only one game and finished 10 points clear of nearest challengers Lyon.  
"He won the championship that year!" Wenger groaned. "For f***'s sake, 32 games unbeaten! Because he had no choice he played all the young players. In the end, he won the championship. That's the first (time) I'd seen it. Now, we have a second." 
It remains to be seen if Ranieri's men can match what the Canaris did. 
5. Deportivo La Coruna, 1999/00
Remember the time when a tiny provincial club from north-west Spain dined at the top table of European football? Deportivo La Coruna defied convention. They won trophies, they reached the latter stages of the Champions League and did so in adventurous, attractive fashion. 
The crowning moment for Super Depor, apart from spoiling Real Madrid's centenary by winning the Copa del Rey at the Bernabeu in 2002, was their La Liga victory in 2000 – the only title in their history so far. Emblazoned in blue-and-white hoops, a team featuring Roy Makaay (who grabbed 26 goals for the Galicians), Djalminha, Pauleta, Walter Pandiani and Flavio Conceicao outlasted Spain's big guns.
Deportivo's rapid ascension was mostly predicated on the finances of Augusto Cesar Lendoiro, and when his money dried up, Super Depor simply shrunk back to plain old Depor. They were relegated to the second division twice in 2011 and 2013, but bounced back both times and are now finally settled back in Spain's top flight. 
6. AZ Alkmaar, 2008/09
"My little masterpiece."
That's how Louis van Gaal described winning the Eredivisie with AZ Alkmaar, a quiet and unfashionable club from the north of Holland who only had one title to their name beforehand (back in 1981). Originally, Van Gaal moved to Alkmaar in 2005 to escape the pressurised cauldron of Barcelona. Little did he imagine hoisting the title just four years later and doing so in a style that would be considered completely alien from his traditional methods, deploying a 4-4-2 counter-attacking system with no star names.  
AZ went on a 28-match unbeaten run and coasted to victory by 11 points, leaving Steve McClaren's Twente and Dutch royalty Ajax in their wake. Van Gaal appeared content at AZ, but when it emerged that he lost millions investing in fraudster Bernie Madoff's Ponzi scheme that conned almost €65 billion out of unsuspecting victims, the Dutchman was off in pursuit of more fruitful ventures. 
7. Montpellier, 2011/12
PSG's current grip on French football makes it easy to forget that Ligue 1 had six different champions in six years between 2007 and 2012, before the Parisians asserted their dominance. PSG were purchased by Qatari Sports Investment in 2011 and appointed Carlo Ancelotti in 2012, but they didn't claim the title that year. That distinction lies with Montpellier. 
The club with the 13th-largest budget in Ligue 1 were expected to finish well, but few envisaged them competing with, let alone beating a club who spent £82 million on transfers in the January window. Montpellier racked up a record total of 82 points, largely down to Olivier Giroud's 21 goals. They encountered a nervy last-day trip to Auxerre, before John Utaka grabbed the decisive goal to secure an improbable crown. 
The game was halted for an extended time due to crowd trouble, so Montpellier finished 41 minutes after PSG had wrapped up their campaign at Lorient. "This was the longest night of my life," coach Remi Girard exhaled. 
The resulting celebrations would leave him equally breathless, as Montpellier supporters thronged the streets of the city and venerable president Louis Nicollin sported his new orange-and-blue barnet. La Paillade remain the last club other than PSG to win the French title.
8. Atletico Madrid, 2013/14
For a decade, the La Liga title was traded between Spain's two giants. Not only were Barcelona and Real Madrid (and still are) the two dominant forces domestically, they also assumed the mantle of being the world's two biggest clubs. Couple that with boasting the planet's two best players, profits from a television deal heavily weighted in their favour, and commercial revenue the rest of the league can only dream of. 
In 2014, neither counted on a defiant Atletico Madrid team that laughed at such imbalance. When Diego Simeone returned to the club he had played for with such determination in 2012, they were languishing in mid-table and going nowhere fast. Six months later they won the Europa League, then shook off their inferiority complex by defeating their city rivals for the first time in 14 years to win the Copa del Rey in los Blancos'  backyard. 
Few truly believed they could last the distance with the big two over the course of a 38-game campaign, but they went one better. Fired by Diego Costa's goals, a watertight defence and an unbreakable team spirit, los Colchoneros arrived at the Camp Nou on the final day of the season needing just a point to secure the title. Barça went in front through Alexis Sanchez but Diego Godin grabbed an equaliser, the snarling Uruguayan towering above the Catalans' rearguard to ram a header home and earn the sweetest of draws. 
The Paseo del Prado in Spain's capital was awash with red and blue as Atleti supporters arrived in their thousands to greet their heroes the next day. The only thing that was missing was the trophy, absent because the president of the league was otherwise occupied. "It doesn't matter," exclaimed a grinning Simeone, "they can't take it off us." 
RECOMMENDED
Quizzes, features and footballing fun
Get the best features, fun and footballing frolics straight to your inbox every week.
Thank you for signing up to Four Four Two. You will receive a verification email shortly.
There was a problem. Please refresh the page and try again.