5 reasons why Leicester CAN win the Premier League title this season
They've made it this far, so can Leicester City really be crowned champions come May? Mike Holden has a crack at convincing you why maybe, just maybe, they can humble their big-club rivals...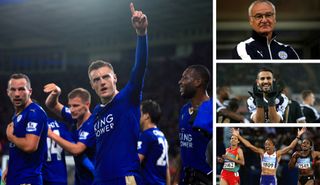 1. Rekindling the spirit of Kelly Holmes
Kelly Holmes was a fairly ordinary middle-distance runner, now she's remembered as one of the greats. When she arrived at the Athens Olympics in 2004, she was 34 and 100/1 to become the first British athlete since 1920 to complete an Olympic Gold double, but little did anyone else outside her camp know, she was in peak condition, free from injury for the first time in her career.
And her strategy for both the 800m and 1500m finals was simple: ignore your rivals, just treat every lap the same. Run consistently at the same pace and see where it takes you.
When Holmes crossed the line in the 800m, she was so in-the-zone she didn't even realise she'd won. When she approached the bell for the final lap of the 1500m five days later, she was eighth out of 12 runners. Yet her tunnel vision of running four equal laps worked a treat.
Leicester had 19 points after 10 games this season, 39 points after 19 and Claudio Ranieri has cunningly set his players a final target of 79 points. The next milestone for the Foxes should be 59 points after the emotionally charged game against Watford at Vicarage Road on March 5. If they shut out the noise and maintain that consistency over the remaining 15 matches, they will be there or thereabouts.
2. The stats are working in their favour
...and that's because the pace at the top of the Premier League is the slowest it's been for 17 years. Since the turn of the century, 87.5 points have been required, on average, to win the title.
As it stands, both Arsenal and Manchester City are on course for just 73. Only twice in Premier League history has the points-per-game ratio been lower at this stage of the campaign.
Of course, both teams are capable of bucking their ideas up and putting together a blistering run but (as outlined above) that shouldn't be Leicester's concern. They can only control the controllables, encouraged by the knowledge that the big two must now eclipse the normal benchmark.
The standard pace of a title-winning team is 2.3 points per game, yet even if the Gunners or the Citizens pick their heels up from the current run rate of 1.91 points to reach the accepted level over the final 15 matches, they finish on 79 points - which is the same as Leicester's target.
3. Mind games? What mind games?
The last point touches on fundamental questions about the methods employed by Arsene Wenger and Manuel Pellegrini. They are both feminine, process-orientated managers who place greater focus on performances than results. This is arguably the first time since 1981 (when Aston Villa pipped Ipswich in the final season of two points for a win) that a title race hasn't been contested by at least one masculine heavyweight club with a results-driven, win-at-all-costs culture.
Feminine teams do win titles, but usually only when driven on by a masculine rival using dark arts to provide them with light and shade, fostering a good-versus-evil, us-versus-them mentality. There will be no mind games from either Wenger or Pellegrini.
Leicester will be spared the extra curricular media antics of an Alex Ferguson or a Jose Mourinho, and it should allow them to keep going for longer without feeling the heat and being forced to over-think their wider context at key moments. The usual conditions for choking aren't present.
4. Ranieri's personality can guide the way
According to the Myers-Briggs Type Indicator, Ranieri is an ESFP personality - an entertainer with wonderful people skills who is highly observant of subtle changes in his surroundings, yet bold and original in his actions. In short, he's probably ideal to manage any pressure that does come Leicester's way.
When it comes to keeping a good thing going, no personality type is better. ESFPs are less prone to self-sabotage and Ranieri's approach can keep the mood buoyant, whereas Intuitive Thinking types would be more inclined to look at everything as a logical process with less regard for the dynamic of the group.
Seen as erratic by some, Ranieri's previous 30 years in management have been a mixture of mild success and occasional mishap, but this could yet be his defining moment.
To quote Marilyn Monroe (another ESFP): "If you can't handle me at my worst, then you surely don't deserve me at my best." This season is, without doubt, Ranieri at his best.
5. Unprecedented events, unprecedented outcomes
The analytics community aren't giving the Foxes much of a chance - somewhere between 9-13% by most estimates - but statistical models generally deal with averages and Leicester's situation is already an outlier, a sample of one with no real precedent. Unfancied teams have challenged for league titles before but never when the disparity of playing budgets have been so great and expectations on underdogs so low.
Whichever way you look at it, this scenario is different to any comparison you wish to make. Forget the usual points projection for a team with a 54% shot ratio - about 61 points, since you ask - English football in the modern era has put no greater opportunity in front of a minnow.
As we approach the point where a Champions League berth becomes a near-certainty, the Foxes might then have the unprecedented fallback of a booby prize to end all booby prizes. Again, less pressure.
Just because a roulette ball lands on black 17 times out of 23 doesn't mean 11 of the next 15 spins can't be the same. The Foxes are taking more shots than the opposition, so they are well within a position to win football matches - one game at a time.
RECOMMENDED
Quizzes, features and footballing fun
Get the best features, fun and footballing frolics straight to your inbox every week.
Thank you for signing up to Four Four Two. You will receive a verification email shortly.
There was a problem. Please refresh the page and try again.