Exclusive: Shinji Kagawa on Dortmund's 2015/16, battling Bayern and what he'd do again at Man United
FFT chats to Borussia Dortmund's Japanese playmaker about Thomas Tuchel, BVB's season and why Old Trafford just came too soon...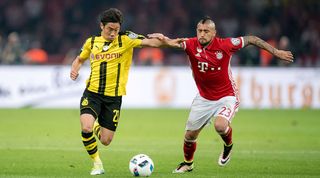 Hi Shinji, thanks for joining us. Let's start by looking at the 2015/16 campaign from a team perspective. What are your thoughts on the season?
We had both good and not so good experiences, but generally things were fairly stable throughout the year. It's not good to compare to last year and while things weren't great then, this year we could regain some confidence with some good results. Of course, after a tough season the year before it's often difficult to recover, but we started well and we kept going from there.
How disappointing was it to have to spend the summer going through qualifying for the Europa League, rather than being involved in the Champions League?
Of course, the level is higher in the Champions League. But for this year we had a new manager and new experiences, so even having to go through qualification and the group stage of the Europa League... the more we won, the more confidence that gave the team. It was a long season, but because we had an early start, those matches over the summer allowed us to create a good mood within the team and that really helped us to get off to a good start.
Borussia Dortmund finished second in the league, with a record number of points for a runner-up. Towards the end of the year, did you feel you had a chance of catching Bayern Munich?
I didn't really focus on that. It wasn't really a case of us not being able to catch them, but moreso that they didn't really give us much of a chance.
We managed to keep within five points of them for much of the season, but then we drew with Schalke [2-2 in April] and that made things difficult. We thought we still had a chance as they had a tough schedule in the Champions League, but it's no use talking about what ifs. Ultimately they won when they needed to and we couldn't get close enough.
Is it possible to close the gap on them next season?
Absolutely it is, but of course we'll have to raise our own level and maintain a good standard throughout the season. The team is trying to adjust the way we play depending on the opposition, and the manager is also trying to adapt formations and tactics depending on the situation.
As he likes to vary things, the players have to make sure they can adapt. Especially during the second half of the season there were a lot of changes in formation and players, but we kept winning regardless and things are becoming stable.
What was the highlight of the year for you?
There's really not anything that stands out specifically, but throughout the year I made sure that I was always well prepared for training and matches, so when I look back on things as a whole the season was a positive one.
Continued on page two with Shinji's thoughts on his own season and Thomas Tuchel...
What did you think about your personal performance this year?
I think I had a good start and was pleased with how I played over the first half of the season. Things changed a little over the second half of the season, though, and I struggled to adjust to some of the changes in the team, but I'll work to improve that next season.
Around February and March, when I wasn't starting regularly, that was an important experience and nothing goes perfect all season long, so I need to control those things. You always need to strive to prove yourself, especially in a strong team like ours.
What's your impression of Thomas Tuchel?
He has an eye for detail; he's always well prepared and plans things match by match, so it's easy to understand what he's trying to do and that makes it easier for players to implement his ideas.
How much are you looking forward to playing in the Champions League again next season?
It's always good to be involved in the Champions League and seeing how far we can go there. But with the way they've changed the draw it's going to be tough and there's a chance we'll draw some very strong teams. But we know this is a fantastic tournament and we want to do well.
Every year when I watch the tournament I think it's a wonderful experience, and every time I hear the Champions League anthem I get excited and can't wait to get out there and play.
You lost to Liverpool in the Europa League in difficult circumstances. What was the mood like among the team after that? Did you speak to Jurgen Klopp afterwards?!
It was tough after we were in front early in the second leg, but as difficult as things were mentally and physically and as disappointing as the result was, we simply had to move on and focus on the next games because there were other important matches to come. Did I speak with Klopp? We didn't chat for long, just exchanged greetings.
Is he going to bring you to Liverpool?
I don't think so! (laughs)
In all seriousness, have you thought about returning to play in England?
I'm not thinking about that at the moment, I'm just focused on Dortmund.
How do you reflect on your time at Manchester United, looking back?
I was still young, just 24 or 25. I had a lot of experiences there and that helped me grow, and looking back I wasn't concerned about anything, just focusing on doing the best I could.
Of course there were good players there but everyone thinks differently; the Dortmund coach is the Dortmund coach, and the Manchester United coach is the Manchester United coach, and I just have to accept how everything went.
Concluded on the next page. What would he do differently if he had his Old Trafford time over again?
What would you do differently?
Fight more, every day – even a small player like me should fight every day to succeed at a club like Manchester United and it's the same now at Dortmund. I just have to focus on how I can get better every day to try to succeed at this level. Of course, you also have to be mentally strong.
Off the pitch now, what do you do on your days off? Do you miss Japan?
During the season I don't feel like I miss Japan so much but in the off-season when I return I can feel the hospitality again – even in hotels and the food is great. The seasons also have a distinct feeling about them, so when I return home I realise what a great country Japan is. Seeing my friends and my family helps me to feel refreshed and unwind.
Who are you closest to in the Dortmund team?
Ilkay Gundogan and Park Joo-ho. We don't do anything special together but we always have a chat at the training ground and talk about a whole range of things.
What are your thoughts on football in Asia generally at the moment?
There aren't many opportunities for Asian teams to compete on a global stage; maybe just once every couple of years they can play against European opposition due to the schedule of World Cup and Asian Cup qualification matches.
It would be better if there were more chances to compete internationally and that would improve the level of football in Asia as a whole. In Europe there are not just Japanese players but also Koreans, and it would be good for more Asian players to play at the highest level in Europe.
In the last five years, which nations have been improving most?
ALSO READ
Leicester City striker Shinji Okazaki No.1 in FFT's Asia 50
Thailand and the UAE are getting stronger and raising their level, and even many other smaller nations are improving, but Japan and Korea have to keep showing the way for those other nations. Others should follow our lead and look to move to play in European leagues.
Leicester's Shinji Okazaki was named No.1 in FourFourTwo's Asia 50 recently. What are your thoughts on that?
That's a good decision and I'm proud of him because he was a regular throughout the season and was involved in many important wins. I'm really proud of him. As Japanese players or Asian players, his success has given everyone a lot of hope that even more Asian players can achieve things like that.
He was the second Japanese player to win the Premier League title, after you…
It's a different case to me as I didn't perform at my best at Manchester United. But what he has done being so heavily involved is fantastic, he was a big player for that team. Of course I want to play against him in the Champions League now!
Quizzes, features and footballing fun
Get the best features, fun and footballing frolics straight to your inbox every week.
Thank you for signing up to Four Four Two. You will receive a verification email shortly.
There was a problem. Please refresh the page and try again.