Exclusive: Christian Pulisic is just trying to be a normal kid – but this summer will be far from that
The Borussia Dortmund youngster knows there are huge expectations on his shoulders this summer, but at 17 years old the USA international is just trying to be like the teenager he is, he tells FourFourTwo...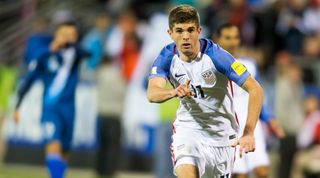 "I'm just a normal kid."
Aged 17 and having been fast-tracked through Borussia Dortmund's youth ranks into their first team – for who he had made nine Bundesliga appearances and scored two goals this season – it's hard to believe Christian Pulisic.
But, in his baggy shorts and white t-shirt, the soft-spoken teenager from Hershey, Pa., who likes Justin Bieber and PlayStation, certainly has all the makings of exactly that. Even the 17-year-old's humorous admission about being a "Belieber" makes him likeable. "It's embarrassing to admit, but I don't care, I've tweeted it." It turns out the concert in Cologne on September 18 is on Pulisic's birthday, but he's still waiting for a reply.
Pulisic has garnered attention for his rapid rise to becoming the most promising teenage American prospect as the U.S. men's national team heads into Copa America Centenario in June.
"It's been incredible," Pulisic tells FourFourTwo about his dramatic progress in recent months. "I started off just a kid who wanted to live his dream in Europe. I was seen by such a big club and started off in their youth ranks, and then to get first-team minutes and even score a few goals – it's not something even I expected, but I think I earned it."
There's a genuine buzz in Germany, but the real noise is being made in the U.S., where there is a fresh blaze of excitement surrounding Pulisic. Despite having only made his first-team debut in March, he is in the United States' Copa America squad and is looked at by many as not only the future, but the present for the United States national team.
Following in footsteps
Such pressure has proven a heavy and unfulfilling burden for other American teens in the past, but Pulisic remains remarkably calm.
"I see all the things that people write and they put a lot of expectation on me," he says. "I just try to put it aside, not read into it and become the best player I can be. I'm very thankful for the chance to put the U.S. crest on and just to play. It's amazing."
His chance to flourish even further on home soil in this summer's tournament is undeniable, but his goal is simply to get in the lineup and get "some minutes" on the field. It's a humble stance for a teenager who many are calling for to start come June 3 against Colombia.
Pulisic never had any doubt in his mind that he would represent the U.S., despite his Croatian roots. "I'm very thankful to the Croatian Soccer Federation. They helped me get my Croatian passport and they wanted to help me out so I could play in Europe. They were interested, but they didn't push too hard or put pressure on me. They were just very nice about it.
"I respect my roots, of course, but I think they knew I was born and raised in the United States so there was never really a question for me for who I would play for."
Handling the expectation of one of the world's most powerful nations in the context of one of the world's biggest sports is daunting, but Pulisic's mindset is remarkably grounded.
"Since I started with the pros in January, everything has moved so fast," he said. "The only thing I can say to fans and people out there who have such high expectations for me is just give me time and let me be a human being.
"I don't want to be just some 17-year-old kid who is only known for being some prodigy at soccer. It's too much. I'm just like anyone else. I want to live a normal life. I want to be respected as a nice kid who people know and not just because of soccer. I'm doing the best I can and I'm working towards my dream, but people just have to be patient."
Soccer shines
Like most American youngsters, Pulisic juggled a handful of sports and even dabbled in "sort-of-competitive" basketball for a year before it became clear that soccer was his true calling.
He played for the PA Classics, a U.S. Soccer Development Academy program which has produced several MLS players. And although Pulisic enjoyed training stints at Barcelona, Chelsea, Porto, PSV Eindhoven and Villarreal while playing with the PA Classics, he chose to continue to play close to home – for a while, anyway.
Pulisic, who cites Luis Figo and Wayne Rooney as his idols, garnered national interest, leading to a call-up to the U.S. U14 national team and eventually the U17 residency program, where he was discovered by Dortmund.
His move to BVB was one he "couldn't pass up" despite the interest of others, although a move abroad almost came even earlier.
"I was actually offered the chance a few times to jump and move my life even earlier than when I moved to Europe, but I talked with my parents and people that I trust and we decided it just wasn't the right time yet and I wasn't ready."
But a year later, in 2014, Pulisic knew it was now or never. "I realised that if I want to make my dream come true then I have to make the sacrifice, even though I might not want to at the time."
It was all yellow
As much as his time with U.S. youth national teams helped, the move to Dortmund surprised the youngster. It hadn't just been a leap from one side of the world to another but also one into a professional life, one far away from his family.
"It was definitely a surprise at first and I had to really be focused in training every day," he tells FFT. "You have to be on your game, otherwise they'll let you know what you're doing wrong. Whether it's in the gym or not, everything has to be done right and you have to be focused and ready for the professional life. It was a big jump, but once you get the hang of it, it's like playing the game you always have.
"I was surprised about the passion of the game too," he admits. "Even in the city so many people wear their Dortmund jersey. In America, I'll walk around in Hershey and I'll just see a team from California on a jersey. Everyone here is wearing Dortmund ones. It's incredible. That's what I was surprised by the most, how much it meant to the whole city."
Technology has helped bridge the gap to his family, but Pulisic admits he misses his mother every day and that it's still hard at times. There's a pang in his voice as he says so, a reminder that he is a 17-year-old boy first and a footballer second. The presence of his father – who dropped him off – helps, though.
"He drives me to training. I have my licence in America, but you have to be 18 in Germany," Pulisic says, with a touch of teenage frustration. As he speaks, the roar and glint of sports cars sound outside as some of the other Dortmund players arrive for training, perhaps giving Pulisic ideas for how to arrive the same way from September onwards.
Danger man
Two years on from his arrival, Pulisic is settled in his home away from home, speaks "pretty good" German and has a clear concept of the player he wants to become.
"I've always wanted to be dangerous, whether it's from the first minute of the game or not," he says. "I want to put the defenders on their heels and that's what I learned growing up. I want to be that dangerous player.
"When I get the ball, of course you want to be confident with your first few passes, but you want to put the defenders on their heels and make them know this game is not going to be easy and this guy is going to be going at you, trying to score goals. I want to focus on my strengths and become even more dangerous so that players are afraid to play against me."
There is perhaps no better club in Germany to get a better sense of movement in the final third than Dortmund, which Pulisic says is a credit to one team-mate in particular and manager Thomas Tuchel (who's "always good for a laugh"). And Pulisic's exposure to first-team football is speeding his development even further.
"I've definitely learned a lot from Henrikh," he says. "I've never seen a player or played with a player so quick and smooth on the ball. He can just glide past defenders. He's helped me learn a lot since I've been here, because I think we have a lot of similarities."
His performance at Copa America Centenario will provide a genuine litmus test of his progression and ability at the senior international level. It's easy to speak of expectations for Copa and dream of a then-19-year-old Pulisic leading the U.S. at the 2018 World Cup, but it's also easy to forget that he's just a normal kid.
But certainly not a normal footballer.
Thank you for reading 5 articles this month* Join now for unlimited access
Enjoy your first month for just £1 / $1 / €1
*Read 5 free articles per month without a subscription
Join now for unlimited access
Try first month for just £1 / $1 / €1
Get FourFourTwo Newsletter
The best features, fun and footballing quizzes, straight to your inbox every week.