How the Premier League can help Sam Allardyce – without even knowing it
By Declan Warrington published
The high number of foreign players and coaches is often blamed for England's lack of international glory but, as Dec Warrington writes, it could help Big Sam form a historic England side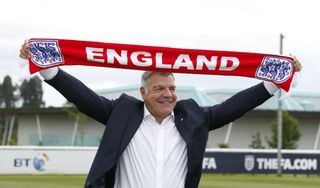 It might just transpire that Sam Allardyce – regardless of whether he's the most suitable candidate for the job – has been appointed as England's new manager with the kindest of timing.
The 61-year-old, who it is no secret feels he was wrongly overlooked 10 summers ago when Steve McClaren – via Luiz Felipe Scolari's change of heart – was appointed as Sven-Goran Eriksson's successor, may yet be the chief beneficiary of the circumstances he has inherited.
I am truly honoured to be the new @England manager! Looking forward to getting started & can't wait for the Slovakia game on September 4th.
— Sam Allardyce (@OfficialBigSam) July 27, 2016
It would be both clichéd and over-simplistic to suggest that it would be difficult for him to make them worse and struggle amid such low expectations, as England's defeat by Iceland was widely considered to have left them at their lowest ebb. Unexpectedly, however, the Premier League's present climate appears as generous as any England manager will realistically get.
Premier League paradox
A long-term argument surrounding the national team's decline has focused on the belief – from some – that what is always described as the "influx" of overseas individuals has restricted the numbers of and opportunities for English players, managers and coaches.
An alternative theory was that the influence of Arsene Wenger – among numerous others – had helped modernised English football's culture, that the finest overseas players have raised the quality of the Premier League (which they unquestionably have) and therefore of the Englishmen who remained regulars. Those who were incapable of earning first-team football lacked the ability to improve the national team anyway.
To a degree, both remain true, but there is little question that the former is likely to be strengthened by the coming season. The lack of a winter break and conflict of interests between the Premier League and England national team remain (even if the mooted winter break is eventually introduced, it will not do so before Allardyce's initial contract expires), yet the personnel changes this summer – should Allardyce have the vision and flexibility to capitalise on them – are proving more than capable of significantly strengthening his team.
The presences of Pep Guardiola, Jose Mourinho, Antonio Conte, Jurgen Klopp, Mauricio Pochettino, Ronald Koeman and Wenger at seven of the division's strongest clubs means their talented English players will be working in systems largely organised to play in variations of the high-intensity, pressing and passing or possession style that is generally considered to succeed in modern international football. Each is also known for coaching, not simply managing, and for their ability to improve individual players.
FFT OPINION Why Allardyce can make England fearless, forward-thinking – and successful
It is not quite Spain's generation of 2008 to 2012 when Barcelona's and Real Madrid's finest combined near-seamlessly in what often appeared a club team in international competition, but it is perhaps as close to that as England can expect to get.
Of the seven, Manchester United's Mourinho encourages the most functional style of play, but even then it is with a high intensity. It's also with the man-management that vastly improved John Terry, Frank Lampard and Joe Cole before he left Chelsea for the first time in 2007, and which could extend Wayne Rooney's career and inspire improvements in Chris Smalling, and even Phil Jones.
Were Allardyce to build on the reasonable foundations left by his predecessor Roy Hodgson, and pursue improving them instead of overhauling the team with the more direct approach he is more typically known, he will have numerous allies – and players – in the right places to shape his team.
Strength in depth
To consider England's squad at the start of Euro 2016 was to admire one of youthful promise that retained a strong look despite the absences, through injury, of Jack Butland, Luke Shaw, Alex Oxlade-Chamberlain, Fabian Delph and Danny Welbeck, and regardless of others like Kieran Gibbs, Danny Drinkwater and Andros Townsend being overlooked.
There is little reason any of those will not soon be available to Allardyce, or why his options will not be further strengthened elsewhere. Of those Hodgson valued, it is expected Raheem Sterling and (to a lesser degree) Delph will flourish under Guardiola, who can also help England – as he did with Spain and Gerard Pique – by his expected recruitment of John Stones.
The potential for Danny Ings to combine with Daniel Sturridge at Liverpool, for Saido Berahino to rediscover his form away from West Brom and for Jay Rodriguez and James Ward-Prowse to again excel in a new-look Southampton can all give Allardyce further options.
Even at Tottenham, whose striker Harry Kane looked so exhausted on international duty, encouragement can be taken from the signing of Vincent Janssen. In the absence of a mid-season break, Janssen being rotated with Kane to keep the latter fresh is as good a solution as can be hoped for and from which England can benefit, as they also can from the talented Ross Barkley being coached by Koeman.
Will Koeman's arrival allow us to see the best of Barkley again?
In combination with the returns to fitness of Jack Wilshere and Joe Gomez, among others, plus the optimism that Calum Chambers is due a chance at Arsenal, it becomes difficult to avoid the conclusion that even England's poor defensive options will improve.
Building on foundations
Hodgson understandably (albeit unsuccessfully) shaped a team around Liverpool's core for the 2014 World Cup, and Tottenham's for Euro 2016. Even amid those teams' failings, that approach – with exposure to his players too often limited – made obvious sense.
To again cite Spain as an example, it was Barça's core of Carles Puyol, Pique, Xavi, Sergio Busquets and Andres Iniesta that was supplemented by Iker Casillas, Xabi Alonso and Sergio Ramos from Real Madrid. With Germany, it was Bayern Munich's Manuel Neuer, Philipp Lahm, Jerome Boateng, Bastian Schweinstiger, Thomas Muller and Toni Kroos.
Almost all of the Premier League's leading managers can be expected to use a variation of the 4-3-3 formation, and to encourage similarly aggressive styles of play. In that context, there is little reason Spurs' improving Kyle Walker, Eric Dier, Dele Alli and Kane cannot be supplemented as seamlessly by Sterling as they can Oxlade-Chamberlain, by Jordan Henderson as Barkley or Wilshere.
The Premier League again appears to have no immediate intention of making sacrifices to improve England's chances of succeeding, but indirectly their teams are presenting the conditions needed to excel.
Timing can be everything
It is often observed that, in producing such an uninspiring team from the generation of players considered England's finest since 1966, Eriksson wasted the nation's best chance of having a successful football team.
Premier League clubs were then, however, largely less competitive, less sophisticated, less ambitious and more varied in nature. The timing of Allardyce's appointment could mean he has the best chance yet.
Thank you for reading 5 articles this month* Join now for unlimited access
Enjoy your first month for just £1 / $1 / €1
*Read 5 free articles per month without a subscription
Join now for unlimited access
Try first month for just £1 / $1 / €1
Quizzes, features and footballing fun
Get the best features, fun and footballing frolics straight to your inbox every week.
Thank you for signing up to Four Four Two. You will receive a verification email shortly.
There was a problem. Please refresh the page and try again.