Is Jean Michael Seri right for Arsenal? The case for and against
The Ivorian midfielder has interested Barcelona, Liverpool and Tottenham, but it's now the Gunners who are being most strongly linked. Mohamed Mohamed assesses his suitability to aid Arsenal's problems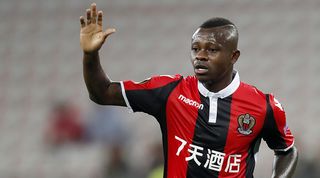 Jean Michael Seri was one of the most widely discussed players in football last summer. The Ivorian midfielder was the influential player at Nice as they emerged as the surprise package of Ligue 1, finishing third and qualifying for the Champions League play-off round (which they subsequently lost to Napoli).
Seri's massive success nearly earned him the dream move of all dream moves to Barcelona, but the move wasn't completed amid reports that Nice had upped their asking price after pesky late 'interest' from PSG (much to the aggravation of his agent).
In 2017/18, Seri's performances haven't quite been up to the standards of last season – a byproduct of Nice's decline – but they've still been solid enough to make him a top transfer target once again. With rumours of a move to Arsenal picking up steam, it's time to look at what kind of player the Gunners could be acquiring – and whether they should even be trying to land him in the first place.
Style of play
If there's one word to describe Seri's style, it's smooth. There's a lot that he can do with the ball: his long-distance passing is very good in terms of both volume and accuracy, but he isn't someone who just hits long balls to static targets for the sake of it. More often than not, those passes shift the defence out of their comfort zone just enough, and give the attack a chance to create something dangerous.
When he isn't passing long, the 26-year-old does a very good job piercing defensive lines and catching opponents off-guard. The versatility of his passing is his greatest strength as a player.
Seri isn't just someone who only helps with progressing play; he creates chances as well, and has produced 2.3 key passes per 90 minutes this season – the sixth-highest amount in Ligue 1. When the opportunities arise, Seri gets into advanced positions to make an impact, using his mobility in tight areas before passing to a team-mate, or making runs into open space. Essentially, there's diversity to the way he carves out openings. 
There's a lot to like about Seri without even mentioning that he's scored goals at a respectable rate considering the type of player he is (one every 11 games in his Nice career).
He isn't perfect, though, despite the clamour for his signature. Because Nice play in a non-pressing 4-3–3, it's hard to know just how well he'd fit if he went to a team that played more on the front foot. It would also be fair to suggest that at Nice, Seri isn't someone who contributes greatly to the defensive phase of play, so there's a balancing act here. Would he have enough time in possession in a tougher environment like the Premier League to be given this allowance?
It's no secret that Arsenal could do with having some new blood in midfield, and on the face of it, Seri going there makes some sense. But there are two sides of the argument.
The case for...
Arsenal's attack, and the squad in general, hasn't quite been the same since injuries took their toll on Santi Cazorla. The Spaniard was so valuable because of his abilities as a dribbler in deeper areas, as well as his pinpoint passing that helped an Arsenal squad which depended on individual talent to compensate for structural issues in attack.
While it would be going too far to say that Seri on the ball is as good as Cazorla was at his peak, he's not too far off – especially with his ability to break defensive lines on a consistent basis. The Ivorian also brings value with his dribbling in various areas of the pitch.
He'd certainly bring more life to Arsenal's attack, make the lives of Alexandre Lacazette and Pierre-Emerick Aubameyang easier, and ultimately get them a bit closer to Manchester City and Liverpool in terms of attacking potential.
The case against...
Arsenal could be staring at a considerable revamping of their squad. It might take multiple summers before they're one of the best squads in the Premier League once again, and could therefore accentuate the gifts that Seri would bring.
By that point, Seri – who turns 27 in the summer – would be nearing 30, and though his style of play is conducive to ageing gracefully, that's still a risky proposition. Admittedly, Arsenal not yet naming a new manager to replace Arsene Wenger makes this a tough exercise, but it would be hard to construct a midfield involving both Seri and Granit Xhaka without some defensive fragility (especially if they were a duo in midfield, rather than part of a three).
Verdict
Seri is a classy playmaker and has been consistent enough over his last three seasons in France for clubs like Arsenal to take a serious look at him. He's a fine passer of the ball who has proved hard to contain in midfield for his opponents.
He also carries weight because of his attacking contributions, having scored/assisted at a rate of 0.32 per 90 minutes over the past three seasons (goals from penalties removed). That's a solid rate for a player who often acts as the deepest of a three-man midfield. 
So should Arsenal sign him? Even though there's ample evidence to suggest that Seri's talent would help a club of that level, it could be that the squad just isn't at the point yet where this would be a smart move for them to go through with – and that his age makes this a possible marriage which should have happened a couple of years ago.
Quizzes, features and footballing fun
Get the best features, fun and footballing frolics straight to your inbox every week.
Thank you for signing up to Four Four Two. You will receive a verification email shortly.
There was a problem. Please refresh the page and try again.