Marcelo's defensive naivety could cost Real Madrid
The experienced Brazilian's shortcomings at the back might provide Rafa Benitez with his biggest headache this season, explains Kiyan Sobhani...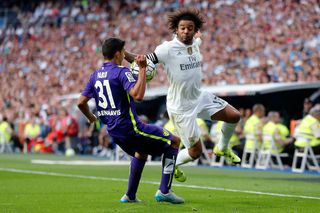 When you're as good at the back as Real Madrid have been this season, bringing up defensive issues in Rafa Benitez's side seems ill-timed. Madrid have conceded just one goal all season - the best record across Europe's top leagues thus far. But the Merengues have an elephant in the room, a situation on their hands that might cause their downfall during the apex of the season.
After seven games played in all competitions, there is enough of a sample size now to conclude that the efficiency of the barricade in their defensive shape in front of Keylor Navas is no fluke. Rafa's defensive scheme is very real. Madrid will not get overrun defensively too often this term, but when they do concede chances as the season progresses, it will most likely be down the left flank, wherein Marcelo resides.
Defensive deficiencies
Marcelo has now entered his tenth season with Real Madrid and still has the odd defensive positioning or awareness issue. He is who he is - an above-average attacking wing-back who can create goals in times of need but can cost you points due to defensive lapses.
Marcelo is prodigious at what he does offensively but can be disturbingly bad when it comes to defending - both in extremes. The 27-year-old Brazilian has improved remarkably on the offensive side in this time - to the point where in the past couple of campaigns, his attacking prowess and ability to unlock defensive walls has outweighed his defensive deficiencies and earned him a starting role. But somehow, now as a veteran and captain of Real Madrid (second in line to Sergio Ramos), Marcelo has still not nailed down the defensive side and his weaknesses might be shown up come the business end of the season.
A defensively erratic left-back is hard for any team to deal with - but particularly so for Real, a team that plays without a defensive specialist in midfield and without wingers who consistently track and cover their wing-backs. This system puts pressure on the midfield duo of Toni Kroos and Luka Modric, who are responsible for moving the team up and down the pitch in unison, and to provide cover for their wing-backs when needed. For this reason, Real Madrid have gone after athletic wing-backs who can bomb up and down the flank tirelessly, like ex-Porto man Danilo. But while Marcelo has the athleticism to keep up with most wingers, he doesn't have the defensive soundness of his Brazilian counterpart.
Familiar problems
When Marcelo gets beaten on the flank, Madrid rely on using one of the central defenders or midfielders to cover for him, which stretches the defense and opens channels for the opposing team.
But it's not just when he gets beaten one-on-one which causes his team-mates to exert extra effort, it's simple things like tracking back that Marcelo suffers with.
In this case, Marcelo fails to anticipate Gerard Moreno's run on the give-and-go, and when he finally does realise what's happening, he casually jogs back as a spectator while Pepe runs across to make a tackle.
In another example of poor defensive awareness this season - a tense match at San Mames - Marcelo neither commits to the winger with the ball nor tracks to mark the player making the run in behind the defense. Marcelo is caught in the middle of his two options - essentially the worst place to be.
On an ensuing possession, he fails to realise that Markel Susaeta has made an immediate run after releasing the ball. Once again, Marcelo is one step behind, and by the time he works it out Susaeta has broken free on the flank and is able to make an uncontested cross into the penalty area.
Furthermore, on another possession, Marcelo attempts to clog the middle when central defender Raphael Varane is already covering that space, leaving his man completely open on the flank.
Two minutes later, Marcelo lunges in rather than simply keeping his man in front of him. Attackers relish when opposing defenders dive in, knowing they need just a touch to get by and swing in a cross.
In the second half, Marcelo continues his defensive lapses. One instance sees him overcommit himself to chase the ball, leaving a man behind him completely free in a dangerous position. This is where defensive awareness has to come into play: the realisation that it's most important to track the man making the run rather than running out to the man in possession of the ball which only leaves the defence exposed.
It is no coincidence then, that Real Madrid's lone conceded goal this season has come from Marcelo's defensive negligence. It came on this play, where Bilbao had won the ball in midfield and Marcelo was making a run forward. Rather than immediately tracking back full steam, Marcelo took a gamble and tried to stop the counter-attack which only afforded more freedom to the man behind him.
Flying full-back
Marcelo currently ranks last in both clearances and blocks every 90 minutes among Real Madrid defenders. But interestingly - and perhaps unsurprisingly - he ranks right up there with any Real player when it comes to anything on the offensive end. Statistically, Marcelo is the most successful passer from Madrid's backline and creates more chances than James Rodriguez, Gareth Bale and Karim Benzema - all per 90 minutes. He is also by far and away the most successful player on the team when it comes to dribbling past a defender with 13 successful take-ons per 90 minutes - four better than Cristiano Ronaldo.
Those stats paint a picture - Marcelo is not entirely a walking horror-show. He is an uber-talented left winger who can't defend naturally. In years past, Carlo Ancelotti and Jose Mourinho both had Portuguese full-back Fabio Coentrao to rely on in big matches in order to stabilise Los Blancos' backline.
This season, with Coentrao currently out on loan at Monaco, Benitez's options are limited. Alvaro Arbeloa - who saw rare playing time in an away win against Malmo on Wednesday night - is the only other left-back Benitez has at his disposal. But Arbeloa is a limited player who is no defensive juggernaut himself.
Since acquiring Marcelo in January 2007, Real Madrid have cultured him into one of the best left-backs in the world, but at this point they accept who he is as a defensive burden, knowing full well that at this point in his career, a dramatic improvement in that department is improbable. Benitez now needs to decide between either finding a defensive upgrade at that position, or finding a scheme that actively masks Marcelo's shortcomings at the back.
Quizzes, features and footballing fun
Get the best features, fun and footballing frolics straight to your inbox every week.
Thank you for signing up to Four Four Two. You will receive a verification email shortly.
There was a problem. Please refresh the page and try again.