Martial medical shows serious case of hyperinflation
By Back of the Net published
Manchester United proceeded with their business despite a potentially serious obstacle, Back of the Net reports...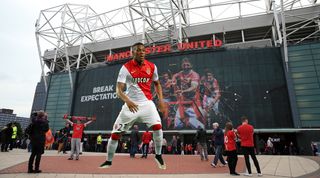 FourFourTwo can exclusively reveal that Manchester United pressed forward with their move for Anthony Martial despite a nasty bout of hyperinflation.
Monaco emphatically accepted United's €50 million bid for the 19-year-old striker with an emoji-littered fax, sending follow-up emails at hourly intervals to check that the offer still stood, offering to personally drive Martial to Old Trafford and indicating that they would throw in a complementary hamper of cheeses and/or a youth player.
However, the deal could have been derailed at the 11th hour when Martial's medical showed a worrying development. "Our initial diagnosis is that Anthony is suffering from a sudden bout of hyperinflation," a leaked document relayed to FFT stated.
"Anthony told us that he'd just been going about his normal life as a promising but as yet unproven striker when he suddenly felt his value rising around a few days ago.
"During the course of the medical we saw telltale signs. Anthony's ego has swollen considerably just in the time that he has been with us and we were unable to stop that even though almost nobody here knew who he was. The problem escalated during observation. When he walked in here he was worth £15m at a push, but by the time he left it was closer to £25m.
"We'll endeavour to stop this rise but we'll also need Louis van Gaal and the coaching staff to help by playing him out of position, stating that he 'hasn't quite shown his best' and if needs be loaning him out."
While United staff have reason to be worried at the condition, it is still less acute than Kevin De Bruyne's potentially crippling case of hyperinflation.
"Everything De Bruyne did just seemed to make it worse," an insider at Manchester City told FFT. "At one point he went to the toilet and came back worth an extra £3m.
"His records show that he had a similar thing at Chelsea but they solved that with a healthy dose of Genk, some Werder Bremen and a stiff kick in the knee or two."
Thank you for reading 5 articles this month* Join now for unlimited access
Enjoy your first month for just £1 / $1 / €1
*Read 5 free articles per month without a subscription
Join now for unlimited access
Try first month for just £1 / $1 / €1
Quizzes, features and footballing fun
Get the best features, fun and footballing frolics straight to your inbox every week.
Thank you for signing up to Four Four Two. You will receive a verification email shortly.
There was a problem. Please refresh the page and try again.