Next Big Things: Four rising Ajax starlets that you need to know about
Priya Ramesh assesses the Ajax young hopefuls looking to follow in the footsteps of Christian Eriksen, Daley Blind, Siem de Jong & Co. by leading the charge in the Eredivisie...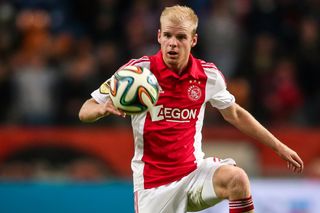 When Frank de Boer took over as manager of Ajax in December 2010, his first match in charge was against AC Milan at the San Siro. Three years later, the Amsterdam side faced the same opposition, but not a single name from the first meeting was to be seen on the Ajax team-sheet.
KLAASSEN
Full name: Davy Klaassen
Date of birth: February 21, 1993
Place of birth: Hilversum
Height: 5ft 10.5in
Position: Attacking midfielder
Clubs: Ajax (63 apps, 14 goals)
Country: Netherlands (1 cap)
That is perhaps testament to the flurry of exits from the Dutch capital every close-season. This summer saw the departure of the last Ajax players to have made their debut before De Boer's appointment. Siem de Jong, Daley Blind and Kenneth Vermeer all left the club; two for the proverbial greener pastures of England, and one for arch rivals Feyenoord
The inevitable loss of key, stand-out performers means that, every July, De Boer starts with voids in his starting XI. Yet, somehow, every May we see the emergence of a new starlet to fill the gap. This regenerative quality to the club has been of paramount importance in ensuring consistent success - in the Eredivisie at least – and as the two most important figures in De Boer's four-peat both left this summer, a host of youngsters have yet again risen to the occasion.
Davy Klaassen
The young Dutchman (pictured, top) made his debut way back in 2011 and scored within seconds of coming on. Klaassen, with all the promise he showed, would have been integrated into the first team sooner had it not been for a near career-threatening groin injury that sidelined him for eight months.
His return coincided with the departure of Christian Eriksen, as well as early-season injuries to Siem de Jong and the original Eriksen-replacement, new arrival Lerin Duarte. Once De Boer took the decision to draft him into midfield, there was no looking back for Klaassen.
In a mere season, Klaassen, of whom Johan Cruyff is a long-term admirer, has now not only established himself in the starting XI of Ajax, but on the back of the summer's departures, also established himself as a true leader in the side, despite still being only 21. Naturally a technically-gifted attacking midfielder who can also function up front and likened to Dennis Bergkamp, Klaassen has really evolved in the last two years.
A better comparison would perhaps be Chelsea's Oscar, as Klaassen brings an abundence of energy and tackling to the Ajax trio in midfield that often consists of two No.10s and one defensive midfielder. He has become more of a dynamic central midfielder, with a natural intuition in pressing and the ability to position himself well when he loses the ball.
He scored 10 times in the league last season and was seen as more of a goalscoring midfielder than a particularly creative one, a la ex-team-mate Eriksen. However, he has adapted his game again this season and at the time of writing led the Eredivisie assist charts with seven.
If he can both score and create on a regular basis, Klaassen will shine as one of the Eredivisie's most complete players. In addition, he has already captained the team in the KNVB Beker and should Niklas Moisander leave, one would think the fair-haired De Toekomst graduate would be a favourite to get the armband.
Lucas Andersen
ANDERSEN
Full name: Lucas Andersen
Date of birth: September 13, 1994
Place of birth: Aalborg
Height: 6ft 1in
Position: Attacking midfielder
Clubs: Aab (40 apps, 3 goals) Ajax (32 apps, 4 goals)
Country: Denmark
"Now, this must be my year.", proclaimed a hopeful and determined Lucas Andersen to Danish newspaper Nordjyske in July 2014.
He had already spent two seasons with Ajax, having arrived with more expectations than compatriot Eriksen, but failed to break into the senior squad. Even for Jong Ajax, he was at times on fire and at times invisible. Inconsistency and a failure to really grasp the first team chances he was given meant the prophecy of Andersen replacing Eriksen was delayed and delayed. Until this season, of course.
The young Dane is now finally making his name in the Ajax first team, initially being used out wide but now settled in an attacking midfield role.
When he goes forward, he goes forward with a purpose and, against Barcelona at the Camp Nou, he seemed like the one Ajax player who could fashion a chance to score.
He still lacks physicality and that would improve his chances in one-on-one duels, but the player Marc Overmars once likened to Michael Laudrup has an air of elegance about him. He possesses the kind of silky skills on the ball that allow him to find space and thread passes in congested areas.
He has started 13 games in all competitions this season and, more encouragingly, the last five in his favoured No.10 position. Statistics don't reflect a lot in this case and Andersen's creativity and ability to combine with his team-mates will be crucial for Ajax in the months to come.
A consistent star for the Danish under-21 side, he will be hoping his performances are also good enough to warrant a call-up for the senior side, and in the long-term, as he finally seems to hit stride, Andersen will be hoping to reach the heights he was touted to.
Joel Veltman
VELTMAN
Full name: Joel Veltman
Date of birth: January 15, 1992
Place of birth: Velsen
Height: 6ft
Position: Centre-back
Clubs: Ajax (57 apps, 4 goals)
Country: Netherlands (7 caps)
"They can't have this boy Veltman. I will barricade the doors and I will go and stand behind the door myself to stop them from taking him. He means too much to us" said Ajax's director of football Overmars, only months after knocking the youngster down the pecking order by signing Mike van der Hoorn.
The departure of Toby Alderweireld, injury to Moisander and Van der Hoorn's general lack of form meant that after effectively starting the season as fifth choice, Veltman was now thrown into first-team action straight after returning from a knee injury. Taking the chance with both hands, the centre-back went on to have a dream few weeks: being called a 'veldheer' or 'field general' by his manager, earning his first Oranje call-up and impressing on his national debut.
Since then, Veltman has become irreplaceable in the Ajax first team.
The 22-year-old – who in his first conversation with Louis van Gaal talked about his family's chickens – is phenomenal in attack for a defender and as Blind sat back last season to cover for him, Veltman went on 49 dribbles in the league last season from the centre of defence, completing 44. While his long-distance passing might not be as good as Moisander's, Veltman can pick out a pass or two, though he loves his mazy runs more.
Defensively, Veltman needs more consistency and the ability to read a game/opponent better. For all his positives, his entire profile is undone by the fact he tends to switch off at times and make errors in crucial positions around his goal. He has adapted his game to cover the loss of Blind this season, venturing forward far less than last term.
Moreover, Veltman benefited last season by playing alongside Moisander but as the Finn's form has been poor this season, the Dutchman has grown in stature as a strong presence at the back and seems to be gaining maturity. Mistakes like the sending-off against Barcelona are flaws that Veltman will have to patch up under the tutelage of Jaap Stam at Ajax, and once he does, he could well develop into a stylish centre-back.
Anwar El Ghazi
EL GHAZI
Full name: Anwar El Ghazi
Date of birth: May 3, 1995
Place of birth: Barendrecht
Height: 6ft 2in
Position: Winger
Clubs: Ajax (18 apps, 5 goals)
Country: Netherlands
The star of Ajax's pre-season, scoring eight goals in around 150 minutes of football, El Ghazi was a standout performer for the Ajax A1 side last season. De Boer deemed it enough for him to be included in Ajax's first team squad for this season and the Dutchman of Moroccan origin has – as the cliché goes – not looked back since.
Rejected by Feyenoord at 13, El Ghazi has had his share of setbacks, despite being just 19. The skill was undoubted, but questions were regularly raised over his consistency, mental attitude and, for a small period, even his weight.
However, he strived to improve himself and after a spell with Sparta Rotterdam, he was snapped up by Ajax in 2013. Rotterdammer by birth or not, the teenager did not think twice before putting pen to paper with the Amsterdam club, having apparently been an Ajax fan from childhood.
El Ghazi slowly started racking up impressive substitute appearances in the early weeks of the season, assisting on his league debut against Vitesse and then scoring away at AZ. Having earned himself a start against title favourites PSV in the next match, he met a brilliant ball from Davy Klaassen and netted again.
Since then, El Ghazi has fully established himself as a unique threat in Ajax's attack. For the best part of the opening half an hour at home against Barcelona, El Ghazi was running the show in attack for Ajax, having declared he wasn't scared of taking on Jordi Alba.
Best of the rest...
While those four are probably Ajax's brightest talents at present, there should be a word of mention to Ricardo Kishna, Ricardo van Rhijn and the exciting Viktor Fischer, who unfortunately has been injured since the start of this year and is not expected back until next season.
Once these players make their case on the big stage, it's unlikely in most cases that they will want to stay in the Eredivisie as they near their peak. But the future already seems bright for Ajax.
There's a set of El Ghazi-inspired Arab-origin youngsters including Abdel Nouri and Adham El Idrissi who seem promising, in addition to the likes of Jairo Riedewald – already likened to Frank Rijkaard by De Boer and Daley Blind by his team-mates - Queensy Menig, Vaclav Cerny, Donny van de Beek and, of course, the 18-year-old summer recruit from Groningen who already has a huge reputation across the country: Richairo Zivkovic.
But that is a story for another day. As of now, Ajax's title hopes rest on the shoulders of these four young starlets who are absolutely raring to prove their potential.
Quizzes, features and footballing fun
Get the best features, fun and footballing frolics straight to your inbox every week.
Thank you for signing up to Four Four Two. You will receive a verification email shortly.
There was a problem. Please refresh the page and try again.