Ranked! The 10 best Premier League players after 10 matches
Enough time has passed to draw some conclusions from the season so far – so allow Daniel Storey to rate the finest performers in the top flight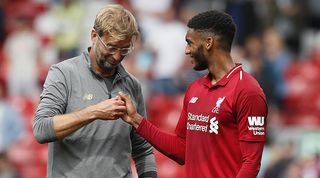 10. Marcos Alonso (Chelsea)
As soon as it became clear that Maurizio Sarri would be Conte's replacement at Chelsea, Alonso might have felt a little uncomfortable. Out would go the three-man central defence and wing-backs; in would come a flat back four.
For Alonso, who had gotten so used to surging down the left safe in the knowledge that there was cover behind him, the concern was that he would either be stymied or simply replaced by a new signing.
Instead, Alonso has carried on merrily doing his thing despite nominally playing in a more defensive position. Only Eden Hazard and Alvaro Morata have taken more shots for Chelsea than their left-back. All credit to Sarri for concluding that if you're going to play Alonso, you might as well let him run free.
9. Sergio Aguero (Manchester City)
It's easy to take Aguero's consistent excellence for granted. Such is the creative genius within Manchester City's attack, the understandable theory put forward is that anyone could be successful as the striker in this team. Aguero has taken more shots than any other Premier League player this season, and scored six goals. His conversion rate and shot accuracy are both lower than Harry Kane.
But the Argentine is not the poacher in City's attack; that role is actually taken by Raheem Sterling. In his late 20s, Aguero has been forced to adapt his game to fit the demands of Pep Guardiola's system.
He drops deep to pick up possession, drag defenders out of position and create space in behind. He is asked to be both selfless and selfish, and pick the right moments to flit between the two. Gabriel Jesus's goalscoring drought demonstrates how hard that is to pull off, but Aguero has made it work.
8. Matt Doherty (Wolves)
Possibly the most improved player in the country over the last two years. Doherty stuck it out at Wolves despite loans to Hibernian and Bury and relegation to League One. Having improved markedly under Nuno during the club's Championship promotion campaign, Wolves supporters waxed lyrical about an attacking right-wing-back who seemed perfect for Premier League life.
You bet he is. Wolves's brilliant start to the season has been tempered by recent defeats to Watford and Brighton, but Doherty continues to shine. Only one of their players has had more shots on target, only one has scored more goals and only two have created more chances.
Given the club's investment in attack and midfield, and considering that Doherty is a defender, that's astonishing.
7. Mohamed Salah (Liverpool)
No Liverpool player has had more shots on target. No Liverpool player has created more chances. No Liverpool player has completed more dribbles. Salah is far below last season's peak, but still the Reds' second-highest-performing player. Those are the high standards that he set in 2017/18.
You don't need to have watched Salah for long to see the differences. Playing at the peak of confidence allows a footballer to perform on instinct. Brilliance is achieved not through deliberation but almost entirely without thought. Right now, Salah is thinking about what he is doing.
But he's also still achieving. Salah is one of only six players to have at least three goals and three assists in the Premier League this season. When he hits top gear again, we're all in trouble.
6. Ryan Fraser (Bournemouth)
And so to another of those players with three assists and three goals – a list on which Fraser is joined by team-mate Callum Wilson. The secret to Eddie Howe's managerial excellence lies in improving players beyond their reasonable potential. Fraser and Wilson are the current best examples.
For Fraser, it's been a long journey to relevance. The winger freely admits that he was not looking after his body properly when he first broke into Bournemouth's first team, and was told by Howe in no uncertain terms that he wouldn't play for the club again until he'd got to grips with that element of his life.
Now matured, Fraser is blossoming. The 24-year-old is starting to dominate matches in a manner that we haven't previously seen. He cites Eden Hazard as a role model to follow, and the similarities are more numerous than you might expect. The Scottish street footballer has been fine-tuned.
5. Alexandre Lacazette (Arsenal)
Lacazette could have been forgiven for being a little fearful about his Arsenal future. Alexis Sanchez departed in January but was replaced with two new signings. Henrikh Mkhitaryan and Pierre-Emerick Aubameyang were less tarnished by early-season slump, and Mesut Ozil, Aaron Ramsey and Alex Iwobi were also competing for a first-team place. A knee injury in February and March hardly helped Lacazette's cause.
The Frenchman isn't the only Arsenal player to enjoy a surge in form under Unai Emery, but his is certainly the most pronounced. He has four goals and two assists in seven Premier League games, but more impressive still is the link-up play with Aubameyang.
If the worry last season was fitting them both in the same team, now the issue is coping without them. In their last 438 minutes on the pitch together, those two alone have scored eight times.
4. Joe Gomez (Liverpool)
Alisson's arrival has given Liverpool a layer of defensive security that they lacked last season, and Virgil van Dijk is a defensive leader, but watch Liverpool regularly and you will soon become convinced that Joe Gomez has been their best defender.
It's a terrific story. Having graduated from Charlton's academy and moved to Anfield, Gomez suffered an injury so serious that it could easily have caused his career lasting damage. Instead he knuckled down, worked doubly hard on his recovery and has come through the other side a much improved player.
There are plenty of reasons for enthusiastic applause among Liverpool supporters, but you just listen to the reaction at Anfield when Gomez makes a recovery sprint and slides in to make a tackle. They love him as one of their own.
3. David Silva (Manchester City)
There is a theory that Silva was always likely to get better as he aged. Or, to be more exact, that he would stand out more as he aged, and thus become easier to appreciate. Most footballers rely on pace and physical strength, albeit to lesser and greater extents. Silva has always relied upon touch.
Turning 33 in January, this might just be Silva at his peak. He has never hared around the pitch nor sprinted past defenders, but in the autumn of his career he uses only the brilliance of his control and magnificent vision to dictate the tempo of matches and conduct Manchester City's attacks.
While all around him whizz and whir, Silva stands out. He is both brilliantly simple and simply brilliant. Given his family issues last season, if City win the title and Silva is named Player of the Year, there wouldn't be a dry eye in the house.
2. Aymeric Laporte (Manchester City)
It's easy to have your head turned by that Manchester City attack. The sheer weight of goals convinces that it's in the final third where City are performing at their peak.
But Laporte is City's player of the season so far, above even David Silva and Aguero. He has played every minute of their league campaign – significant given Pep Guardiola's preference for rotation and the number of central defensive options at the manager's disposal. Laporte is the only ever-present outfielder.
It shows. Last season there was a suspicion that you could get under City's skin, unnerve them with a blast of attacking football and force them into conceding twice in quick succession. If that has now gone, it is largely thanks to Laporte's composure. Since joining the club in January, the Frenchman has started 19 Premier League matches. City have won 17 of those matches and drawn the other two, conceding only eight times.
1. Eden Hazard (Chelsea)
It's nothing new for Hazard to flourish under a fresh Chelsea manager. The pattern of his time at Stamford Bridge matches the club's own performance: a period of achievement that eventually tails off due to fatigue and reports of disillusionment. Sarri's task is to keep Hazard flying high.
But there are signs that the Italian has a new plan to keep Hazard sweet and dissuade him that Real Madrid is his natural new home. Sarri says that the Belgian can score 35 goals this season. He will help him achieve that by allowing him to stay in the final third and tell him to drift infield.
It's working brilliantly: Hazard is the Premier League's joint-top scorer having played just over two-thirds of the club's league minutes. He is taking shots every 24 minutes rather than every 34 minutes last season, and is touching the ball more in the penalty area too. Hazard really could be Sarri's new Dries Mertens.
Quizzes, features and footballing fun
Get the best features, fun and footballing frolics straight to your inbox every week.
Thank you for signing up to Four Four Two. You will receive a verification email shortly.
There was a problem. Please refresh the page and try again.