Relax, Chelsea: 6 teams who bounced back from bad starts to challenge
The Blues have become only the second reigning Premier League champions to not win either of their first two games of the season, but Robert O'Connor says it's no biggie...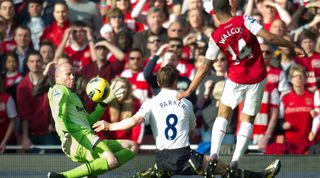 1) Arsenal (2011/12)
Premier League common law used to state it was near impossible to do any real damage in the title race with more than three defeats on the board.
Having not threatened the league summit for some three years Arsenal, brow-beaten and in crisis, lost four times in their opening seven games of 2011/12, but this alone is only half the story.
As the club publicly floundered in the transfer market to the point of outright ridicule – they'd lost Cesc Fabregas and Samir Nasri to Barcelona and Manchester City respectively – Arsene Wenger oversaw the most humiliating sequence of defeats ever suffered by the red club of North London.
The 8-2 defeat at Old Trafford was the most painful moment of a spell that saw Liverpool win 2-0 at the Emirates and a 4-3 defeat to Blackburn. When Spurs won 2-1 at White Hart Lane in October, the Gunners' remaining pride was washed away into the gutters of N17, along with any lingering title aspirations.
The turnaround was cumbersome and prolonged. At 1.15pm on February 26, Arsenal lagged in sixth, seven points behind Tottenham and were 2-0 down in the North London derby at the Emirates. But with the world as they knew it seemingly coming to an end, the gravitas of their plight suddenly struck for Wenger's side, and a desperate effort was summoned to overcome their bitter rivals. They won 5-2, Harry Redknapp's title dreams slipped away and so too did a place in the top four – while Arsenal squeaked into third, Chelsea's Champions League victory meant Spurs' spot was only good for the Europa League (more on that later).
2) Manchester United (1992/93)
When Brian Deane lashed Sheffield United ahead against Manchester United on day one of the Premier League in August 1992, there seemed no reason to re-think the pre-season title odds. United, stalked by the ghost of 25 empty-handed years, were a near-unanimous shout in most corners to challenge for the title off the back of a strong second-place finish in '92, even after a sluggish 2-1 opening day reverse at Bramall Lane.
But from a snagged thread, United's season was soon unravelling. A 3-0 hiding from Everton at Old Trafford sent them bottom, and it took until matchday four for a first victory to arrive.
By mid-November there looked to be no way back into the title race, following a slump that brought just two points from seven games. Without a win in two months the club were 10th at the international break.
There seems to have been no great tipping point to United's first Premier League crown. Even once the fightback had begun, it wasn't until late April that they managed to string together more than four consecutive wins, but the points began to tot up as United made consistency the watch-word.
3) Tottenham (2011/12)
In 2011, Tottenham learned first hand that the only fate worse than not getting what you want is getting it, after the Champions League campaign they had long craved proved so draining that they failed to make the cut the following year. That summer, where the club went to next was anybody's guess. A devastatingly poor August, which included 3-0 and 5-1 defeats to Manchesters United and City, looked to have set the tone for more hardship for Harry Redknapp's side, as memories of San Siro and the Bernabeu joined the annals of half-remembered glories in the corridors of White Hart Lane.
Catatonic fluctuations became the story of Spurs' season for the second year running, as the thrill of a first title challenge in a generation was bitterly dissipated by that harrowing 5-2 defeat at Arsenal in February that crushed it. Recovering from a horror summer to challenge Manchester for its crown and ultimately finish fourth, however, remains one of Redknapp's shrewdest achievements in the dugout.
4) Bradford City (1998/99)
Bottom of the league after seven games wasn't much different to what many fans of Paul Jewell's Bradford had expected from their side in the late summer of 1998. A small squad assembled with a limited budget meant the Bantams were just one more club suffering from the same old problems in the second tier, with a nervous eye on the trap door rather than a neck craned towards the Premier League.
The way Bradford responded to life in the top flight, by awkwardly levering expensive names into a tight-knit squad in a clumsy panic, tells the story of a club that probably wasn't ready for the big time, but their rise from the foot of the First Division table to take promotion automatically in 1999 was astonishing. Beaten just four times from November, their place at the top was as deserved as it was unexpected.
5) Manchester United (2007/08)
When Dimitar Berbatov skipped past Edwin van der Sar and scuffed the ball towards an open goal near the end of Manchester United's match with Tottenham in August 2007, the champions looked to be heading to a fourth straight winless match at the beginning of their title defence. Rio Ferdinand gave chase and, with a desperate lunge, saved not only a certain goal but also United's credibility as contenders to retain their crown.
But for Ferdinand there would have been an eight-point gap between the champions and a resurgent Arsenal, who had set the early pace – the kind of chasm by which championships are settled however early in the season they open up. A first United goal from Nani, crashed into the top corner, set the seal on an overdue first victory and like clockwork a third straight league title followed nine months later.
6) Sunderland (2006/07)
When Sunderland signed off from the 2005/06 season with 15 points on the board, the one redeeming consolation on Wearside was that the slump couldn't possibly sink any deeper. It was the same sallow hope that comforted Mackems fans when, three months later, they lost their opening four games of the season to drop to the bottom of the Championship. The day Roy Keane was appointed as manager was the day the tide turned.
Keane watched from the stands as his new team beat West Brom 2-0 before getting his hands dirty slowly, re-wiring the mentality of a squad that had forgotten how to win. The change was seismic. Having not gained a point from the first 12 available, Sunderland dropped only nine more from January 1 until the end of the season when they were, somewhat predictably, crowned champions.
Quizzes, features and footballing fun
Get the best features, fun and footballing frolics straight to your inbox every week.
Thank you for signing up to Four Four Two. You will receive a verification email shortly.
There was a problem. Please refresh the page and try again.