Ruben Loftus-Cheek has the opportunity to become more than simply a first-team player at Chelsea
The 20-year-old central midfielder made his second league start of the campaign at Aston Villa on Saturday, scoring in the 4-0 romp. Robert O'Connor looks at one reason for Blues fans to be cheerful…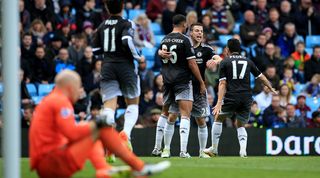 It was certainly an odd Premier League spectacle. At Villa Park on Saturday, as Aston Villa and Chelsea continued their slow procession towards the end of this most troubling of seasons, a sense of the surreal pervaded.
Two teams, living nightmares they must each have imagined impossible back in August (at least for Chelsea, anyway), were playing without a cause in early April.
Both have suffered losses that will impact the very identity of the club, their respective Premier League and Champions League statuses, but in Birmingham on Saturday only one side looked to have identified its redeeming hope for next season's rebuild.
That side was Chelsea, and that hope was Ruben Loftus-Cheek.
Void to fill
The academy graduate will emerge from the 2015/16 season, alongside Willian, as the only member of Guus Hiddink's squad without a mark against his name – partly because he has been kept away from the frontline as the soon-to-be-deposed champions have tumbled from the pedestal they mounted in May.
But it's also because he represents an immediate internal solution to the club's current malaise.
Not since John Terry has a player emerged from the youth ranks to leave a sustained impression at Stamford Bridge, and as the skipper prepares to make his reluctant farewells, there is a vacancy to assume the mantle of Mr Chelsea on a long-term basis.
His performance against Villa was encouraging. Against limited opposition Loftus-Cheek was dominant, demanding the ball and proving able to create and exploit space throughout.
Chelsea can't have had a more willing runner all season; after 10 minutes he collected the ball deep inside his own half out near the left wing, carried it inside and slipped it to Cesar Azpilicueta before setting off on a purposeful sprint to his opposite flank to collect it back from Willian.
The ease with which he beat the first man was something that would be seen again – in all he completed three of the four take-ons he attempted (below) – but the passage of play showed off everything that was impressive about Loftus-Cheek; his willingness to drop deep and dig in to get moves started, then the desire to remain involved as they enter their second and third phase.
Positive energy
It's a measure of the young Blues midfielder's intelligence that he knows when to conserve energy and when to break forward to get on the end of attacks he has helped create.
Having received the ball wide from Willian, he showed the strength and composure to force Joleon Lescott off the ball before losing possession, but it was from the next phase of play that he opened the scoring from Azpilicueta's low cross.
Loftus-Cheek is showing signs of being a player whose presence in the side creates a kind of busy energy that spreads through the team – a reminder to the elder statesmen of Stamford Bridge after their difficult year that there are rewards for those willing to run, chase and harry.
It was with the ball, though, that Loftus-Cheek did some of his best work against Villa. His passing was near impeccable, as he succeeded with 53 of 56 attempted balls, of which 23 were played forward.
Prove your point with Stats Zone Free on iOS • Free on Android
The most visibly effective of these was the one which released Cesc Fabregas in the build-up to Pedro's second goal – Chelsea's fourth – when he slipped in a tidy ball that found the Spaniard as he nipped between the lines, who in turn fed Alexandre Pato.
The youngster had received the ball from Jon Obi Mikel with his back to goal, and on a day when space was opening up everywhere for Chelsea, he had the presence of mind to select a more cultured ball to Fabregas rather than turn and run at a defence which was quickly regrouping.
At one stage towards the end of the first half, Loftus-Cheek collected the ball on halfway and set off on another probing jaunt forward. As he did so, uncertainty seemed to strike the Villa defence quite visibly, as they scattered about in a doomed bid to anticipate the Chelsea man's next move.
Out of possession too he was alert and alive, nipping in as Villa dithered on the edge of their own box to dispossess Alan Hutton and slide a shot inches wide of the post with the score at 1-0. It was Loftus-Cheek the opportunist, reaping the rewards of playing the game in a state of heightened awareness.
Light opposition
On another day he would have had to work harder to carry the ball around the pitch as much as he did; after the game Hiddink talked about it having been an ideal fixture to help ease in players who have had little playing time. As such, Pato and the young American centre-back Matt Miazga also benefited from a gentle introduction to life in the Premier League.
But even though the West Midlands opposition were lightweight, Loftus-Cheek looked at home with the ball at his feet, dragging play around the pitch with smart runs that made the most of space when it opened up and pried into areas where Villa were vulnerable.
Shortly before Pato made it 2-0 from the penalty spot, he collected from deep on the right, yet again, glided past three uninterested midfielders and sprayed it to the left. Minutes later Chelsea scored their second.
It was another example of the young midfielder loading pressure onto the opposition from which they failed to recover. So often he was the architect of spontaneous transitions from back to front, catching the hosts off guard and sowing doubt and instability.
Conte's way
As Chelsea gear up for a summer of change, new boss Antonio Conte will be pleasantly surprised on arrival at Stamford Bridge to find a young man with boundless energy who has perhaps been less affected by a hellish season than some of his war-weary team-mates.
Loftus-Cheek's optimistic youthfulness has gone some way towards lifting the heavy burden that rests on the Chelsea squad in the closing days of this season, not only with the way he functions as an effective motor when the team look to attack but also in the way he inspires hope that this sometimes-chaotic club may actually be moving in the right direction.
More features every day on FFT.com • More Chelsea
STATS ZONE Free on iOS • Free on Android
Quizzes, features and footballing fun
Get the best features, fun and footballing frolics straight to your inbox every week.
Thank you for signing up to Four Four Two. You will receive a verification email shortly.
There was a problem. Please refresh the page and try again.