Van Gaal and Wenger braced for night of nerves in sides' biggest meeting for six years
Manchester United and Arsenal's bruising battles were a staple under Fergie and Arsene – but not for some time has winning been this important, writes Chas Newkey-Burden...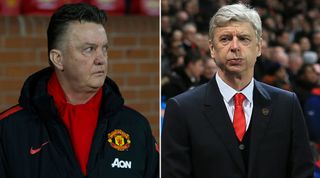 When the illustrious reign of Arsene Wenger is ultimately reflected upon, one opponent will feature prominently: Manchester United. The Red Devils have proved the Frenchman's most epochal opponents. This is particularly true of the first half of his tenure, a period in which Arsenal vs Manchester United ties were often season definers.
The saga began in March 1998 when the Gunners arrived at Old Trafford unbeaten in nine games and in increasingly sanguine fettle. Eleven minutes from time, Marc Overmars outpaced Gary Neville and slotted home the winner to spark raucous celebrations among the travelling clan.
WENGER VS MAN UNITED
Played 48
Won 13
Drawn 11
Lost 24
For 55
Against 80
Seismic shift
It was an earthquake of a strike. The win left Arsenal six points behind United but with three games in hand. Thanks to this remarkably symbolic win, the ascendancy moved from the north-west to the capital. This is clear not only with hindsight: even at the time it felt as if Arsenal won the league that very day.
The following year, Wenger's team were closing in on another double when they faced United in the FA Cup semi-final. During a frantic replay, the referee showed red, an Iceman showed nerves and a Welshman showed his furry chest. Sir Alex Ferguson took Wenger's dream of back-to-back doubles and twisted it into a nightmare in which United wrestled back the power and won the treble.
Fittingly, when Wenger did achieve his second double, in 2002, it was sealed at Old Trafford. Sylvain Wiltord sunk the hosts and swung the pendulum back to north London. Arsenal had claimed the honours in the latest round of this almost biblical feud. It was becoming the marquee fixture of the era.
United were twice landmark opponents of Arsenal's 49-match unbeaten romp. In September 2003, at the 'Battle of Old Trafford', the Gunners almost surrendered that nascent run. It was a scrappy encounter that saw Patrick Vieira dismissed, Ruud van Nistelrooy humbled and, subsequently, four Gunners punished by the FA. Thirteen months on, the historic unbeaten chain was halted at Old Trafford by a perverse penalty.
FEATURE Top 10 Arsenal-Man United games: buffets, brawling and the Busby Babes' last hurrah
When Roman Abramovich's billions rolled into English football, a new contender joined the scene, and Chelsea downsized the dominance of the two giants. Yet Arsenal and United still served up some pivotal showdowns. In 2005, Wenger denied Sir Alex another FA Cup in Cardiff. Then, in 2009, Sir Alex returned the favour with added punch by denying Wenger a second Champions League final. Within weeks, the Scot was heaping salt into the Frenchman's wounds as the Gunners were reluctant guests at United's title party.
LAST FIVE MEETINGS
Arsenal 1-2 Man Utd (PL, Nov 14)
Arsenal 0-0 Man Utd (PL, Feb 14)
Man Utd 1-0 Arsenal (PL, Nov 13)
Arsenal 1-1 Man Utd (PL, Apr 13)
Man Utd 2-1 Arsenal (PL, Nov 12)
Men on wire
Since then, any season's defining ties have been as likely to involve Manchester City or Chelsea, but now the FA Cup has revived the gravitas of the old showdown, returning it to centre stage. The draw has pitched these two humbled giants together to do battle in Monday's quarter-final. Both sides are a shadow of the all-conquering units they once were, yet this only ups the stakes further: when two faded icons meet, neither can countenance the thought of finishing second.
For both bosses, the personal stakes are high. While the Manchester United fans have previously shown patience with Louis van Gaal, grumblings of discontent were heard during the recent matches against Burnley, Sunderland and Newcastle. A horribly nervous performance against the Magpies was characterised by a succession of backward passes and a low-profile shift from Ángel Di María. Ashley Young's comical late winner could not detract from another mediocre team performance.
While a top-four finish remains United's leading, pragmatic target, nothing would stop the growing discontent in its tracks faster than a trophy on the sideboard. Having won silverware in three countries, Van Gaal is hungry for his first English triumph and, with the remaining field in the competition so weak, he will feel that victory on Monday would give him at least one foot in the final. A combination of groans from United fans and his own burning ambition will see the Dutchman feel the heat at Old Trafford.
Yet any pressure he feels will be nothing compared to that on the shoulders of Wenger. With Arsenal's European campaign as good as over, the long-serving Frenchman urgently needs to stay in the FA Cup to avoid a fresh, and potentially unstoppable, tidal wave of calls for his head.
A shaky start to the season reached a particularly nasty nadir with a 3-2 defeat away to Stoke in December, prompting increasingly rambunctious cries of "Wenger out". Since then, Arsenal have won 14 of their last 18 matches and lost just twice. Yet given that one of those defeats left the club on the brink of another premature European exit, Wenger's critics – so big on entitlement and expectation, so weak on perspective and loyalty – will no doubt start clearing their throats should Arsenal concede at Old Trafford.
It's the biggest meeting between the clubs for six years. Its outcome could also influence the two sides' battle for third place. The Gunners approach the tie in better form but for some time it's been felt that United are just one galvanising moment away from putting on a masterclass and tanking an opponent. For a mere FA Cup quarter-final, Monday night has the potential to be a titanic encounter.
Quizzes, features and footballing fun
Get the best features, fun and footballing frolics straight to your inbox every week.
Thank you for signing up to Four Four Two. You will receive a verification email shortly.
There was a problem. Please refresh the page and try again.