Where it went wrong for AVB at Zenit: official aggravation, rule ire and Rondon
By Eliot Rothwell published
The former Chelsea and Tottenham boss has announced he won't stay in Russia beyond this season – but Eliot Rothwell says he might not even last that long...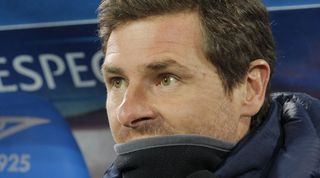 It's all changed so fast for Andre Villas-Boas at Zenit St Petersburg. As spring faded into the Russian summer, there were smiles, sunglasses, open-top bus parades and cold cans of beer. Now, edging into autumn, the mood has darkened. Just months ago, Villas-Boas was Zenit's Tsar.
Taking over a troubled club in 2014, he stabilised the fractious relationship between a cohort of Russian veterans and some of their more expensive foreign counterparts, moulding them into a team that wrestled the title back from CSKA Moscow in 2014/15. But the frustrating start to the 2015/16 season has revealed that success maintained a facade that is now revealing some fundamental cracks under the pressure of bad results.
Anger management
The 3-1 defeat to a Krylya Sovetov side provided the vent for Villas-Boas to express his unhappiness with parts of the job, giving the often-hostile Russian sports pages a chance to point the sharp end of their pens in his direction. Zenit were terrible, but the main talking point came from their manager's behaviour. Clearly enraged with his side's display, Villas-Boas was furious with some of the refereeing decisions, but directed his ire at the fourth official. The frustration was clear, but the aggression was startling, as AVB pushed the official, shouted into his face and looked dangerously close to throwing a punch.
Eventually sanctioned with a six-match touchline ban, Villas-Boas refused to acknowledge the incident post-match, but did make a remarkable admission. He had asked to leave Zenit in the summer, he said, following the title win and the board offering him a new contract, but they refused to release him. The confession set the rumour mill spinning, and, speaking ahead of match against CSKA Moscow on Saturday, AVB revealed he would not be renewing his contract and will duly leave his post at the end of the season.
But few believe he will last that long. As the news has been digested in Russia, there have been murmurs about the Portuguese manager's personal circumstances. Villas-Boas is yet to learn Russian, and doesn't appear to have the will to do so, relying on a translator for media appearances, creating a degree of distance between himself and the ever-touchy Russian press pack. To compound the lack of language learning, the manager's family did not travel with him to Russia, remaining in Portugal, creating considerable strain in Villas-Boas's personal life and no small amount of homesickness. The birth of a newborn child, who Villas-Boas hurriedly rushed to Portugal to be with, has no doubt added to that strain.
Those apparent issues have been used as an excuse to dismiss some of his fundamental critiques of the Russian football system. Russian society doesn't take kindly to a non-Russian critiquing the way things are done, and Villas-Boas has been crudely characterised as a moaner by those, such as rent-a-quote Gennady Orlov, who fail to engage with the fundamental premises put forward by the Portuguese.
Do one Rondon
The Zenit manager's most strident criticism of Russian football directly impacted on the English Premier League. On a Tuesday in July, with the Russian Premier League season due to start on the Friday and many clubs' transfer strategies in full flow, the Russian Football Union decided to change the rules, reducing the amount of non-Russian players allowed on the field at any one time from seven to six. As a result, Zenit were forced to sell Jose Salomon Rondon to West Brom, with Russian striker Artyom Dzyuba already signed from Spartak Moscow.
Villas-Boas took to the airwaves to lambast the decision-makers, suggesting the tighter restrictions would limit the development of Russian football and inflate the prices of mediocre Russian footballers, rather than improve the quality of the Russian national team ahead of the 2018 World Cup. For that, the Zenit boss was ridiculed by many, cast as a moaning foreigner who fails to understand the country.
Though not exactly moaning, as the caricature suggests, Villas-Boas has expressed a number of grievances. The most damaging one, and perhaps most integral to his decision to refuse an extended contract, is Zenit's perceived failure to get him the players he wants, made worse by the foreigner restrictions.
It's thought the Portuguese had two main targets for the transfer window; Joao Moutinho as a deep-lying playmaker, and either Stefan Savic or Matija Nastasic at centre-back. Because of the restrictions, signing either would require offloading Axel Witsel, who was touted as moving to AC Milan, and defender Nicolas Lombaerts, a fan favourite at the Petrovsky. Neither were signed and neither were offloaded.
As well as dealing with the pressures of living away from a young family and being peeved at the Russian federation, Villas-Boas felt let down by his own club. It hasn't been a happy summer. By next summer he will be gone, as he confirmed on Thursday. But, with a six-game touchline ban imposed, it may be prudent to wonder if we will ever see AVB in the Zenit dugout again. At the surface level, he should be back by October, but given his desire to leave Zenit, the club will be hunting successors. If a quality replacement is available, and there have been outlandish suggestions of Jurgen Klopp or Luciano Spalletti rocking up at the Petrovsky, the club may decide to terminate Villas-Boas's contract early. Whatever happens, this coming spring will be different to the last.
Thank you for reading 5 articles this month* Join now for unlimited access
Enjoy your first month for just £1 / $1 / €1
*Read 5 free articles per month without a subscription
Join now for unlimited access
Try first month for just £1 / $1 / €1