England 2022 World Cup away kit: Is this the top of the tournament?
The England 2022 World Cup away kit is a dose of nostalgia reworked for a modern audience – and it's gorgeous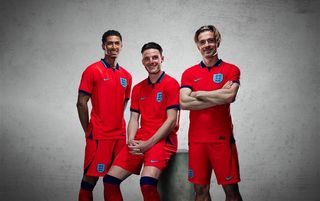 (Image credit: The FA)
The England 2022 World Cup away kit is here – and it's undeniably stunning.
Nike have rewound time to the 1990 World Cup and taken cues from one of the most popular away shirts that the Three Lions ever wore. But this one doesn't feel too much like a relic, with the design updated accordingly for 2022.
Adidas and Puma have already released their World Cup kits, with the Swoosh now following – the Nike home shirt for the Three Lions have dropped, too. Almost all World Cup shirts have now been released ahead of November's tournament.
FFT's verdict
The England 2022 World Cup away kit could be the most unanimously popular one of a generation
Everyone seems to know the score. Either the new England shirt is too jazzy or not jazzy enough; there's been a feeling in the past from some that Nike just don't get the England national team and as we all know, there's no pleasing some.
But this is as close as you can get to bringing out a shirt that's unanimously popular. Euro 2020's blue change strip was daring but dividing, while the 2018 World Cup shirt was pretty enough but not particularly head-turning. This one is both subtle and stunning, using the same blues from the home effort and delivering something a kit that feels genuinely different to any thing the England side has had in years.
The cues from 1990 are clear. The collar is delightful, the navy is well-picked, too. While a deep crimson – such as Liverpool's home shirt – would have been an easy win, this is a lighter red, more like 1966's vintage. That could have looked a bit naff: it looks beautiful.
And when you consider the "neon-tinted" Lionesses away shirt of the summer, this is the first traditional red Three Lions top for quite a while. It's lovely to have it back and yet it feels fresh and thoughtful.
The home shirt might not be everyone's cup of tea but the away shirt is one that feels like it could go down as a cult fave – especially if England have a good tournament. It's the kind of kit that pairs well with a jacket, which FFT have to say is a relief (we're not looking forward to pub gardens in November). Phil Foden has been pictured across the promo material and he makes it look great casual.