England 2022 World Cup home kit: Is this the boldest Three Lions top ever?
The England 2022 World Cup home kit is like none we've seen before, with gradient sleeves the main focus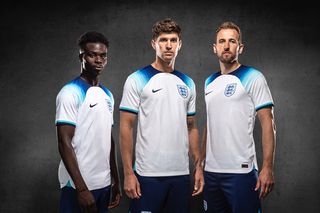 (Image credit: The FA)
The England 2022 World Cup home kit is here – and it might be the interesting and most divisive England top of all time.
Now in their 50th year, Nike aren't afraid to be daring this time around with some of their World Cup kits, as the likes of Brazil, Portugal and the Netherlands have been given some wacky designs for their own campaigns. But England might just be the most marmite of the lot with gradient sleeves being the big focus on this one.
Adidas and Puma have already released their World Cup kits, with the Swoosh now following – the Nike away shirt for the Three Lions have dropped, too. Almost all World Cup shirts have now been released ahead of November's tournament.
FFT's verdict
The England 2022 World Cup home kit might feel odd now but it's definitely a grower
It's a polarising design – especially after two such well-received home tops. The 2018 World Cup was plain and simple without offending anyone, while Euro 2020 saw a centre-aligned badge and swoosh, with a touch of 1998 nostalgia.
Well Nike have spun this one back to 1996, bringing the sky blue and royal blue touches from England's home Euros top. We've got a lot of respect for that – it's just the gradient that may grate.
But in defence of the fade, it's about time the American manufacturer delivered something a little less safe. It's a nice colour, it doesn't make the shirt look too loud or garish – and yes it may look a little like a training kit now but it's not going to when you've actually seen England play in this one.