10 candidates to replace Klopp as Europe's hippest boss
With Dortmund's German tactician moving on and potentially taking time out to groom his beard, Charles Ducksbury weighs up the candidates ready to fill the sizeable void...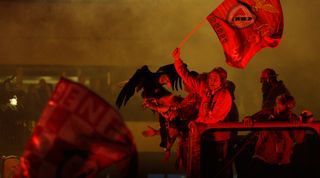 After seven years of jumping around the Westfalenstadion touchline, Jurgen Klopp announced on Wednesday that he will be leaving Borussia Dortmund at the end of the current campaign. As the German side begin their search for a new coach, so too do football boffins seeking their next pitchside icon...
Herve Renard
Sacked by Cambridge United in 2004, the Frenchman decided Africa was the continent for him, spending time as coach of Zambia (twice), Angola and Ivory Coast. As well as winning the Africa Cup of Nations twice in three tournaments, he became synonymous with an untucked white shirt worn during matches. In the 2010 edition of the Africa Cup of Nations, his Zambia side lost to Cameroon in the group stage, Renard's only defeat to date in three tournaments, and the only occasion he ever wore a different coloured top. In a continent of superstition, the blue number was promptly burned.
Luciano Spalletti
Currently unemployed after being sacked by Zenit St Petersburg last season, Spalletti has spent his spare time modelling for Italian shoe manufacturer D'Acquasparta, helping out with the family furniture business and posing on tractors for his personal website. Best known in England as the man on the end of a 7-1 thrashing by Manchester United when Roma coach, it was ironic that Spalletti's invented 4-6-0 tactic was the one Sir Alex Ferguson took inspiration from when the United boss used a 4-2-3-1 setup soon after.
Juanma Lillo
You'd be for forgiven for never having heard of this Spanish coach, though it's almost certain you'll have seen some of his work via Pep Guardiola. The current Bayern Munich coach names Lillo and Marcelo Bielsa as his biggest inspirations, despite the Spaniard being a relative unknown outside of his homeland. It was Lillo who lured Pep to Mexico in 2005 to finish his career at Dorados, and the two instantly hit it off, with tactical discussions going on long into the night. Lillo left Mexico after accusing opponents of match-fixing and ended up coaching Almeria, though he was sacked after an 8-0 defeat... to Pep's Barcelona.
Slaven Bilic
You can't get too much hipper than a coach who's also a guitarist in a rock band. The former Everton and West Ham defender played on stage for Rawbau, even recording a song for his Croatia side before Euro 2008 called Fiery Madness. If that isn't enough points on the hipster scale, the current Besiktas boss also holds a degree in law, speaks five languages and once said that football was more beautiful than any woman.
Jorge Jesus
When deciding whether the Portuguese coach is a hipster or nutter, it's better to make a case for both. In the hipster corner, the Benfica coach was one of the first to wear a club scarf during games and has developed stars such as Angel Di Maria and Nemanja Matic, all the while playing all-out attacking football. As for his nutter credentials, he mocked Tim Sherwood during a Europa League tie, dancing as his side took the lead. He dressed so wildly to celebrate Benfica's title win last season that police mistook him for a fan, and recently declared that nobody in the world knew more about football than him.
FEATURE Why Man City should move for Jesus – before Barcelona or Real Madrid do
Zdenek Zeman
Born in Czechoslovakia, Zeman made his name coaching in Italy with Roma, Lazio and Napoli. In a country that values defensive discipline, ZZ insists his teams play as if it's 0-0 at all times, playing gung-ho attacking football. When he was sacked as Roma coach in 2013, his side had the best attack and worst defence in Serie A. To further enhance his hipster standing, as his side kick-off, eight players stand on the halfway line, ready to lead the charge, leaving just two defenders to protect a worried-looking goalkeeper.
Jorge Sampaoli
One of the highlights of last summer's World Cup was Sampaoli's Chile side playing a ferocious pressing game, while their bald Argentine coach marched up and down the sideline. He takes many of his attacking principles from his predecessor Bielsa, continuing the attacking identity now associated with the Chileans and arguably outperforming the current Marseille boss. He also copies the bespectacled Bielsa in the fashion stakes, preferring tracksuit bottoms pulled high above the waist rather than a plush suit.
Paul Tisdale
After Arsene Wenger, Tisdale is the longest-serving boss in English football, having sat in the Grecians' hot seat for nine years. And although his managerial credentials don't match others' in this list, there's little doubt Tisdale is the best-dressed gaffer in world football. The Exeter boss is close friends with Ray Kelvin, founder of Ted Baker, so gets to try out the latest gear on the sidelines. Tisdale's highlights include a cravat, red tartan suit with open collared shirt, and in winter a Russian-style hat.
Paco Jemez
Last year Guardiola stated that only his Bayern side, Barcelona and Jemez's Rayo Vallecano attempt his favoured style of football – high praise indeed for a man linked with the Brentford job. He enjoys upsetting the establishment – always a hipster favourite – like falling out with Real Madrid over Zinedine Zidane's lack of coaching qualifications. Basing his love for possession on his hate for being told to hoof it as a player, last season his Rayo side became to first to stop Barca dominating possession for five years.
FEATURE Meet the boss who's riled Real and should manage Barca one day (but probably won't)
Corinne Diacre
If a hipster's utopia is a one-of-a-kind coach, they need look no further than Clermont Foot. In Diacre, the French side have the only female professional coach in Europe. She took charge after original choice Helena Costa left soon after being appointed and, after a slow start, now has her side sat in mid-table in Ligue 2. Initially blasted as a publicity stunt, the former French defender has lost just three of her 13 games in 2015.
Thank you for reading 5 articles this month* Join now for unlimited access
Enjoy your first month for just £1 / $1 / €1
*Read 5 free articles per month without a subscription
Join now for unlimited access
Try first month for just £1 / $1 / €1
Get FourFourTwo Newsletter
The best features, fun and footballing quizzes, straight to your inbox every week.