10 former Premier League heroes you might have forgotten about
By Adam Hurrey
This crop absolutely deserve cult hero status – for varying reasons – writes Adam Hurrey…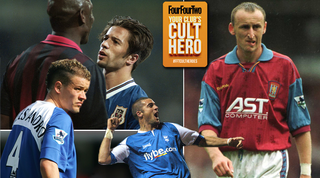 1. Kevin Pressman (Sheffield Wednesday)
There are many ways one could jog your memory about Pressman. His generous physique, perhaps. His red card after just 13 seconds against Wolves in August 2000, maybe. You'll certainly recall those three caps for England B in the mid-to-late 1990s.
Or this:
"Get in!" indeed, Martin Tyler. In the pecking order of England's goalkeepers in the 1990s, Pressman certainly wasn't as glamorous as David Seaman but he'd have been rather more useful in those penalty shootouts.
2. Michael Reiziger (Middlesbrough)
The logical step for a Netherlands international – after Ajax, Milan and Barcelona – is almost certainly Middlesbrough. The first in an ambitious Steve McClaren triple swoop alongside Boudewijn Zenden and Patrick Kluivert (who joined Newcastle instead), Reiziger was described as a "craftsman" by his new manager and seen as a more-than-capable replacement for the departing Danny Mills in 2004.
A shoulder injury sustained in a pre-season friendly didn't bode well, and Reiziger made just 22 Premier League appearances in two seasons before returning to his homeland with PSV in 2006. A fine solo goal from left-back against Aston Villa at the Riverside seemed an adequate leaving gift.
3. Jorge Costa (Charlton)
After 17 years with his hometown club Porto, during which time he had earned the captain's armband, the prospect of a Portuguese international defender turning up at Charlton Athletic seemed rather remote.
However, after a spat with coach Octavo Machado, Costa desperately sought some regular football to secure his place at the 2002 World Cup.
Alan Curbishley duly obliged – and thus the back four of Young-Fish-Costa-Fortune was born – but his plans to seal a £4m permanent move for El Tanque (the Tank) were scuppered when Porto brought in a new manager. Jose Mourinho ushered back his stalwart, the pair went on to lift the Champions League in 2004 and Costa is now the coach of the Gabon national team. Obviously.
RECOMMENDED Revealed! YOUR club's Cult Hero – as voted for by the fans
4. Branco (Middlesbrough)
Middlesbrough's contributions to the Premier League's foreign influx in the 1990s were mixed. For every Juninho – with his carnival greeting, thrilling flair and stories of street football with local kids – there was a Branco.
The 1994 World Cup winner's offerings to the Boro revolution were a goal directly from a corner away to Hereford in the Coca-Cola Cup and one (possibly apocryphal) half-time tactics masterclass of "Pass pass pass, goal! Lager, lager, lager, nightclub!"
With Branco struggling to maintain a Premier League waistline, the club paid up the last eight months of the Brazilian's contract and, as the Teesside Gazette recalled, "he departed as an expensive mistake, the extra pounds still in tow".
5. Jose Dominguez (Tottenham)
The Google results for 'Jose Dominguez + diminutive' run comfortingly into four figures for a man who, depending what source you consult, stood somewhere between 5ft 3in and 5ft 5in in his studs.
His first taste of English football came in the second tier with Birmingham, where manager Barry Fry asked if Dominguez was "a player or a mascot", followed by an impromptu trial at Blackburn where he nutmegged a highly unamused Colin Hendry.
A return to Portugal – as Luis Figo's replacement at Sporting, no less – didn't go well and Dominguez jinked and weaved his way to the Premier League with Tottenham. A solid friendship was formed with David Ginola, who was able to converse with Dominguez thanks to a few words picked up from some Portuguese builders of his villa in Saint Tropez.
Dominguez eventually fell out of favour with George Graham at White Hart Lane – leading to spells with Pep Guardiola in Qatar and Romario at Vasco da Gama – before a decade of scything challenges from full-backs finally took their toll and he was forced to retire.
6. Andres D'Alessandro (Portsmouth)
Fans of Championship Manager 01/02 (a superior experience to the current incarnation, but that's another matter) had a sudden flash of recognition when 24-year-old D'Alessandro arrived at Fratton Park on loan in January 2006. Hampered – as all Argentine playmakers worth their salt should be – by the tag of 'New Maradona', he had captained his beloved River Plate at the age of 21 but a move to Europe with Wolfsburg had stalled his career.
In stepped Harry Redknapp with several glowing references for "the boy", and D'Alessandro joined Portsmouth just in time for their unlikely-looking Premier League survival story. He scored just one goal but, at least, made sure it was this goal:
With Portsmouth safe, and D'Alessandro's reputation duly boosted thanks to the most high-profile league in the world, he turned down a permanent move in order to try his luck in Spain with Real Zaragoza. Within two seasons he'd returned to Argentina and, 13 years after leaving to seek his fortune, was back with River in 2016. Complete with a tattoo of his own face on his stomach.
7. Sasa Curcic (Bolton, Aston Villa, Crystal Palace)
Whatever the ingredients required for a cult Premier League footballer, Curcic possibly displayed them all. Ambitious nickname? Check – he was dubbed the 'Serbian George Best'. Rebellious transfer activity? Absolutely – Bolton's record signing jumped their relegated ship in 1996 to join Aston Villa, where all good mid-1990s Premier League careers went to die.
As with all mavericks, Villa manager Brian Little wasn't sure what to do with Curcic, who described the move as "the biggest mistake in my life" and that he should have been played "like a McManaman or a Cantona". A wild off-the-field existence – sex, drugs and the purchase of a double-decker party bus – added to the mystique, as did a brief spell in Major League Soccer, a puzzling move to Motherwell and subsequent retirement all before the age of 29.
"I would not sign for another club, not even if I was offered 15 million dollars. However, it would be different if they were to instead offer me 15 different women from all around the world." – Sasa Curcic, 2001
8. Ricardo Quaresma (Chelsea)
There have been fewer more curious loan spells in the Premier League than that of Quaresma's four months at Chelsea in 2009. Representing Luiz Felipe Scolari's desperate last throw of the dice at Stamford Bridge, the 25-year-old Portuguese winger was seeking to restore some "joy" to a stalled career that had already taken in spells with Sporting, Barcelona, Porto and Inter.
On paper, it seemed like the sort of signing that could revitalise a club's season. In practice, Quaresma's peculiar aversion to using his weaker left foot – which he took to amusing extremes – proved nothing more than a brief novelty.
His penchant for the trivela – hitting the ball with the outside of his right foot – had already elicited sighs from his former manager Jose Mourinho along the way.
"He will have to learn, otherwise he won't play, and I am sure he'll change and become more tactically disciplined," groaned his compatriot. "He likes kicking the ball with the outside of his foot, but if you ask me about him in a few months' time, we'll be talking about a different Quaresma."
9. Walter Pandiani (Birmingham)
"I'm not going to criticise Walter. He was excellent last season and gave everybody a huge lift, and I bought him in case anything happened to Emile Heskey."
As farewells go, Steve Bruce's rather low-key send-off for Uruguayan striker Pandiani is certainly not right up there. A reasonable La Liga goalscoring pedigree earned him a loan move to Birmingham at the business end of the 2004/05 season, and El Rifle needed just 12 minutes to open fire on his debut against Southampton.
Pandiani's spell at St Andrew's was notable for its emphasis on quality over quantity. Just five goals followed his positive debut – two against Liverpool, plus strikes against Chelsea, Arsenal and Manchester United. If The Rifle pulled the trigger, Birmingham didn't lose.
10. Luc Nilis (Aston Villa)
In this selection of Premier League careers that meandered away, fizzled out or simply self-destructed, there should be room for a tale of pure, cruel misfortune.
Thirty-three-year-old Belgian striker Nilis was an established talent seeking one final challenge in the Premier League when he arrived on a free transfer at Aston Villa in the summer of 2000.
A goal on his Villa debut in the fondly remembered Intertoto Cup was followed by a belting volley against Chelsea in his first Premier League appearance, only for his Indian summer to be shattered by an unwitting Richard Wright against Ipswich two weeks later. A double compound fracture of his right leg proved to be English football's unfortunate abiding memory of a man whose showreel deserves rather a lot more.
Find out YOUR club's cult hero here • More features on FFT.com
Quizzes, features and footballing fun
Get the best features, fun and footballing frolics straight to your inbox every week.
Thank you for signing up to Four Four Two. You will receive a verification email shortly.
There was a problem. Please refresh the page and try again.