11 bizarre facts about legendary footballers you've probably never heard
Kevin Stewart looks at a handful of colourful characters who left behind riveting tales to tell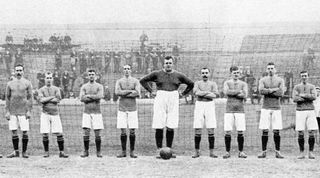 1. Garrincha
Brazil has produced an incredible array of world-class footballers over the years, from Pelé, Zico and Romário to Ronaldo, Ronaldinho and Neymar. Not all of the Seleção's icons are clean-cut, however, with Garrincha one of the more controversial legends.
Manuel Francisco dos Santos, to give him his full name, was a skilful winger who lived a rather strange life. Having been born malformed as a result of polio and deprivation (one of his legs was six centimetres shorter than the other and he suffered from curvature of the spine), he went on to become an alcoholic and a womaniser, as well as a phenomenal player.
There are many remarkable tales about the wing wizard, but none are more bizarre than the one in which he ended up losing his virginity to a goat at the age of 14, possibly while intoxicated.
2. George Best
Northern Ireland's history isn't exactly teaming with footballing legends, but Best was definitely one of them. An incredibly talented forward, the ex-Manchester United man was just as well known as a sex symbol and binge drinker – but many aren't aware that he was once a terrorist target too.
During a First Division match between Newcastle and Manchester United in October 1971, the police received a phone call from someone purporting to be a member of the IRA, who claimed that Best would be shot at St James' Park that very same day.
The Ulsterman was given the chance to pull out off the game but, with security heightened, opted to play; on the basis that it's far harder to hit a moving target, he later admitted he'd never run around as much in his life.
3. Harald Bohr
Bohr enjoyed a long career with Akademisk Boldklub in his native Denmark, where he played alongside his brother, the Nobel Prize-winning physicist Niels Bohr. He was also a member of the Danish side at the 1908 Summer Olympics, as well as being an accomplished mathematician.
Whenever a mathematician produces a doctoral thesis for his or her studies, they have to defend it – which essentially means explaining it out loud to a gathered group. Bohr, however, was such a popular footballer that, when he was invited to defend his, the audience had more football fans than mathematicians in it. Naturally, he gave 110%.
4. Lev Yashin
Soviet Union goalkeeper Yashin is widely considered to be one of the most talented men to have ever played between the posts. He's the only net-minder to have won the Ballon d'Or for a start, and was also voted the best goalkeeper of the 20th century by the International Federation of Football History and Statistics.
Remarkably, Yashin was able to make 326 league appearances for Dynamo Moscow and 74 appearances for his national team while smoking four packets of cigarettes every day. He never went anywhere without his fags - during a trip to India before the 1956 Olympics, Yashin had a packet stolen by an elephant - but his addiction eventually led to him developing a stomach ulcer. As a result, he was forced to carry baking soda with him at all times to help ease the pain.
5. William "Fatty" Foulke
These days, professional footballers are finely tuned athletes - especially those operating at the highest level. That wasn't always the case in the past, but players still had to be relatively fit in order to compete with their peers. Foulke, though, had his own way of doing things.
The former Sheffield United, Chelsea and Bradford goalkeeper played 411 professional matches at club level, and even represented England in 1897, despite weighing a massive 152kg.
His immense size earned him the nickname "Fatty" (who said modern footballers were the uninventive ones?), but it didn't stop him from succeeding between the sticks: Foulke was a reliable shot-stopper who managed to win the First Division and the FA Cup (twice) in his 11-year spell with Sheffield United.
He even played four first-class cricket matches for Derbyshire, and didn't seem to mind the jibes. "I don't mind what they call me as long as they don't call me late for my lunch," he reportedly said once.
6. Bert Trautmann
Trautmann was a German prisoner of war who, rather bizarrely, enjoyed England so much during his time as a captive in Greater Manchester that he subsequently made it his home. That's pretty weird in itself, but even more bizarre is that he once completed a match in which he broke his neck.
The incident happened in the 1956 FA Cup Final at Wembley, when Trautmann's Manchester City were taking on Birmingham. The goalkeeper collided with Brum's Peter Murphy, breaking several vertebrae in the process; astonishingly, he opted to continue playing and helped his team to a memorable 3-1 victory. Now where's that magic sponge?
7. Guillermo Stabile
Stabile, a talented striker and prolific goalscorer, joined Genoa in 1930 after six seasons in his native Argentina. He caught the attention of the Italians at that year's World Cup, in which the Albiceleste reached the final and Stabile was the tournament's top scorer.
Incredibly, he'd never played for his country before the competition and didn't represent them after it. Stabile's four caps and eight goals all came during the inaugural World Cup, but his decision to ply his trade on another continent cost him a long-term place in the South Americans' squad.
8. Robert Schlienz
A number of professional footballers have enjoyed successful careers despite the fact they were missing a limb, but none have done so at a higher level than Germany's Schlienz.
While driving to a game in 1948, the striker let his arm hang out of the window without a care in the world. When the car overturned after hitting a pothole, his arm was left beyond repair and had to be amputated.
Amazingly, he returned to action just four months later, and later won two league championships with Stuttgart and three international caps for his country. What makes Schlienz's story even more inspiring is that, before his career as a professional footballer, he'd already survived being shot in the jaw while fighting for Germany in the Second World War.
9. Bob Thomson
Football, more than any other sport, requires excellent foot-eye coordination. It's undoubtedly the most essential trait that a professional player can have, yet legendary Chelsea striker Bob Thomson enjoyed a successful career despite having only one eye after a childhood accident involving a firework.
He still managed to score 23 goals in 83 competitive appearances for Chelsea, though, as well as 100 more in unofficial wartime matches between 1915 and 1917.
When Thomson was asked how he dealt with the ball when it came to him on his blind side, he simply replied: "I just shut my other eye and play from memory." Neat.
10. Hugh McLenahan
The world-record transfer fee today stands at £89 million, but cash wasn't always the currency used to buy players. In 1927, Manchester United bought half-back Hugh McLenahan from Stockport County by convincing them that he was worth a freezer full of ice cream.
Louis Rocca, United's assistant manager at the time, was part of a family who ran a successful ice cream business and pivotal in getting the deal done. The Red Devils certainly got their dessert's worth out of McLenahan, who went on to appear 112 times in their colours.
11. All 11 members of one team in DR Congo
This tragic incident may have occurred in a minor match which took place in the eastern province of Kasai in the Democratic Republic of Congo in 1998, but the players involved have gone down in football legend as a result.
Lightning struck the pitch in a 1998 contest between Basanga and Bena Tshadi, killing all 11 members of the Bena Tshadi team while miraculously (and rather curiously) leaving all 11 Basanga players completely unscathed. Thirty others who attended the game received burns, but nobody else was fatally injured.
Congo is in central Africa, part of the world in which witchcraft is often blamed for adverse natural phenomena - it's fairly common for football teams to hire witch doctors to place hexes on their opponents. For this reason, some people claimed that the players' deaths were the consequences of a curse.
Thank you for reading 5 articles this month* Join now for unlimited access
Enjoy your first month for just £1 / $1 / €1
*Read 5 free articles per month without a subscription
Join now for unlimited access
Try first month for just £1 / $1 / €1
Quizzes, features and footballing fun
Get daily World Cup 2022 news, updates and other football frolics to your inbox
Quizzes, features and footballing fun
Get daily World Cup 2022 news, updates and other football frolics to your inbox
Thank you for signing up to Four Four Two. You will receive a verification email shortly.
There was a problem. Please refresh the page and try again.