11 brilliant Football Manager 2019 bargains for under £1 million
Lower-league club with a transfer budget burning a hole in your chairman's pocket? Good. First, heed Simon Harrison's advice for these cheap gems…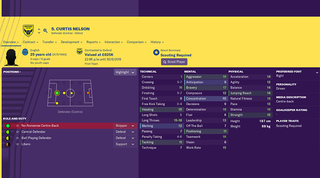 It's tougher than ever to find Football Manager 2019 bargains under £1 million, thanks to ever-increasing transfer fees and the eye-watering wage demands that often accompany them.  
Good for you, then, that we've scoured football's greatest sim to bring you what we believe to be almost a dozen deals that offer excellent value for money. Not every single one of these players will be available to Championship clubs necessarily – those pesky wages could be a stumbling block – but there are several below who'd make perfectly good squad players or stopgaps for better-quality teams too. 
So if it's FM19 bargains on a budget you're after, step this way... 
SEE ALSO 12 amazing Football Manager 2019 release clauses you can't afford to miss
The 12 teams we can't wait to be in Football Manager 2019
Daniele Bonera (Villarreal, release clause £500,000)
At 37 years of age, ex-Italy international Bonera is certainly no spring chicken. For just half a million pounds, however, he could be a useful option for a season.
The centre-back's mental attributes are extremely good, while his pace and stamina aren't too bad for a veteran either. As a limited stopper who can be tasked with marking tight and defending deep, his heading, marking and tackling are all solid.
Christian Santos (Deportivo La Coruna, release clause £275,000)
At the start of your save, Santos will have just joined Depor on a free from Alaves. Capable of playing both out wide or at the head of the attack, the Venezuela international has very well-rounded stats for both roles and boasts excellent heading ability.
He's still just 30 years of age, meaning that you can get a good couple of years out of him yet. His release clause, therefore, is an absolute bargain for second division sides.
Lucas Piazon (Chelsea, transfer listed £400,000)
Able to feature across the midfield and attack, Piazon is a wonderful utility man to have. He packs the stats required to be a useful wideman or attacking midfielder, while his all-round offensive technicals are sound. 
In terms of mental attributes, his vision, off-the-ball work and flair should make him a tricky customer for opponents – and his pace isn't bad either. Somebody please, take him away from Chelsea for good.
Jiloan Hamad (Hammarby IF)  
After extensive scouting, you should find that Hamad is available for a release clause that undercuts £1 million. The eight-time Sweden winger can play on both flanks, and has pretty solid all-round technical stats.
For squads that might have a lot of games to play, having a forward who can turn out in four different positions with natural proficiency is a real asset.
Manu Morlanes (Villarreal, release clause £750,000)
Mentioned in another list of FFT's recommended signings, Morlanes is a 19-year-old playmaker who will develop into a very useful midfielder indeed.
Despite having a patchy injury history, the Spaniard's technical attributes are excellent and he also boasts strong tackling to help him in a holding role. His physical stats are poor, but in teams that look after possession he should flourish.
Curtis Nelson (Oxford)
Starting the game with just one year left on his deal at Oxford, the 25-year-old Nelson is an excellent centre-back to pick up.
He's very strong in the air and boasts impressive physicals for a lower-league player, not to mention several incredibly high mental attributes that are desirable: determination, teamwork and bravery.
Borja Lasso (Sevilla, transfer listed £725,000)
A versatile, well-rounded player, Lasso has plenty to offer at the age of just 24. His technical stats are excellent, with his passing, first touch and vision standing out.
Though he lacks strength, which can be expected as an attacking midfielder, Lasso should be a very good No.10 for a team on a budget.
Tyias Browning (Everton, transfer listed £750,000)
Capable of playing as a limited full-back or as a central defender – his natural position – Browning is available for a cut price, and on a modest wage too.
His physical stats are impressive, particularly his pace and natural fitness for covering in behind the backline, while his technical attributes are solid enough for a second-tier side.
Idrissa Sylla (QPR, transfer listed £500,000)
With strong off-the-ball and anticipation attributes, Sylla can be a useful fox in the box. His physicals are average but well-rounded, while his finishing and composure are at a reasonable level for a side in the lower divisions.
The Guinean's contributions to all-round play will be minimal, but he should act as a very useful poacher.
Alberto Bueno (Porto, transfer listed £500,000)
Capable of playing as a No.10 or an advanced forward, one-time Derby forward Bueno is an excellent budget player who offers strong dribbling, finishing, long shots, first touch and technique.
His mental attributes are very good for a creative attacking player, and although his stamina is poor, he could be great off the bench. Wages could be the only stumbling block for a lower-division outfit.
Tyler Blackett (Reading, transfer listed £825,000)
Mental attributes let Blackett down, but as a raw talent he is interesting. Good in the air and blessed with tremendous physicals, the ex-Manchester United central defender has the pace to make up for certain mistakes.
Despite being a little weaker on the offensive, he can perceivably feature as a supporting full-back if needed, too.
Luciano Narsingh (Swansea, transfer listed £400,000)
Again, Narsingh's wages are rather steep, but his pace and dribbling ability could make it all worthwhile. The Dutchman is very quick and blessed with strong technique, and could be a great option for a team that plays on the counter-attack (or simply as an impact player off the bench).
Narsingh's mental stats are poor, but his speed could make up for it. He's a 16-cap Netherlands international and two-time Eredivisie winner. 
See also...
The 14 best Football Manager 2019 free transfers
The 12 teams we can't wait to be in Football Manager 2019
8 signs that you're addicted to Football Manager
Quizzes, features and footballing fun
Get the best features, fun and footballing frolics straight to your inbox every week.
Thank you for signing up to Four Four Two. You will receive a verification email shortly.
There was a problem. Please refresh the page and try again.