The 12 teams we can't wait to be in Football Manager 2019
Bradley Russell selects a dozen destinations for you to pore over, from the Far East through to one of MLS's newest teams and everything in between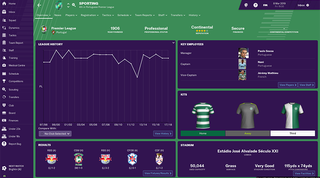 With thousands of teams and dozens of leagues to choose from, your toughest decision of Football Manager 2019 might just be who to play as first.
Below are relegation certainties, fallen giants and mid-table also-rans like… er, Real Madrid. They're all here – ready and waiting for you to sign on the (virtual) dotted line...
SEE ALSO Football Manager 2019: release date, new features, beta and more
Sporting (Primeira Liga)
2017/18 was an unmitigated disaster for Sporting. Several players, including Gelson Martins and new Wolves goalkeeper Rui Patricio, ripped up their contracts and headed elsewhere after being attacked at the club's training ground by their own fans.
Amid the madness they missed out on Champions League qualification, and then lost 2-1 in the Portuguese Cup final to lowly Aves.
You'll be tasked with picking up the pieces and trying to get the best out of the returning Nani. Sporting have also gone 16 years without a league title, and are in serious danger of matching their worst ever drought of 18. Just don't anger the fans any more...
Hamburg (2. Bundesliga)
Not many second-tier clubs have 67,000-seater stadiums (for 'not many', see none). Then again, few clubs are in the position that Hamburg find themselves in. Having been relegated for the first time in their history, the German club don't have time to get misty-eyed about their six Bundesliga triumphs and sole European Cup win while they languish in the 2. Bundesliga – a league newly licensed in Football Manager 2019.
Your mission here, then, is to get Hamburg back to their glory days of cup wins and league titles. That's no small task considering the haplessness of their last five seasons, not to mention the might of Bayern Munich and a re-energised Borussia Dortmund standing in your way. A long-term save.
Real Madrid (La Liga)
So this might not be the cakewalk you were expecting, as Julen Lopetegui has found out. The main challenge awaiting you is how to deal with the departure of Cristiano Ronaldo, in an era where los Blancos have seemingly spurned the Galactico mentality.
So do you stick with what you've got and develop the youth at your disposal, or twist and bring in a series of stars who can lead you into a new age? Whatever you choose, you've got the small matter of knocking Lionel Messi off his perch, plus the continued threat of Atletico Madrid.
Real Madrid is the best starting point for those looking to get to grips with all of the new features while having the safety net of a serious transfer budget (around £54m).
Blackburn (Championship)
Despite being the only Premier League champions to be relegated to the third tier of English football, Blackburn have hit a purple patch recently – and now it's up to you to get them back to the Promised Land.
The likes of Bradley Dack and, yes, even Danny Graham should help you storm up the Championship table before your opposition has known what's hit it, and you've got a potential fortress in Ewood Park that could humble all but the biggest of teams.
The anoraks among you can aim for some seriously impressive long-term records: Blackburn, if you get promoted, could be the first Premier League team to win the title more than two decades after winning their first. If you're feeling really adventurous, you can aim to match (or better) the club's record FA Cup undefeated streak of 24 games, which took place between 1884 and 1886. Good luck with that.
Parma (Serie A)
Parma were one of the most iconic clubs of the 1990s, but financial hardship means they've fallen a long, long way since. Now a phoenix club going by the name of Parma Calcio 1913 after filing for bankruptcy in 2015, they've finally made it back to the big time after three consecutive promotions. The problem is staying there.
If the nostalgia of Football Italia is washing over you, now take a big gulp of reality: Parma are among the relegation favourites, with the only beacon of hope coming from ex-Arsenal winger (and scorer of occasional ridiculous goals), Gervinho. With little room left for wages, you need to shift players before you sign new ones.
Cincinnati (MLS)
Like LAFC last year, Cincinnati will be added to MLS for the 2019 season in March. If you feel like fast-forwarding a few months, you can be handed the reins to a team that's looking for someone to forge its identity. Feel like bringing your own brand of Cruyff magic or Pulisball Stateside? Go ahead. Cincinnati's destiny is very much yours to shape.
With the likes of Zlatan Ibrahimovic and Wayne Rooney finding that crossing the Atlantic offers an enjoyable challenge in the twilight of their careers, you might be able to tempt a few others to join them. Or shun the big names altogether – it's up to you.
Sunderland (League One)
Poor Sunderland. Just when you thought it couldn't get any worse, it did. Relegation to League One meant back-to-back drops for the Wearsiders, who are aiming to follow the likes of Leicester and Southampton by bouncing back at the first time of asking. (Then again, do you have the inexplicably endless charisma of Alan Pardew, as the Saints did? Hmm.)
For now, you'll have to focus on getting the big-earners off the wage bill and building towards the future with academy talent such as Josh Maja and Duncan Watmore. Should you succeed in your first season, you've got the foundations in place to have a long and successful career in the north-east.
Cardiff (Premier League)
Earmarked as contenders for Derby's record of lowest Premier League points before they'd even kicked a ball, Cardiff present one of the toughest and most accessible challenges for those who don't fancy going globetrotting.
With their shoestring budget and squad of players who are mostly untested at the highest level, you have your work cut out from the start. Harry Arter has been brought in to beef up the midfield, while Josh Murphy and Bobby Reid have also bolstered the ranks after impressive seasons in the Championship.
From there, it's up to you. Do you try to win ugly with your teams bleeding Cardiff blue (not red, naturally), or can you help the Welshmen stick around in the Premier League for longer than a solitary season with attractive football?
Paris FC (Ligue 2)
No, the other guys. PSG's little brother has been left in the shadow of the European giants since splitting away from them in the 1970s. In fact, the team hasn't played in France's top tier since 1979 – so 40 years of hurt could come to an end under your guidance.
But it's going to be tough. Money is tight, the players are all much of a muchness, and Ligue 2 isn't exactly an easy division to escape from – as Paris FC's own troubles have proven over the years. Yet everyone loves an underdog in FM, and this is probably the most challenging one out there. Can you do enough to one day annoy big bro?
FC Emmen (Eredivisie)
2018/19 marks Emmen's first ever season in the Eredivisie, after 33 seasons in the same division. Last term, they finished seventh in the second tier and advanced through the play-offs.
The question is, can you keep them rubbing shoulders with the likes of Feyenoord and Ajax for the foreseeable future? Emmen have already been on the end of some nasty thrashings in real life this season (0-5 vs Ajax; 0-6 vs PSV), so it's on you to keep the minnows afloat and pick up vital points against fellow drop-dodgers. From there, who knows?
Santos (Brazilian First Division)
If you can get your head around the confusing league structures in South America, Santos should be your first port of call. A legacy of players including Pele and Neymar brings with it expectation and, with the return of Gabriel Barbosa following his unhappy jaunt in Europe, you've got all the makings of a fun, experimental save game in a far-flung division.
But you're not going to steamroller the opposition here. Each league season (and its different stages) provides a difficult challenge filled with rotation, ego-balancing, and trying to push through prospects from Santos's famed youth academy.
That's going to be even harder with the fact that Rodrygo, your star player, will be leaving for Real Madrid come July, and 'Gabigol' is only on loan until then too.
Shanghai SIPG (Chinese Super League)
From one end of the world to the other. Shanghai may have Oscar and Hulk in their squad, but the club have finished runners-up in the CSL for two of the last three years (although that may change in 2018).
Your job is to make the pieces fit together, getting the most out of your superstars to offset the drop in quality around them, and finally bring some silverware to Shanghai. Eventually, those big-money contracts start to expire and you'll find yourself in danger of having very little sway on the global stage.
More Football Manager 2019 • New features you'd love on FourFourTwo.com
Thank you for reading 5 articles this month* Join now for unlimited access
Enjoy your first month for just £1 / $1 / €1
*Read 5 free articles per month without a subscription
Join now for unlimited access
Try first month for just £1 / $1 / €1
Get FourFourTwo Newsletter
The best features, fun and footballing quizzes, straight to your inbox every week.