4 reasons why Juventus vs Napoli is this weekend's most exciting game
Never mind the Premier League's top four facing off, the battle between Serie A's top two is set to be the game of the entire season in Italy, says Blair Newman...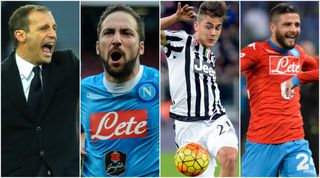 After a wildly unpredictable beginning, this season's Serie A title race developed into a pulsating four-way tussle. However, with artistic Fiorentina and pragmatic Inter falling away, four has gradually become two. 
Juventus, domestic juggernauts and reigning champions, lie second. They are two points behind Napoli, the purveyors of beauty and efficacy who are hunting a first Scudetto since 1990.
In what looks set to be one of the most important Serie A matches in recent memory, the pair meet this Saturday at the Juventus Stadium...
1. Juve's dominance is under threat
In their quest to replace Jose Mourinho, Chelsea have been linked with Juventus coach Massimiliano Allegri of late. The rumour makes sense – Allegri has shown in this campaign that he can turn around even the direst of situations with unerring skill and speed.
After a wonderful first year in Turin which included a league and cup double, as well as a Champions League final, Allegri's second term began inauspiciously. A home defeat to Udinese was unexpected, but more worrying was the sheer inconsistency his team displayed in the formative stages of their title defence.
Excitement swelled at the thought of the Bianconeri's stranglehold over Italian football coming to an end. For four consecutive years they have been crowned kings on the peninsula – now it felt like Inter, Napoli or Fiorentina's turn. However, slowly but surely, Juve clawed their way back towards Serie A's summit.
RECOMMENDED Meet the 5 goalkeepers in line to replace Gigi Buffon as Italy's No.1 in 2018
Allegri's men have now swept aside 14 teams in succession, breaking a club record for their longest winning streak. There was something ominous about the way those wins were piled up, like a machine jolting back into action after a couple of subtle adjustments. Whether they are beating opponents up or grinding them down by one-goal margins, Juventus have regained their unstoppable aura.
If they defeat Napoli on Saturday then not only will Allegri's side extend the winning run, but also reclaim top spot in the league, moving ever closer to a fifth straight championship. Such a feat would say a great deal about the resilience of the club, but it could also be viewed by some as confirmation of an uncompetitive Serie A.
RECOMMENDED Has Paul Pogba's form this season proved him worthy of a giant transfer?
2. Napoli aiming to break Scudetto curse
In contrast to Juve's continuous triumphs, Napoli have been starved of league success for almost 26 years. For context, the last time they won the Scudetto was 1990, the same year Liverpool last won the English title.
In the interim period they haven't been entirely devoid of silverware, winning the Coppa Italia under both Walter Mazzarri and Rafa Benitez, though it wasn't until the latter moved on last summer that the Partenopei began to challenge once again in Serie A.
Napoli president Aurelio De Laurentiis replaced Benitez with Maurizio Sarri, a bespectacled former banker who, before last season, had never coached in Italian football's top tier.
It was a bold call and, after a poor start that saw Napoli go without a win in their opening three league games, uncertainty grew about his suitability. Even club legend Diego Maradona spoke out against the new man in charge. "I'd have kept Benitez… this Napoli will struggle to finish in mid-table," the great Argentine forthrightly declared. "Sarri is a good person, but he's not worthy of Napoli. For him to be on the bench is a great gift. They needed a coach who understands the size and prestige of the club."
Within months Maradona was publicly backtracking, telling Corriere dello Sport: "I was wrong about Sarri." The reason behind El Diego's U-turn was Napoli topping Serie A for the first time in over two-and-a-half decades. In the meantime, Benitez was sacked by Real Madrid.
Sarri has led his charges to wins over Inter, Fiorentina and Juventus in their San Paolo home, playing scintillating football in the process. An victory at Juve would take Napoli five points clear at the top, bringing them closer to that elusive title.
3. Paulo Dybala vs Gonzalo Higuain
The only element that could enhance this enticing concoction of defence and attack, dominance and desperation, is the addition of two sharpshooters in form. In Dybala and Higuain, we've got it.
Dybala has been a miniature phenomenon since joining the champions last summer, slotting into a 'nine-and-a-half' role which sees him drop deep to knit attacking moves together, often before getting on the end of them himself.
His elegant dribbling, poise and combination play mean he is much more than a mere taker of chances. With eight assists to go with his 13 goals, the Argentine has been directly involved in almost half of Juve's 45 league goals this season.
Yet while Dybala has impressed, compatriot Higuain has reached another level with Napoli. Despite starting every single one of his team's league fixtures he has maintained a ratio of one goal per game – 24 in total. Having only just moved beyond the halfway point of the campaign he has already scored more than in each of his first two seasons with Napoli.
Higuain is more function than flair and his orthodox style isn't necessarily aesthetically pleasing, but it is effective – especially when combined with his improved fitness and determination.
In this clash of title challengers, these two confident hitmen could prove vital.
4. An absorbing tactical battle
Even ignoring the grand implications of victory and defeat for both clubs, Saturday's fixture looks set to provide fans with an absorbing tactical battle between two sides with very different – but equally effective – systems and styles.
One of the major reasons behind Allegri's ability to turn Juve's fortunes around this season was switching to the 3-5-2 formation used by Antonio Conte before him. This system has become something of a Bianconeri hallmark in recent years and it fits the players perfectly.
The back three of Andrea Barzagli, Leonardo Bonucci and Giorgio Chiellini is arguably the best defensive line in world football, although it's worth noting that Chiellini will miss this weekend due to injury.
In midfield, Claudio Marchisio has filled the void left by Andrea Pirlo's departure with class and intelligence, while Paul Pogba provides flair and flamboyance. Up front, Paulo Dybala has seamlessly replaced Carlos Tevez
RECOMMENDED 10 big-club rejects who really proved their old clubs wrong
Juve have a strong but pragmatic possession game often used when trying to hold on to narrow leads, as well as an aggressive man-oriented marking setup when defending. This has helped them to concede just 15 league goals, the lowest tally in Serie A. However, it will be severely tested by a Napoli team capable of stunning attacking play.
Sarri has brought to Naples many of the tenets that made his Empoli team such a joy to watch, and such a difficult team to play against. The back four holds a high defensive line with the intention of congesting space for the opposition, something helped by the presence of sweeper-keeper Pepe Reina behind it.
The midfield three provides balance, with Jorginho's positioning and Allan's ferocious work ethic combining well with Marek Hamsik's forward runs. The wingers – Jose Callejon and Lorenzo Insigne – often cut inside horizontally to not only provide passing angles for the midfield, but to link up with a Higuain in lethal form.
RECOMMEDED Always the bridesmaid? How Higuain rebuilt his reputation to become Europe's most wanted striker
Sarri's system is a 4-3-3, but the numbers aren't really of particular relevance. What's more notable is the way the players interchange on and off the ball, reacting to one another's movements to provide a constant array of options when in possession. It's this movement that has flummoxed most markers, enabling Napoli to hit more goals – 53 – than anyone else in Serie A.
RECOMMENDED
Has Paul Pogba's form this season proved him worthy of a giant transfer?
Quizzes, features and footballing fun
Get the best features, fun and footballing frolics straight to your inbox every week.
Thank you for signing up to Four Four Two. You will receive a verification email shortly.
There was a problem. Please refresh the page and try again.