4 ways Antonio Conte can implement his Italian style at Chelsea
By John Robertson published
The Azzurri boss has impressed so far this summer, but how can he replicate his Euro 2016 approach at Stamford Bridge? John Robertson casts an eye to the future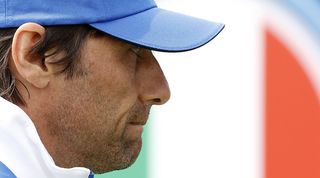 The hiring of any new manager is laden with uncertainty. No matter what their track record is, there's no guarantee a fresh pair of eyes will bring success to a club, and there have been plenty of examples of failures when it comes to high-profile bosses taking a job in a league they've never before experienced.
In the case of Antonio Conte, however, Chelsea fans have been afforded a closer look at their new manager's qualities this summer. The former Italy international is currently leading his country at Euro 2016, with the Azzurri coach winning plenty of plaudits for guiding a squad low on individual talent to first place in Group E.
How, then, can Conte implement the methods that have proved successful so far in France at Stamford Bridge next term?
1. Centre-backs incoming?
It's no secret: much of Italy's success this summer has been down to their formidable defence, having conceded just a single goal. Conte has opted for a three-man backline flanked by wing-backs who are tasked with getting up and down the flanks for 90 minutes.
Centre-halves Giorgio Chiellini, Andrea Barzagli and Leonardo Bonucci all played under Conte at Juventus and are well-versed in his favoured system, so employing a 3-5-2 formation made perfect sense.
It will be interesting to see whether Conte opts for the same shape at Chelsea. Italy's success with the system is in part down to the presence of central defenders who can pass the ball forwards. With the five-man midfield (two wing-backs and three central midfielders) usually pressing high up the pitch when in possession, it's vital that the centre-backs are able to ping the ball back into danger areas should the opposing defensive unit manage to clear the ball beyond those in the engine room. Italy's first goal of the tournament, for instance, came from Bonucci's long diagonal to goalscorer Emanuele Giaccherini.
RECOMMENDED
Brilliant Bonucci is Italy's Pep-loved rock – so it's no wonder Conte fancies him at Chelsea
Emanuele Giaccherini: Italy's Sunderland reject with a fascinating backstory
Chelsea don't seem to have the personnel to employ this style, though. Conte could bring some new defenders into the club, targeting those who – like John Terry, whose range of passing has always been underrated – can pass the ball out from the back. Or the Italian may prefer to target new signings in other areas.
Furthermore, it remains to be seen whether the Blues' vocal fanbase would accept the long-term implementation of a new style of play, particularly one that is (often wrongly) associated with defensive football.
2. New roles for Hazard and Willian?
It's not just the centre-backs that provide a headache when it comes to Chelsea utilising a similar system to Italy; if Conte opted for the 3-5-2 in the Premier League, there would be no obvious place in the team for Eden Hazard or Willian.
Asking Hazard to defend and reining in Willian's attacking threat might seem like ideas that are destined to fail. Even if the duo were redeployed, it could take them a number of months to adjust to roles they have never fulfilled in their careers up to now. Not only could team morale be adversely affected, but results could take a hit in the interim too.
Then again, the best teams are those that define and execute a system, as opposed to simply reacting to the talent they have. It would take a brave man to opt for an approach that could shackle two of Chelsea's best players, but Conte is the type of manager who is happy to prioritise system over players in the search for success.
3. Targetmen essential
In addition to the three centre-backs, Conte has opted to play two strikers at Euro 2016. The Azzurri aren't blessed with world-class forwards, but Graziano Pelle and Eder are at least physical, hard-working and a nuisance to defend against.
This works to Italy's advantage in some senses, particularly when it comes to combination play high up the pitch. Playing two strikers without a No.10 means it can be difficult for their opponents to know who to mark too, with the defensive midfielder often pulled out of position as a result: in that position, do you drop back and create a beneficial three vs two in the box, or stay slightly higher up the pitch to counteract any late surges from an Italy midfielder?
Two-striker systems have come back into fashion in the last couple of years, and Conte will likely target a new centre-forward to play alongside Diego Costa.
4. Motivation and communication
This Italy outfit were widely considered the worst in living memory before Euro 2016 got under way, but their 2-0 victory over Belgium demonstrated Conte's success at insulating his players from such criticism.
RECOMMENDED
8 Premier League stars not yet cutting it at Euro 2016
Why the Messi vs Maradona debate is flawed (and always will be)
The 46-year-old's understanding of psychology is one of his biggest assets, and one that will be extremely useful when he begins work with a Chelsea team looking to recover from their terrible title defence in 2015/16.
Conte's communication skills were also on show in Italy's final group game against the Republic of Ireland. Despite making eight changes to the team that had started the previous match against Sweden, a motivated and aggressive Ireland side were only able to net in the final five minutes of play.
Italy's tactics may not suit Chelsea unless they are very active in the transfer market, but Conte's ability to motivate a squad will be significant in west London. Over the course of a long season, this particular trait shouldn't be underestimated.
Thank you for reading 5 articles this month* Join now for unlimited access
Enjoy your first month for just £1 / $1 / €1
*Read 5 free articles per month without a subscription
Join now for unlimited access
Try first month for just £1 / $1 / €1
Quizzes, features and footballing fun
Get the best features, fun and footballing frolics straight to your inbox every week.
Thank you for signing up to Four Four Two. You will receive a verification email shortly.
There was a problem. Please refresh the page and try again.