5 big things from Barcelona 2-1 Atletico: Simeone out-thinks Enrique but MSN marvel
Lee Roden was at the Camp Nou to dig into a huge win for the Blaugrana using Stats Zone...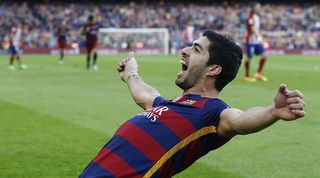 Goals from Lionel Messi and Luis Suarez ensured Barcelona came from behind to beat Atletico Madrid 2-1 at the Camp Nou on Saturday, but there was much more to the thriller than just those strikes.
A combination of Diego Simeone's tactics and an inspired performance from one of his forwards ensured Atletico dominated for large stretches of the match, but how exactly did Barça respond and wrap up a win that could be huge to their league title hopes? Through the best front three in the world, of course…
1. Simeone surprises Luis Enrique
When the starting line-ups were handed out before kick-off, the names in the Atletico Madrid team suggested Diego Simeone would opt for a 4-1-4-1 formation – but the Argentine had a trick up his sleeve. Instead of using Yannick Ferreira Carrasco in his natural position on the wing, the Belgian was handed the freedom normally only permitted to Antoine Griezmann, with both attackers alternating between spells on the flanks, and through the middle.
The change caught Luis Enrique off guard. Atleti pressed high and pressed well, starting with their forwards, who cut off the passing lines Barça's centre-backs and Sergio Busquets seek. That ensured most of the first 20 minutes were spent in the home team's defensive third. Simeone explained in his post-match press conference that he had specifically looked for speed and creativity from Carrasco and Griezmann, and they delivered that in spades.
Barça's defenders struggled to track the varied movement of the two. When Griezmann pulled out to the right to link up with Saul Niguez, it caused problems. When Carrasco floated over to the left to interchange with Filipe Luis, it caused even more. Those pairings regularly found ways to play behind Barça: the first shot on goal was generated out wide from Griezmann, who fed the ball inside to Saul for the midfielder to rifle a strike at Claudio Bravo.
The opening goal came in similar circumstances: Saul, the crosser this time, aimed for Griezmann in the middle, whose flick-on reached finisher Koke at the far post. First blood Atleti.
2. Barça eventually find their forwards
Outplayed on their own soil, Barcelona needed to respond quickly, and the solution came from the forwards. Once the Blaugrana started to vary their methods of releasing the front three, the balance of the game swung in their favour.
Neymar and Messi were particularly important in pulling their team into the game. The Brazilian's sharp runs behind Atleti's back four permitted Barça to switch play quickly and bypass the intense pressing of the away team, while Messi began to drag players into uncomfortable positions, taking advantage of the Colchoneros' insistence on putting multiple markers on him.
When the equaliser came in the 30th minute, both strikers were involved. Javier Mascherano's sharp ball out from the back found Neymar between the lines on the edge of the Atleti area, but instead of looking for a shot he paused, sucking opponents in, then released Jordi Alba on the overlap. The left-back's feint bought some time before he cut back to Messi, who capitalised on the short moment of confusion to pop up at the penalty spot and fire home.
As Enrique said after the final whistle, it was a brilliant response in the face of adversity.
3. Messi eliminates Filipe
In a pre-match decision that would have big consequences, ex-Chelsea man Luis was the unlucky player tasked with tracking Messi, not only when the two were on their shared side of the pitch, but also when Barça looked to counter-attack from Atletico set-pieces.
In the 22nd minute, when Messi attempted to lead a break, the Brazilian was onto him as quickly as possible, committing a smart tactical foul that killed the move.
The No.10 would soon ensure that the fouls became an act of frustration rather than effective damage limitation, however, increasingly wriggling away from the left-back with a sharp first touch. When Filipe couldn't stand being passed any longer he committed a clumsy, high challenge on his man that resulted in a straight red card. Messi had won an important battle, though not the war.
4. Carrasco leads the revival… to no avail
With 10 men, continuing to press high would have been tactical suicide for Atletico, and Simeone reacted with the craft of a top coach. The away team readjusted to the classic model that had won them the league title in 2014, packing bodies around their area, then looking to release the attackers with the most pace and ability in one-vs-one situations.
In that role, Belgian Carrasco produced his best performance since moving to Spain. Ten minutes after the break he gave Atleti hope, going on a slaloming, mesmerising run from inside his own half that involved beating three Barça players before forcing Gerard Pique into a stretching tackle.
Soon after, he popped up on the right wing with another piece of individual brilliance, beating his man and then whipping an inch-perfect cross into the box. Griezmann managed to connect, but Barça were fortunate that Claudio Bravo's trailing leg deflected the shot wide.
That was a huge moment in the outcome of the game. Carrasco continued to attack the home defenders, but he was soon too isolated to finish moves off with a meaningful final pass. The cause of that? Atletico's second sending off, thanks to the sheer persistence of Luis Suarez.
5. Suarez smells blood (and gets it)
Messi and Neymar may have hauled Barça back into the game initially but they would never have won it without Suarez – and not only because of his winning goal. For 90 minutes, the Uruguayan chipped away at Atletico's defenders, forcing uncharacteristic errors from players whose bread and butter is keeping clean sheets.
Diego Godin was the main target. Early in the game the centre-back had to make a desperate hooked clearance to stop his compatriot running onto a dinked ball behind him, and when the striker later dropped off into space, the veteran felt threatened enough to go through him with a heavy tackle, earning a yellow card.
After briefly troubling Jose Maria Gimenez with a powerful run in the move that led to Barça's second goal, Suarez soon soon returned to his old sparring partner. Varying his movement between dropping deep and running off the shoulder, the No.9 made sure he stayed in Godin's head. The centre-back had recently been forced to make a last-ditch challenge to block a shot from his opponent when in the 65th minute he finally lost his patience, arriving late and receiving a second yellow that was unforgivable for a player of his experience.
Godin is normally as dependable as they come, yet Suarez managed to undo him. In his post-match press conference, Simeone begrudgingly admitted the striker has "enriched" Barça with his completeness as a striker.
Part of that completeness is the Uruguayan's ability to break down the will of defenders. His success in reducing Atletico to nine men helped kill the away team's second-half resurgence, limiting their options of a comeback to hopeful set-pieces and ensuring Barça made big progress in the race for La Liga.
Analyse Barcelona 2-1 Atletico Madrid yourself with Stats Zone
More features every day on FFT.com • Analysis
STATS ZONE Free on iOS • Free on Android
Quizzes, features and footballing fun
Get the best features, fun and footballing frolics straight to your inbox every week.
Thank you for signing up to Four Four Two. You will receive a verification email shortly.
There was a problem. Please refresh the page and try again.