5 reasons why it has all gone wrong for Ronaldo at Euro 2016
By Thore Haugstad published
Despite his country advancing to the latter stages of Euro 2016, it hasn't been the Portuguese attacker's summer so far. Thore Haugstad investigates where it's gone wrong for the superstar…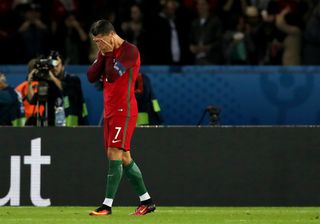 Going by the current rate, Wales may face Portugal safe in the knowledge that Cristiano Ronaldo can be allowed 17 attempts at goal and still not score. Whether Chris Coleman will trust such an extrapolation ahead of the semi-final on Wednesday seems doubtful, but the figures denote the frustration Ronaldo has endured at the Euros so far.
While the 31-year-old captain is no stranger to trying his luck, his return of two goals from 36 efforts has been a study in wastefulness. The only game in which he has scored or assisted came against Hungary.
Some portrayed him as a saviour for handing Portugal the 3-3 draw they needed to progress, but none of his heroics would have been necessary had he not missed a series of sitters and squandered a penalty in the preceding draws against Iceland and Austria.
The knockout games have not changed his fortunes. Though the Hungary brace put him one behind Michel Platini's all-time Euro top scorer record of nine goals, he was tamed by Croatia and fluffed his lines against Poland. Such form is mystifying for a three-time Ballon d'Or winner whose latest season featured 35 goals in La Liga and 16 in the Champions League. So what's going on?
1. No strikers in sight
One factor might be the dynamics behind the Portugal attack. At Real Madrid, Ronaldo has become accustomed to attacking the box from the left wing as part of a 4-3-3. This is his preferred role, as he can see the game before him and time his runs. Ex-Blancos coach Carlo Ancelotti actually favoured 4-4-2, but switched to 4-3-3 because Ronaldo expressed discomfort at being a fixed striker.
Yet even in a 4-4-2, he would at least have had a partner. At Real, Karim Benzema makes runs that unbalance the defence which create space for Ronaldo. A classic move involves the Frenchman sprinting out wide as his partner storms into the area to finish off a move.
For Portugal, Ronaldo rarely enjoys such service. The longstanding Portuguese shortage of top strikers has led coach Fernando Santos to deploy Nani as a kind of makeshift Benzema, buzzing round trying to support Ronaldo. But the effect is not the same.
Croatia only allowed Ronaldo to receive two passes inside the box, while against Poland, he ended up waiting for crosses instead of attacking from deep. That made him easier to mark and, though he did get chances, the presence of a quality striker would surely have boosted his returns.
2. He's dependent on service
Another element is Ronaldo's evolution as a player. Many have noted his transformation from a skinny dribbler to a powerful finisher, decreasing his capacity for individual brilliance.
At the Euros, he has completed two dribbles in five fixtures. His game now alternates between simple passes in deep positions and sharp movement inside the box, which again facilitates his instinctive finishing. Even when off form, nobody loses his marker like Ronaldo.
As such, when the service is good, the goals tend to follow. When it is not, Ronaldo is less capable of doing anything about it.
Unlike Lionel Messi or Gareth Bale, he's unlikely to drop deep and dribble past five men or orchestrate attacks.
In addition, the quality of his team-mates is lower at Portugal than at Madrid. This restricted him against Croatia – he recorded just one attempt – and more than once this summer, he has expressed his frustration with team-mates when a pass or a cross has not landed where he wanted it.
3. A spell of low confidence
Confidence cannot be overlooked. Everyone depends on it and Ronaldo has not looked himself this summer. It is one thing is to miss a penalty or steer powerful headers narrowly wide, as in the group stage; another is to miscontrol crosses from yards out or to kick air when gifted a gilded chance, like against Poland.
The best players rely on instinct in such situations, and Ronaldo has appeared hesitant; the nature of his misses has seemed unnatural.
Ronaldo is not immune to bad spells. Back in September, he suffered a mini-drought of three games that culminated in one of the most wasteful displays of his career.
Facing Málaga at home, he had 14 fruitless attempts. The Santiago Bernabéu was in disbelief and so was he, shaking his head as one glaring miss followed the other. Curiously, that game was one of three league fixtures in 2015/16 in which Ronaldo had 10 attempts or more – in all three, he failed to score.
4. Mediocre finishing
Another point worth examining is whether Ronaldo's finishing has become less threatening.
The 35 league goals look impressive, but they required 227 attempts – 45 more than anyone in the top five European leagues. If we count only attempts inside the box, and thus weed out hopeful long shots, he is still top with 130; nine more than second placed Gonzalo Higuaín.
This yields an average of 3.71 shots inside the box per goal. Poor efficiency when compared to the best finishers statistically this season, such as Luis Suárez, whose average was 2.6.
The same measurement suggests Ronaldo has been wasteful by his own standards. The average of 3.71 is his second worst since arriving at Madrid in 2009, after 3.84 from 2013/14. The best materialised in 2014/15, when he scored 48 league goals from 115 attempts inside the box to get an extraordinary average of 2.40.
Clearly, these observations do not form a watertight theory, and do not necessarily mean Ronaldo is over the top, but they do provide useful context for his current travails.
5. Moodiness
The accumulation of negative factors can affect anyone, and Ronaldo has not looked too pleased this summer.
In addition to his exasperation on the pitch, he has been petulant off it, criticising Iceland for having a "small mentality" before tossing the microphone of a Portuguese television reporter into a lake. Such behaviour hardly eases the pressure on him.
Then again, Ronaldo did score twice shortly after wandering past that lake, and he rarely goes three games without a goal.
Perhaps Coleman should be wary after all
Thank you for reading 5 articles this month* Join now for unlimited access
Enjoy your first month for just £1 / $1 / €1
*Read 5 free articles per month without a subscription
Join now for unlimited access
Try your first month for just £1 / $1 / €1
Quizzes, features and footballing fun
Get the best features, fun and footballing frolics straight to your inbox every week.
Thank you for signing up to Four Four Two. You will receive a verification email shortly.
There was a problem. Please refresh the page and try again.