Man United, meet Miki: The one-man arsenal who'll revitalise your attack
published
As the Armenian's transfer to Old Trafford draws closer, Ryan Baldi provides the insight on what he's got in his locker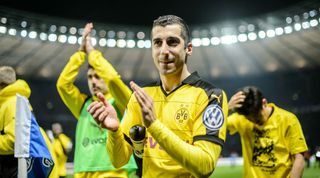 Henrikh Mkhitaryan, according to widespread reports, is all set to complete a move to the Premier League with Manchester United this month.
The Armenian icon is a Swiss army knife of an attacker; a jack of all trades, and master of almost every single one. If utilised correctly – regardless of the fee or whether a "marquee" signing steals more headlines – Mkhitaryan could prove to be one of the most astute purchases United have made for many years.
The 27-year-old came to the attentions of a wider European footballing audience while starring for Shakhtar Donetsk between 2010 and 2013. During his time with the Miners, he was a key figure in three successive Ukrainian Premier League title wins, voted player year in 2012, and finished as the division's highest scorer in 2013.
Mkhitaryan's consistently excellent performances earned him a €27.5 million move to Jurgen Klopp's Dortmund three years ago, with the German club breaking their transfer record to secure the gifted playmaker. His first two years in Dortmund, however, were a little underwhelming, and he struggled to reproduce the kind of form that had seen him dazzle in Donetsk.
Speaking to FourFourTwo earlier this year, Mkhitaryan discussed how the size of his transfer fee had become a burden, but that Klopp helped him overcome the issue. "It's true that Klopp helped me a lot in this regard," he said. "He told me that a transfer sum has nothing to do with what a player wants or asks for, it's just a thing between two clubs. I realised he was right and just forgot about the money."
Tuchel's tactics
But it wasn't until Klopp's departure, and the appointment of Thomas Tuchel as new BVB boss, that Mkhitaryan really began to shine at Signal Iduna Park.
Under Tuchel last season, Dortmund were revived from the disappointing seventh-place finish of Klopp's final campaign, and restored to their position of genuine title contenders. Although they eventually finished distant runners-up to Bayern Munich, the 78 points that the Yellow and Blacks accumulated would've seen them champions in all but four seasons in Bundesliga history.
Mkhitaryan was absolutely pivotal in his side's resurgence, as he became Bundesliga's highest assist-provider with 15. Furthermore, he registered 24 assists in all competitions, as well as scoring 23 goals – an unbelievable level of productivity for a player in his position.
Mkhitaryan's 2015/16 stats
Bundesliga: 11 goals, 15 assists
Europa League: 2 goals, 9 assists
DFB Pokal: 5 goals, 0 assists
Tuchel, realising what he had in the diminutive Armenian schemer, made some key tactical adjustments that unleashed Mkhitaryan's full potential.
The playmaker typically lined up on the right-wing position in Tuchel's 4-3-3, with Marco Reus on the opposite flank and Pierre-Emerick Aubameyang as the central striker. Behind them, in the midfield trio, were Julian Weigl – the impressive 20-year-old signed from 1860 Munich – as the pivot, and Manchester City new boy Ilkay Gundogan on the left, when fit.
Behind Mkhitaryan on the right of the midfield three were a rotating cast of willing and able stand-ins – whether it be Shinji Kagawa, Gonzalo Castro or teenage sensation Christian Pulisic – ready to perform a specific task based on the coach's requirements.
More often than not, the player on the right of midfield was instructed to provide width down that side of the pitch, while offering additional support to the right-back. This allowed Mkhitaryan the freedom to roam across the frontline, taking up whichever position he felt he could cause maximum damage to the opposition from.
Usually this would mean that, despite his starting position being on the right flank, Mkhitaryan would elect to operate centrally in a zone most associated with the No.10 position. He would be able to move stealthily away from the touchline and into his chosen area without being tracked – effectively becoming a "false winger".
The below Stats Zone images – which depict both areas of influence and final-third passes in games against Stuttgart and Augsburg – demonstrate that, regardless of his starting position, the fluidity of Dortmund's system allowed Mkhitaryan to do his best work in the centre of the opponents' half.
In his mind
Mkhitaryan defies the common conception of a professional footballer; fluent in six languages with a degree in economics, the 27-year-old likes to apply his intellect to his profession. "I play football like chess," Mkhitaryan told reporters in a 2013 press conference. "You have to think a lot and anticipate what could happen after you make your move.
"If you make a mistake, your opponent can punish and you end up losing the game," he continued.

 "The most dangerous area is the centre, which has to be either attacked or defended in football and it's the same in chess."
At certain times, towards the latter part of last season, Tuchel made the interesting choice of deploying Eric Durm in the right-midfield slot. Durm, usually a full-back, offered additional defensive cover on that side of the field – further releasing Mkhitaryan from his shackles – and with his natural inclination to hug the touchline when moving forward, enabled BVB to morph from their 4-3-3 into a 3-4-1-2 when they had possession.
To achieve this new shape, left-back Marcel Schmelzer would push up high, with Reus slipping in alongside Aubameyang as a second centre-forward. With such pace and movement ahead of him, Mkhitaryan was the focal point of the attack in behind the two strikers, feeding them with the kind of accurate, perfectly-timed through-balls upon which they thrive.
Two such examples of this are evidenced by the below Stats Zone graphics taken from games against Bayern Munich and Werder Bremen.
The fact that Tuchel reduced Mkhitaryan's tracking-back responsibilities should not be perceived as an unwillingness to do the dirty work on the player's part. In the last three Bundesliga seasons, the Armenian has won possession in the final third 278 times – a figure that can only be beaten by Augsburg's Daniel Baier.
Mkhi in Manchester
Whether new Manchester United boss Jose Mourinho will be willing to make such exotic tactical choices to accommodate Mkhitaryan seems unlikely; the Portuguese rarely allows such levels of positional fluidity in his teams. But he will be impressed by Mkhitaryan's ability to perform in a high-pressing unit – something which the former Porto coach deemed Juan Mata unable to do when the two worked together at Chelsea.
But with Mkhitaryan set to join his squad, Mourinho will not be short of options. Comfortable on either side of a front three, or centrally as a No.10, Mkhitaryan will help his new manager to present an effective attacking strategy whether utilising a 4-3-3 or 4-2-3-1 formation.
Another interesting factor to Mkhitaryan's predicted arrival at Old Trafford is that he will be joined by veteran Swedish striker Zlatan Ibrahimovic. The former Barcelona and Milan hitman has always had a penchant for dropping deep to receive the ball and act as an auxiliary playmaker, but this trait has become more of a recurrent theme in the 34-year-old's game as he's advanced in years.
Ibrahimovic's propensity to drop deep would allow Mkhitaryan to demonstrate another string to his bow: his ability to make perfectly timed runs into the penalty area, latching onto a cross or through ball before finishing with the calmness of a seasoned striker. There was a period in 2014/15 when his confidence looked shot in front of goal, but the Armenian recovered admirably under Tuchel last time out.
Mkhitaryan nets in the Rivierderby
Ultimately in Mkhitaryan, Manchester United will boast one of the most well-rounded advanced playmakers in Europe; the one-man offensive arsenal.
Thank you for reading 5 articles this month* Join now for unlimited access
Enjoy your first month for just £1 / $1 / €1
*Read 5 free articles per month without a subscription
Join now for unlimited access
Try first month for just £1 / $1 / €1
Quizzes, features and footballing fun
Get the best features, fun and footballing frolics straight to your inbox every week.
Thank you for signing up to Four Four Two. You will receive a verification email shortly.
There was a problem. Please refresh the page and try again.