5 reasons why Liverpool really are building a side to challenge for the Premier League title next season
A dynamic young side, a manager sure of his position and new arrivals to come – Matt Ladson explains why Liverpool will be serious title contenders in 2018/19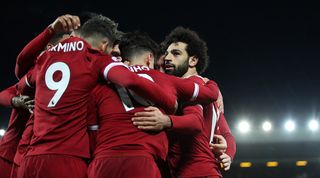 We've been here before; Liverpool are on the verge of having a side capable of challenging for the Premier League title – next season. You can hear the "next year's our year" jokes already. But something this time is very different.
Liverpool are clearly the second-best team in the league this year, even if the table doesn't reflect that – yet. The Reds' performance to end Manchester City's dreams of going the season unbeaten showed exactly why they will be contending for the title next season.
In fact, if it weren't for City doing historic things in the Premier League, Liverpool would be challenging them for the title this season. Jurgen Klopp's side have more points at this stage of the season (47 points after 23 games) than they did in 2013/14 when they ended the campaign just two points behind title-winners City.
Only once have the Reds had more points at this stage in the Premier League era; in 2008/09 under Rafa Benitez, when they boasted one point more. Klopp's side this term have lost just two league games – at Manchester City and Tottenham – and are currently 14 games unbeaten.
City's form and their record 18 wins in a row have skewed the perception of how others in the league are performing this season. Any other year, Liverpool would be pushing the leaders all the way and receiving more plaudits. But it's not praise that Liverpool fans crave – it's ending their long search for a league title. So here's why next year really could be their year...
1. Jurgen Klopp
It shouldn't be understated how important Klopp's appointment at Anfield almost two-and-a-half years ago was. The German brought with him pulling power that Liverpool had lacked under previous managers and we're now seeing that reap rewards: players are turning down moves elsewhere to join Klopp's side.
Klopp's patient approach will pay dividends eventually. It was shown by his insistence on acquiring top two targets Naby Keita and Virgil van Dijk, even if it meant waiting half a season for one and a full campaign for the other. There's no place for second best in a long-term vision.
Klopp said upon his arrival in October 2015 that he expected to have achieved one title in four years' time, and bringing that in 2018/19 would meet his aim. He's slowly improved Liverpool's squad and playing style to a point where next season should see them reap the rewards.
2. Stability on and off the pitch
In this era, a long-term vision is rare in football. Most managers last two or three years at a club, but Klopp and Liverpool's owners know this isn't a quick-fix project. They are in it for the long haul.
That means Klopp isn't necessarily seeking immediate solutions and is more happy to wait for the 'right' player. "Right [player] before expensive," he said last week after Philippe Coutinho's departure. While fans crave an immediate replacement, Klopp takes a longer view and won't rush into making expensive mistakes.
The stability off the pitch at Anfield means Klopp has security to improve things on the pitch. Even if it goes wrong in these remaining months of the season and Liverpool finish fifth, the German's job would be safe.
With the owners having improved the stadium and work on the Reds' new training ground beginning this spring, Liverpool are in a stronger position than they have been for a long time.
3. Naby Keita
Keita's arrival at Liverpool in the summer will be huge. The £48m Guinean is, on paper at least, the ideal player for Klopp's midfield: a player who is very comfortable on the ball in tight spaces, who break the lines with passes or dribbling himself, and who has the energy to contribute in both boxes.
Keita isn't a holding midfielder – far from it; he's very much box-to-box. He will get forward to provide goals and assists, and cover ground to recover the ball when it's lost in transitions high up the pitch.
You can see a real plan for Liverpool's spine taking shape, and Van Dijk, Keita and Roberto Firmino are key to it all. What will be most interesting is who will play alongside Keita in Liverpool's midfield.
4. Smart transfer strategy
Only four players from Liverpool's squad that 'almost won the league' in 2013/14 remain at the club, and there's a strong chance all of them could be gone by the time next season kicks off.
Simon Mignolet is almost certain to leave and could even do so this month after again being dropped for Loris Karius; Jon Flanagan has been charged with assaulting his girlfriend; Daniel Sturridge wants to leave this month; while captain Jordan Henderson could find his place in the side in doubt once Keita and others arrive this summer.
Yet Liverpool have a much stronger squad now than four years ago thanks to their transfer strategy in recent years. It's one that seems to have changed since Klopp's appointment, and now features first-choice, no-compromise stars plus cheaper squad players who Klopp can polish into diamonds – see Andy Robertson, Alex Oxlade-Chamberlain and even Mo Salah. Expensive flops haven't been a thing under Klopp and new sporting director Michael Edwards.
Liverpool's squad is extremely strong, and with four or five new players arriving in key areas – a new goalkeeper, another centre-back, a midfielder – to add to Keita's acquisition, it will be even stronger next season.
5. Youth in place
What's also important to note is the age of Liverpool's squad. Firmino and Van Dijk are 26, Sadio Mane and Salah are 25, while Keita is 22. These are players who are about to reach their peak and play in their prime at Liverpool under Klopp's tutelage.
Joe Gomez (20), Trent Alexander-Arnold (19) and Ben Woodburn (18) are players who have a lot of development ahead of them and a manager who can (and probably will) get the best from them.
Again, their confidence that Klopp is their manager for the long term means they are comfortable with their development and, perhaps crucially, won't be discarded unlike with other managers who feel they can't use youth players due to uncertainty over their job.
Looking elsewhere in the Premier League, at clubs such as Manchester United, Chelsea and even to some degree Manchester City, they have ageing squads with players whose peak years are behind them. Only Tottenham can rival Liverpool's youthful outlook. No wonder there is such optimism around Anfield right now.
Quizzes, features and footballing fun
Get the best features, fun and footballing frolics straight to your inbox every week.